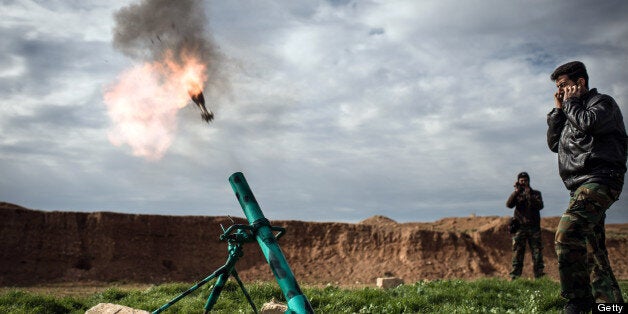 WASHINGTON, June 14 (Reuters) - The United States is likely to send weaponry like rocket-propelled grenades and mortars to Syria's rebels after President Barack Obama approved arming the insurgents, sources said on Friday.
A source in the Middle East who is familiar with U.S. dealings with the rebels told Reuters that weapon supplies would include automatic weapons, light mortars and rocket-propelled grenades, known as RPGs.
Accusing Syrian President Bashar al-Assad's forces of using chemical weapons, the White House said on Thursday the United States would supply direct military assistance to the rebels. A U.S. official said that meant sending them weapons supplies for the first time.
Two European security sources said the United States would increase the caliber of the arms and ammunition being supplied to the rebels by regional powers including Saudi Arabia and Qatar, as well as supply some heavier weapons, including RPGs.
More RPGs would give the rebels, who have lost ground to government forces and Lebanese Hezbollah militants in recent weeks, greater ability to fight government armored vehicles and even tanks.
But a U.S. official who has been briefed on the new policy said he did not expect the new U.S. aid to seriously affect the course of events in Syria.
All three sources said there were no plans to send shoulder-held anti-aircraft missiles, known as MANPADS, to the mostly Sunni rebels fighting Assad and his Lebanese Hezbollah Shi'ite allies.
The first military supplies - to be sent to groups under rebel commander Salim Idriss that are vetted by Washington and its allies - could take a minimum of two to three weeks to be delivered.
Deputy national security adviser Ben Rhodes refused to say on Friday how Washington would arm the rebels.
"I'm not going to get into kind of a detailed description of different types of assistance," he told a briefing in the White House.
Aid to the rebels will most likely go through Turkey, where the United States is involved in a secret base that Turkey set up with Saudi Arabia and Qatar to direct military and communications aid to Syria's armed opposition. U.S. aid could also go through Jordan where several thousand U.S. troops are on a joint exercise. A further 200 soldiers from the U.S. Army's First Division are also there. (Editing by Alistair Bell and Peter Cooney)
REAL LIFE. REAL NEWS. REAL VOICES.
Help us tell more of the stories that matter from voices that too often remain unheard.
BEFORE YOU GO
PHOTO GALLERY
Syria In May: Stalemate Breaks In Qusair