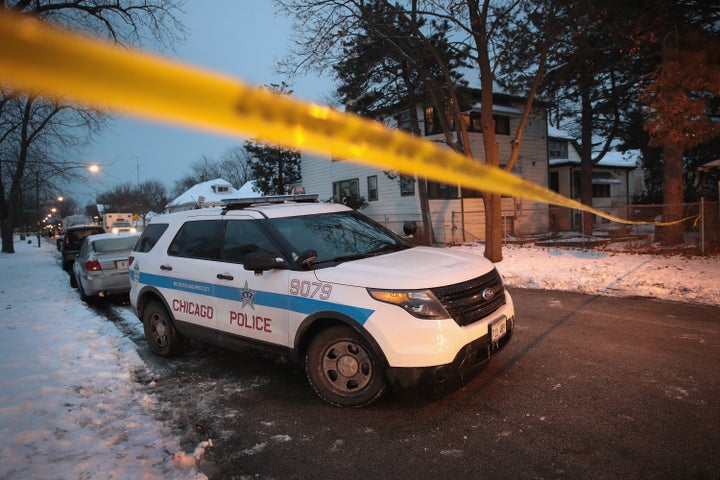 WASHINGTON ― The national murder rate rose again last year, with much of the deadly spike concentrated in just a handful of U.S. cities, according to a report released Tuesday.
A new report from the Brennan Center for Justice at New York University School of Law says Americans are "safer today than they have been at almost any time" in the past quarter-century, but projected an 8 percent increase in the nationwide murder rate.
The report's authors calculated the estimates based on preliminary FBI data from the first half of 2016. When the FBI releases its full set of 2016 crime statistics later this year, the Brennan Center predicts, the national murder rate will be at 5.3 murders per 100,000 people, about the same as it was in 2008. The national murder rate peaked at 9.8 murders per 100,000 people in 1991, nearly double the estimated 2016 murder rate.
The Brennan Center's report also projects that the overall crime rate will increase less than 1 percent from 2015 and that the national violent crime rate will increase by about 6.3 percent.
The report finds that just a few U.S. cities played an outsized role in the nationwide uptick in the murder rate in recent years and had a distorting effect on the overall murder rate. Three cities ― Baltimore, Chicago and Houston ― "account for around half of the increase in murder in major cities between 2014 and 2016," the report says.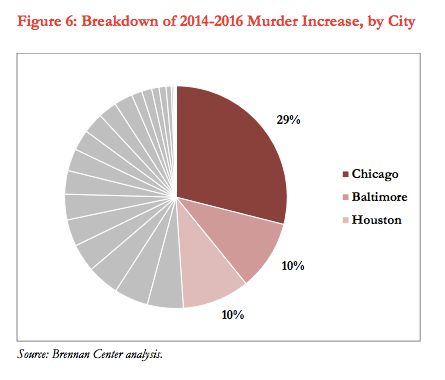 In the 30 largest cities in the country, the murder rate increased by about 14 percent from 2015 to 2016, but Chicago alone "was responsible for 43.7 percent of the rise in urban murders in 2016," according to the report. (There were more than 700 murders in Chicago last year, making it the deadliest year the city had seen since 1996.) The murder rate jump in certain cities, such as Chicago, is "indicative of localized problems in some cities, but not evidence of a national crime wave," the report states.
"Since 2014, some cities have seen increases in murder, causing increases in national rates of murder and violence. These spikes in urban violence are a serious cause for concern," the Brennan Center report says. "But history shows these trends do not necessarily signal the start of a new nationwide crime wave, and even with these increases, crime and murder rates remain near historic lows. There is no evidence of a national crime wave."
Attorney General Jeff Sessions has said he worries that an uptick in crime in recent years is part of a "dangerous permanent trend" in the United States, and has made responding to violent crime a top priority of the Justice Department.
Popular in the Community