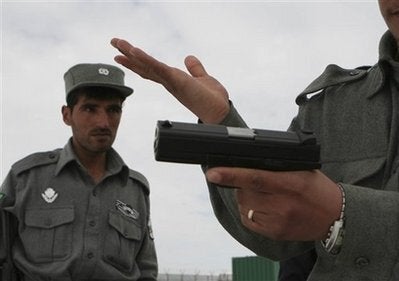 An email acquired by the Huffington Post indicates just how far advanced the plans are to create local militias in Afghanistan.
A US-backed project called the Afghan Public Protection Force (APPF) has been established to help communities defend themselves against the Taliban. It has also been created with the hope that the communities then supply the US and NATO forces with important security information. Surely, there is no better way to confirm that the national police, the national army and NATO forces combined are losing the war in Afghanistan than the idea of creating citizen militias of untrained, armed men.
The email states that the Afghanistan Ministry of Interior made a secret presentation to a select audience about the establishment of tribal militias. The presentation covered "who will select them, who will control them, will they be armed & paid and what will they do."
Apparently the location of the first militias is secret, though the email does say "all eyes will be on Wardak" - a province in central Afghanistan for the pilot. (Date to be fixed).
Many analysts have been concerned about the creation of militias - questions have been asked about how they will be controlled, directed and disbanded after their duties have been completed.
The confidential email then goes on to summarize parts of the meeting including points that all recruits must be between 25 and 45, fit, "non-drug using, no criminal record and actually be from the district they are recruited for. There is no overt tribal or ethnic dimension to selection. All recruits will be subjected to ... background check."
The citizen militia "will receive 3-week basic training including Values, Ethics, Police Law & Constitution, Use of Force, Human Rights and First Aid."
Each recruited member of the militia "will be equipped with 1 x Vz58 rifle (similar to AK-47), 90 rounds ammunition plus spare magazine. Approximately 180 rounds per (militia member) will be kept as reserve ammunition at District Centre."
(Afghanistan has spent years trying various means of controlling the huge amounts of guns in the country - now they are giving them out).
The email stated that each militia unit "will be issued White Ford Ranger Vehicles marked 'APPF' and pay will start at "$100 pm rising to max. $250 pm for APPF Captain"
"APPF will have no legal powers of arrest and will only detain suspects for handover to uniform police" and their key tasks are listed as:
1. Protect the people 2. Protect key government facilities 3. Protect key government personnel 4. Protect critical infrastructure 5. Facilitate development 6. Disrupt insurgent activities
When thinking of ways out of the Afghanistan miasma, arming young, uneducated men with guns, as a "protection force" does not immediately spring to mind as a great way forward. What it does indicate, however, is the level of desperation that is now an undeniable feature of the war in Afghanistan.
Popular in the Community