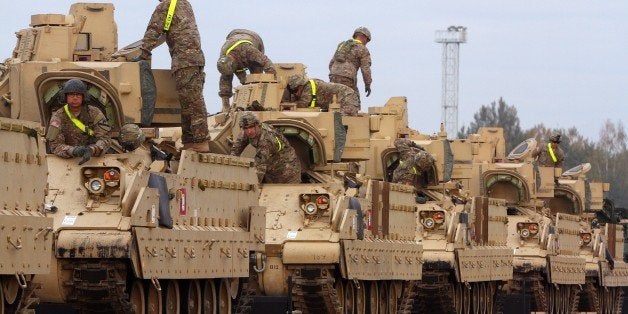 (Adds comment from Pentagon nominee)
WASHINGTON, Feb 4 (Reuters) - The U.S. government on Wednesday announced a two-year project aimed at making it easier for NATO and member countries to share costs and buy weapons as a group as they struggle to stretch scarce defense budgets.
Under the initiative, the U.S. Departments of Defense and State will consider on a case-by-case basis requests to buy U.S. equipment from a "lead nation" or international organization on behalf of others.
In a joint statement, the departments said the program would support the North Atlantic Treaty Organization's "Smart Defense" initiative - aimed at boosting cooperation on new weapons development - and other similar efforts.
U.S. arms sales are typically negotiated with individual countries rather than alliances, in part because of concern about transfers of technology to third parties. But group sales could help NATO meet U.S. demands for more spending on defense.
Ashton Carter, President Barack Obama's nominee to become defense secretary, on Wednesday said Russia's invasion of Ukraine and the recent attack in Paris on the offices of satirical magazine Charlie Hebdo underscored the urgency of shoring up security in Europe.
"I don't wish adversity upon anyone, but I hope that what they see around them reminds everyone ... Security doesn't come for free. You got to pay for it," he told a Senate committee.
Vice Admiral Joe Rixey, who heads the Pentagon's Defense Security Cooperation Agency, said the two-year program would initially apply only to NATO and its members, suggesting sales to other groups could be considered in the future.
In a memo to U.S. government officials, Rixey said lessons learned during the pilot project could lead to lasting policies for weapons procurement and inform legislative proposals.
Rixey said U.S. law did not ban sales to an alliance group such as NATO, but such deals had not been approved in the past.
The program aims to keep U.S. foreign military sales competitive by adapting to changing business practices and being more flexible about purchaser requirements, statement said.
Under the approach, the U.S. government would structure agreements with a NATO-linked entity or country to permit transfers to an identified group of member countries.
One country or organization would be the sole buyer with full financial responsibility, but participating countries would also have to agree to the terms about the use and security of the equipment involved.
Any transfers of equipment outside the initial group would require prior authorization from the U.S. government, according to Rixey's memo. (Reporting by Andrea Shalal; editing by Christian Plumb and G Crosse)

Popular in the Community