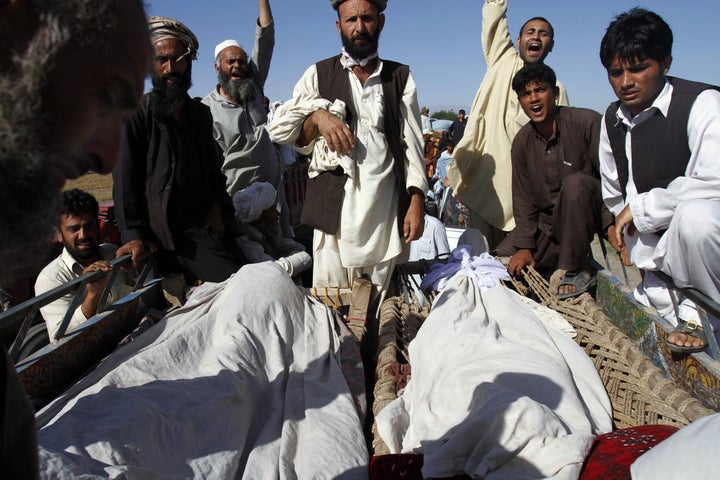 The father's eyes reddened with tears as he hefted an English textbook that had belonged to his ninth-grade son, Habibuddin. The boy, along with eight other people, was shot dead this month when American special-operations forces swooped down on the family's remote mud-brick compound in the dead of night.
"There were no Talibs here -- none," Rafiuddin Kushkaki, the owner of the sun-yellowed wheat fields ringing the rural compound, declared in a defiant voice that trailed off into a sob. "Someone tricked the Americans. They made a mistake."
U.S. military officials, however, expressed certainty that those who died in the early hours of May 14 were insurgents, including a Taliban commander they say was painstakingly tracked to this pastoral district in eastern Afghanistan's Nangarhar province. They also assert that the nocturnal strike, and hundreds of others like it, had unquestionably saved many lives, both Afghan and Western.
As the seemingly irreconcilable narratives of a single deadly encounter point up, no tactic employed by U.S. forces in Afghanistan is so thoroughly obscured by the fog of war as night raids, which are now occurring at a quicker tempo than before in nearly nine years of conflict.
Many Afghans believe these strikes are most often based on faulty intelligence, and carry a heavy risk of accidental civilian deaths as villagers, in the confusion of sudden awakening and darkness, attempt to defend their homes against unexpected invasion.
Human rights groups also point to what they say is the difficulty of holding the military accountable in the aftermath of raids, even when there are civilian deaths involved. Afghan President Hamid Karzai told reporters after returning home from a trip to Washington this month that night raids, to which he has publicly demanded a halt, were among the most important topics he raised with President Obama.
The raids' planners, however, insist on the accuracy of their tracking methods and source-vetting, the degree of care taken to avoid harming innocents, the closeness of coordination with Afghan authorities and the life-and-death urgency of their mission.
In a rare interview, two senior officials of a U.S. special-operations task force that has carried out nearly 1,000 raids across Afghanistan over the last year, a majority of them at night, offered a detailed account of the contested incident in Surkhrod, including an unusual glimpse of means and methods used to hunt wanted Taliban commanders.
In four out of five raids, the officials said, no shots are fired. Fewer than 2% of the strikes, by their count, result in civilian casualties. U.S. officials acknowledge 29 civilian deaths during raids over the last year, but say some of those were caused by insurgents.
And the cost to the American forces that carry out the raids is not routinely disclosed: In one recent seven-week period, the officials said, nine elite troops died.
The issue of night raids is tightly bound with what U.S. Army Gen. Stanley A. McChrystal, the commander of Western forces in Afghanistan, has made the centerpiece of his counterinsurgency doctrine: the prevention of Afghan civilian deaths.
In both military and policy circles, noncombatant deaths are widely acknowledged to inflame Afghan sentiment against foreign forces, thus serving as a powerful recruiting tool for the insurgency. And night raids, with their intensely personal intrusion into homes and lives, have become a particular lightning rod for public anger at what is seen as reckless behavior by Western troops.
"In Afghan culture, a man's home is more than just his residence," McChrystal wrote in a tactical directive on night raids issued in February, in which he ordered, among other things, that Afghan troops always accompany Americans. "It represents his family, and protecting it is closely intertwined with his honor. ... This reaction is compounded when our forces invade his home at night, particularly when women are present."
Days after the raid in Surkhrod, the fear and outrage were still palpable -- and the bloodstains and bullet holes still much in evidence.
Accounts by villagers, including Kushkaki, the head of the extended family of men, women and children living in the compound, suggested that gunfire had erupted without warning shortly after 1 a.m. Most of those inside, together with farmworkers on rope cots out in the courtyard, were fast asleep, they said.
"My brother ran out to see what was happening; he was killed right away," Kushkaki said. "My son ran out too and was shot as well. I carried him inside in my arms, but he bled to death, here on this carpet."
The American officials describe a much different scenario: the arriving troops, through Afghan interpreters, making repeated calls through bullhorns for those inside to come outside -- a practice they say is always adhered to.
"It's literally a script," said one of the task force officials, adding that the "call-out" was answered with a hail of gunfire from inside the compound.
Family members acknowledged firing AK-47s at the invaders, but insisted they did not know they were shooting at Afghan and American forces.
"We thought they were thieves, raiders," said Kushkaki. Other family members said any warning might have been drowned out by the sound of a storm that night.
Family members said that when the shooting broke out, they called the police, an assertion supported by the district police chief, Said Ghafour. The gun battle was in full swing by the time he and his men arrived, Ghafour said, and they were kept 200 yards away from the scene.
Ghafour said he knew nothing of the raid in advance; the U.S. military said the strike had been coordinated with provincial leaders. When authorities at the district level are not told in advance about a raid, the American officials said, it is generally because of concerns about corruption or insurgent sympathies that will lead to the target being tipped off.
All the deaths -- eight by the Americans' count, nine by the family's -- occurred in the first 45 minutes of contact, the U.S. officials said.
Kushkaki said he believed his 16-year-old son had run from the house unarmed. The American officials said he would have been shot only if he had a weapon in his hands, but they could not be certain that he did.
A search of the compound, according to the Americans, yielded not only light arms that might typically be found in a rural household, but radios of a type used by insurgents, ammunition vests, a military uniform and -- most damning of all, in their eyes -- a mortar sight, a sophisticated aiming device used only for military purposes.
Family members said the mortar sight was planted by the troops, who included an Afghan contingent, and that the ammunition vests belonged to household guards who patrolled the far-flung property. The uniform, they said, was used by a part-time farmworker who doubled as a driver for a local politician.
The U.S. officials said the raid's principal target was a Taliban commander named Qari Shamsuddin, whom they had tracked for three days, and who was known to be planning rocket attacks on coalition forces. But family members declared it was a case of mistaken identity: The dead man, they said, was a young farm laborer named Qari Shams-ur-Rahman, whom they described as harmless.
Within hours of the confrontation, the North Atlantic Treaty Organization's International Security Assistance Force issued a news release describing the deaths of eight insurgents in the raid, including a Taliban commander. Afghanistan's Defense Ministry put out a statement describing all those killed as "terrorists."
But those findings were not universally accepted. Afghanistan's Interior Ministry launched an investigation of the incident, and an investigator, Atiqullah Shekab, said the commander's identity had not yet been ascertained, nor involvement in the insurgency by the others.
An inquiry was also being carried out by the Afghan Independent Human Rights Commission, which has not yet released its findings. But a member of a special team that spent several days at the scene said there was reason to doubt the U.S. and Afghan militaries' version of events.
"We have already expressed our concern, many times, over night raids," said the investigator, who asked that his name not be used until the commission's report was formalized.
The dead, in accordance with Muslim custom, were swiftly buried. Hesamuddin Kushkaki, uncle to the slain boy and brother to another of those killed, missed the funerals. He was detained for interrogation by coalition forces, but released three days later.
"They asked me over and over again, 'Where did you hide the rockets?' " he said. "I told them: 'Go ahead, search the compound.' " The military said the rocket cache the commander was suspected of procuring was never found.
Hesamuddin Kushkaki said the fact that he was released was proof the raiders had made a mistake.
"I told them everything I knew, and now I want to know something from them," he said. "I want to know who gave misinformation to the Americans. I want to know why my nephew is dead. We want to know why this happened to us."
Related
Popular in the Community