Batten down the hatches ― this storm's expected to be a doozy.
Approximately 50 million people in the Northeast are under blizzard or winter storm watches as a powerful Nor'easter makes it way up the coast, potentially bringing whiteout conditions and up to 2 feet of snow.
The late winter storm, which is set to arrive in some areas as early as Monday evening, is expected to dump the season's biggest snowfall and lead to power outages in some regions, according to the National Weather Service.
"Snow will become heavy Tuesday afternoon with snowfall rates of 1-3" per hour possible and near blizzard conditions along the coast. The storm will come to an end overnight into early Wednesday morning," the NWS advised.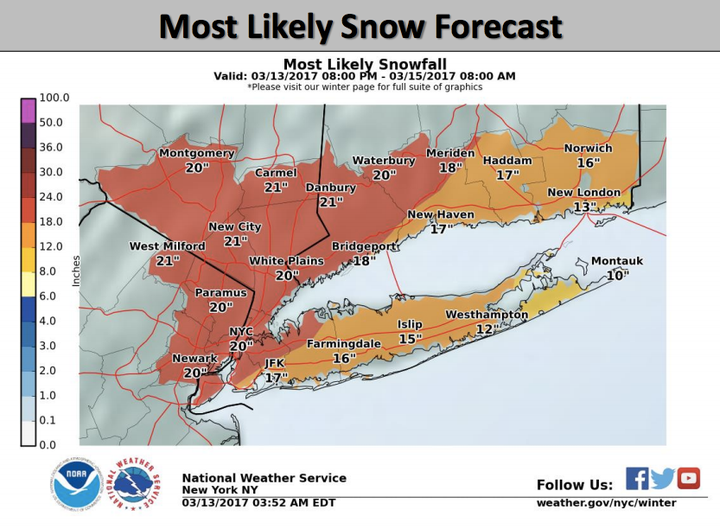 As of Monday afternoon, areas just northwest of New York City are expected to get the most snow. West Milford, New Jersey, could see up to 25 inches. New York City is expected to get at least 11 inches of snow, and could potentially be blanketed by as many as 23 inches.
In addition to heavy snow, the NWS warns that parts of Long Island and southeastern Connecticut are at particular risk of damaging winds, with gusts expected to reach speeds of up to 60 mph. Those same areas are also facing coastal flood warnings and advisories.
New York Gov. Andrew Cuomo urged people to avoid any unnecessary travel, adding that road closures, delays and cancellations are to be expected. New York City Mayor Bill de Blasio echoed that plea, asking the public on Monday to "keep roads clear for Sanitation crews and first responders." To assist this, public schools will be closed on Tuesday.
New Yorkers should also brace for temperatures that forecasters say could dip into the 20s, de Blasio said.
A full list of emergency items recommended for both homes and vehicles ― including batteries, first aid kits, flashlights, matches, extra blankets and shovels ― can be found at Ready.gov.
The website also cautions that accidental carbon monoxide poisoning from gas-powered furnaces and other power sources during outages are highest during colder months.
"Never use a generator, grill, camp stove or other gasoline, propane, natural gas or charcoal-burning devices inside a home, garage, basement, crawlspace or any partially enclosed area," the site reads, adding that it's important to install carbon monoxide detectors in homes.
Fire should not be used to warm up frozen pipes. Instead, the Red Cross advises opening the affected faucets and aiming hair dryers or portable space heaters at the pipes. You can also try wrapping the pipes in heating pads or towels soaked in hot water. If this doesn't work, contact a licensed plumber or your city's office of emergency management.
Lastly, don't forget to take any pets and livestock into sheltered areas. It's also vital to ensure they have non-frozen drinking water.
Popular in the Community