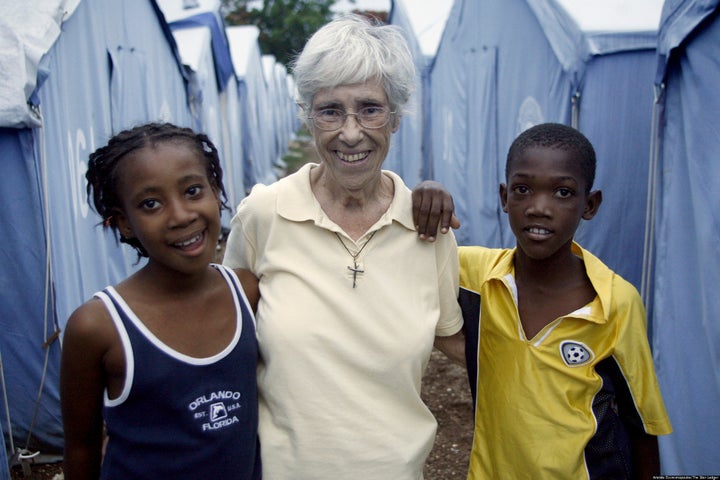 By Bob Braun
Religion News Service
PORT-AU-PRINCE, Haiti (RNS) Wearing a bright, floral blouse and pink shorts, Mita Jean Louis stares into a mirror, unmindful of the people around her. She is smiling, and someone asks if she's smiling because she sees the reflection of such a beautiful young woman.
"I don't know," says the 19-year-old, instantly shy. She puts the mirror away in a makeshift cabinet, and lowers herself onto her bed. The bandage that covers the stump of her thigh shows through below her shorts.
Mita turns her face into the shoulder of another teenager, 17-year-old Reginette Sinelien, who also lost a leg.
"They have come a long way," says Sister Mary Finnick, "but they still have a long way to go."
The 77-year-old nun runs what has to be one of the most unusual places in Haiti, perhaps anywhere in the world. It is a rehabilitation center for those badly hurt in the earthquake, a refugee camp, a haven for the displaced, a magnet for the altruistic, an incubator of new green businesses, a gallery of Haitian art, and even a soccer center.
The dining room table in what had once been the mansion of a wealthy Haitian businessman served as an operating table in the hours following the January quake. What had been a chapel became a pharmacy. Its grand soccer field became a tent city that included a place for victims like Mita to recuperate from amputations and find artificial limbs.
"I guess, in a way, we were the only game in town," says Finnick, who grew up in Lowell, Mass.
The "we" is Matthew 25 House, a place established in 2005 as a way of "twinning" Catholic parishes in the United States with those in Haiti. The building is a guesthouse, open in the past mostly to Americans who wanted to work for the poor in Haiti.
The house came through the earthquake only slightly damaged, while others in the neighborhood crumbled into debris. The center--named for the Gospel exhortation by Christ to help "the least of my people"--instantly became a center for all manner of groups who responded in the aftermath of the disaster.
The international Lions Clubs designated it as a camp and sent sturdy blue tents to house what, at its peak, were 2,000 homeless refugees from the quake, people selected by a committee headed by a local soccer star whose club once played its games on a field now covered with blue tents.
"The people were here so we lost our field. We wanted it organized well--first, to help the people, and then to make sure they move off the field," says local star Pierre Michel Tanis, better known by his playing name of Tye.
The team now can play only on what's left of what had been a huge open area--on a concrete basketball court--without knee pads.
Word spread quickly about what the nun was doing. Doctors from the U.S. and Portugal arrived, some to perform amputations.
Sue Morrison of Mountain Lakes, N.J., a surgeon who had been involved in the twinning parishes program, came to help. A friend, medical student Sarah Connelly from the University of Medicine and Dentistry of New Jersey, contacted a prosthetics company that put together a foundation to help those, like Mita, who lost limbs when concrete walls fell on them.
"We're here to provide quality care to people like Mita," says Dennis Acton of Manchester, N.H., a prosethetics producer who began the foundation.
"All kinds of people have come through here," says Finnick, including "Acupuncturists without Borders" and a plumber who donated and installed modern dual-flush toilets.
The camp also drew a group that wants to start a business building geodesic dome homes for Haitians, and another seeking to create organic compost-based toilet systems.
"I think having the word `sister' in your name makes people guilty," says Finnick, who once headed her order, the Grey Nuns of Yardley, Pa. She recently retired as a nursing professor at the University of Buffalo.
One recent night, guests included coaches from an organization in Massachusetts who want to train Haitian players and coaches, and a teacher from White Plains, N.Y., who had come to volunteer. A local artist named Einstein Albert sells his works there.
"I guess I have a knack for putting people together who want to do something good for others," Finnick says.
(Bob Braun writes for The Star-Ledger in Newark, N.J.)
REAL LIFE. REAL NEWS. REAL VOICES.
Help us tell more of the stories that matter from voices that too often remain unheard.