In reality, every state in the nation remains gripped by the pandemic in one way or another. Widespread deaths and hospitalizations, as well as waves of forced economic shutdowns to curb the spread of the virus, are the markings of a nation that, by the numbers, has waged the world's worst fight against coronavirus.
Unfortunately for Trump, earlier efforts to distract from the virus have failed, and evidence suggests that is still the case. Just 38% of the public approves of Trump's handling of the pandemic, according to a HuffPost/YouGov poll released last week.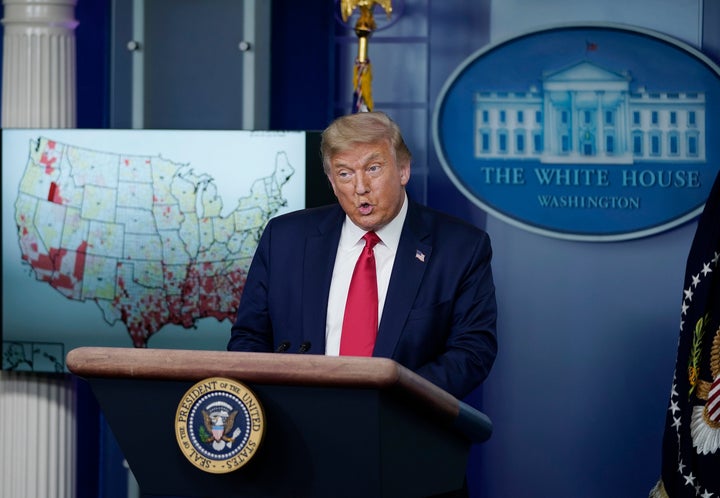 From the beginning, Trump has dismissed the threat of the virus and complained that it made him look bad.
"I don't need to have the numbers double because of one ship that wasn't our fault," Trump said at the time.
As the numbers of coronavirus-related infections, hospitalizations and deaths across the country have risen, the president has complained about how much testing has been done in the U.S.
"When you test, you have a case. When you test, you find something is wrong with people," Trump said in May during a tour of a medical supply distribution plant in Allentown, Pennsylvania. "If we didn't do any testing, we would have very few cases."
Several states reported struggling to administer tests, and some said they'd received little to no help from the federal government.
"We've asked FEMA if they could come and do community-based testing here," Gallego said July 5. "We were told they're moving away from that, which feels like they're declaring victory while we're still in crisis mode."
Yet the U.S. continues to struggle during the pandemic largely due to its inability to conduct widespread testing quickly and efficiently.
In Arizona and Texas — states that have seen coronavirus cases skyrocket over the last few weeks — many people reported running out of gas as they spent hours at drive-through testing sites. A test site spokesperson in Florida said in early July that the state was "asking people to have plenty of gas and make sure the air conditioning is working and make sure your windows can fully open and close because if not, they can't perform a test on you."
Still, officials continue to spin the Trump administration's response as a success.
Adm. Brett Giroir, a Department of Health and Human Services official in charge of the administration's testing protocol, claimed Sunday there was sufficient support for laboratories in need.
And when asked whether he was afraid to discuss testing with the president, Giroir said, "Nobody in the task force is afraid to bring up anything either to the vice president or president."
A HuffPost Guide To Coronavirus
Support HuffPost
The Stakes Have Never Been Higher
Popular in the Community