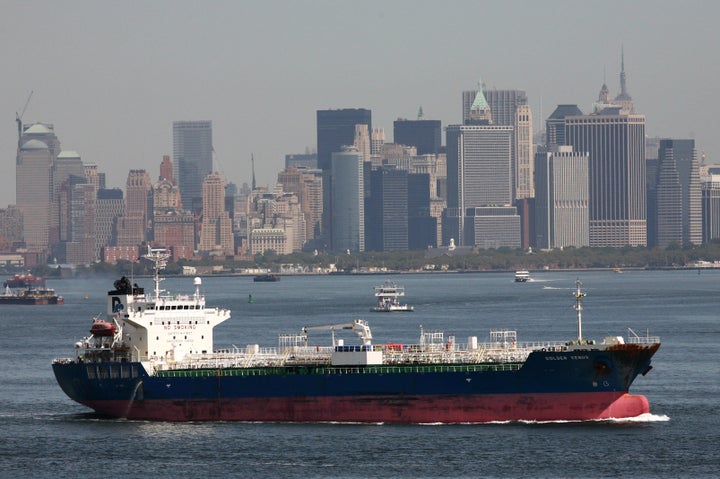 WASHINGTON (Reuters/Tom Doggett) - U.S. dependence on imported oil fell below 50 percent in 2010 for the first time in more than a decade, thanks in part to the weak economy and more fuel efficient vehicles, the Energy Department said on Wednesday.
The department's Energy Information Administration said it expected the moderating trend in U.S. oil-import dependency to continue through the next decade due to improvements in energy efficiency and even higher fuel economy standards.
The new data could undercut efforts by Republican lawmakers to expand offshore oil drilling to reduce oil imports, and support the position of the Obama administration and environmental groups that higher mileage requirements for cars and trucks would help cut dependence on foreign oil.
Imports of crude and petroleum products accounted for 49.3 percent of U.S. oil demand last year, down from the recent high of 60.3 percent in 2005. It also marked the first time since 1997 that America's foreign oil addiction fell under the 50 percent threshold.
"This decline partly reflects the downturn in the underlying economy after the financial crisis of 2008," the EIA said in its weekly review of the oil market.
Increased domestic production of ethanol and other biofuels that are blended with gasoline and consumer purchases of more fuel efficient vehicles also slashed the need for oil imports, according to the EIA.
Crude oil production, especially in the deep waters of the Gulf of Mexico, increased by 334,000 barrels per day (bpd) between 2005 and 2010, which also cut into foreign oil purchases.
U.S. demand for gasoline, jet fuel, heating oil and other petroleum products that were processed from crude oil dropped by 1.7 million bpd to 19.1 million bpd in 2010 from 20.8 million bpd in 2005.
At the same time, U.S. exports of petroleum products more than doubled to a record 2.3 million bpd last year from 1.1 million bpd in 2005.
"Nowhere have U.S. product exports increased more than in the Americas, including Mexico, Canada, Central and South America and the Caribbean, thanks to economic and population growth and inadequate refining capacity in those countries," the EIA said.
As a result, U.S. net imports of refined petroleum products fell last year to their lowest level since 1973, when the government began collecting such data.
(Reporting by Tom Doggett; Editing by Marguerita Choy)
Related
Popular in the Community