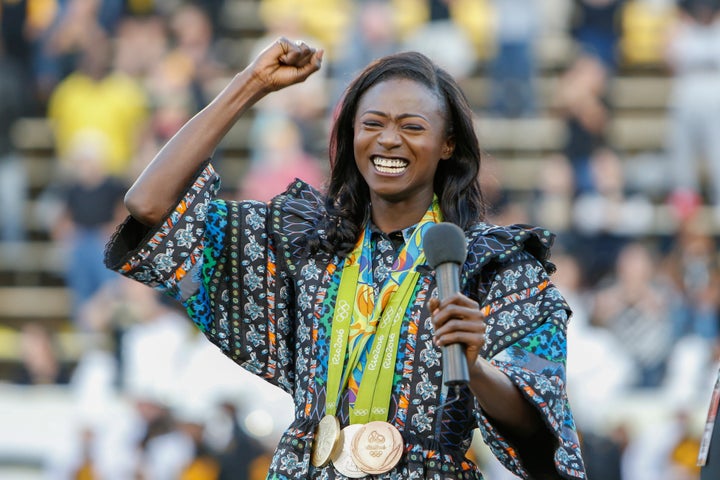 American track star and three-time Olympic medalist Tori Bowie has died, according to an announcement Wednesday. She was 32.
Icon Management Inc., the agency that represented Bowie, first shared the news in a post on Twitter.
"We've lost a client, dear friend, daughter and sister," the company wrote. "Tori was a champion…a beacon of light that shined so bright! We're truly heartbroken and our prayers are with the family and friends."
The Orange County Sheriff's Office reportedly said it found Bowie dead at a home in Florida. No cause of death was shared.
USA Track & Field, the sport's national governing body, also mourned Bowie's death on Twitter, saying that it was "deeply saddened."
"Her impact on the sport is immeasurable, and she will be greatly missed," the organization tweeted.
Bowie, a Mississippi native who was raised by her grandmother, attended college at the University of Southern Mississippi, where she became a three-time All-American.
She came to international attention while representing Team USA at the 2016 Summer Olympics in Rio de Janeiro. She delivered an epic performance at that year's Games, winning a gold medal in the 4x100 meter relay, a silver in the 100 meters and a bronze in the 200 meters.
Shortly after, Mississippi honored the beloved athlete by declaring Nov. 25 as "Tori Bowie Day."
"It's special," Bowie said of the distinction at the time. "Humbling, I should say. I've never even thought about anything like this."
She later took home the gold in the 4x100 meter relay and the 100 meters at the 2017 World Athletics Championships in London.
Bowie last competed in June 2022 at the Star Athletics Sprint Series in Montverde, Florida, according to her World Athletics profile. She remains the most recent U.S. woman to win a 100 meter major championship, the Daily Mail reports.
Popular in the Community