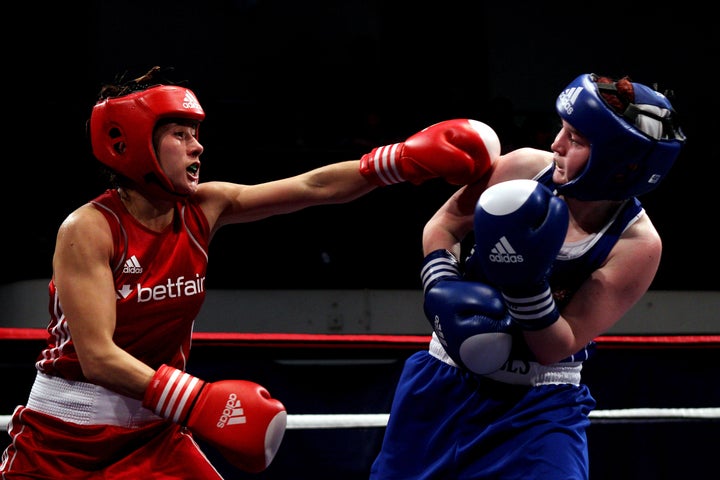 There were no real surprises tonight at the Pend Oreille Pavillion, except how moving it all was. A Kalispel elder kicked things off with a prayer, first in the delicate Salish language and then in English. I got sort of weepy when he asked the Grandfather Creator to bless the boxers, "because they are all warriors, and because womenfolk are the backbone of our families and tribes."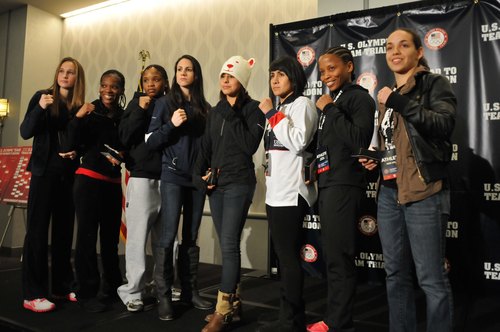 Photo: David Bluff, QBN (Left to Right: Virginia Fuchs, LaTonya King, Tyrieshia Douglas, Christina Cruz, Marlen Esparza, Cynthia Moreno, Taversha Norwood, Alex Love)
The first bout was a walk-over win for Marlen Esparza, the photogenic Texan with Nike sponsorship. Her opponent withdrew due to "injury."
Alex Love beat Taversha Norwood 24-15. Norwood boxed very well in the opening rounds but couldn't hold out against Love's rough work on the inside and straighter punches. Love will have a tough challenge tomorrow in Esparza.
Southpaw Virginia Fuchs did a nice job against the much more experienced Christina Cruz, losing a 15-12 decision. Both fighters had beautiful movement and showed up in top condition.
Tyrieshia Douglas overpowered Latonya King (Wingate) 34-11, looking by far the most physically strong of the flyweights with great, angry body shots late in the fight. It should be fun to see her brawling style against Cruz's slick boxing tomorrow in the winner's bracket.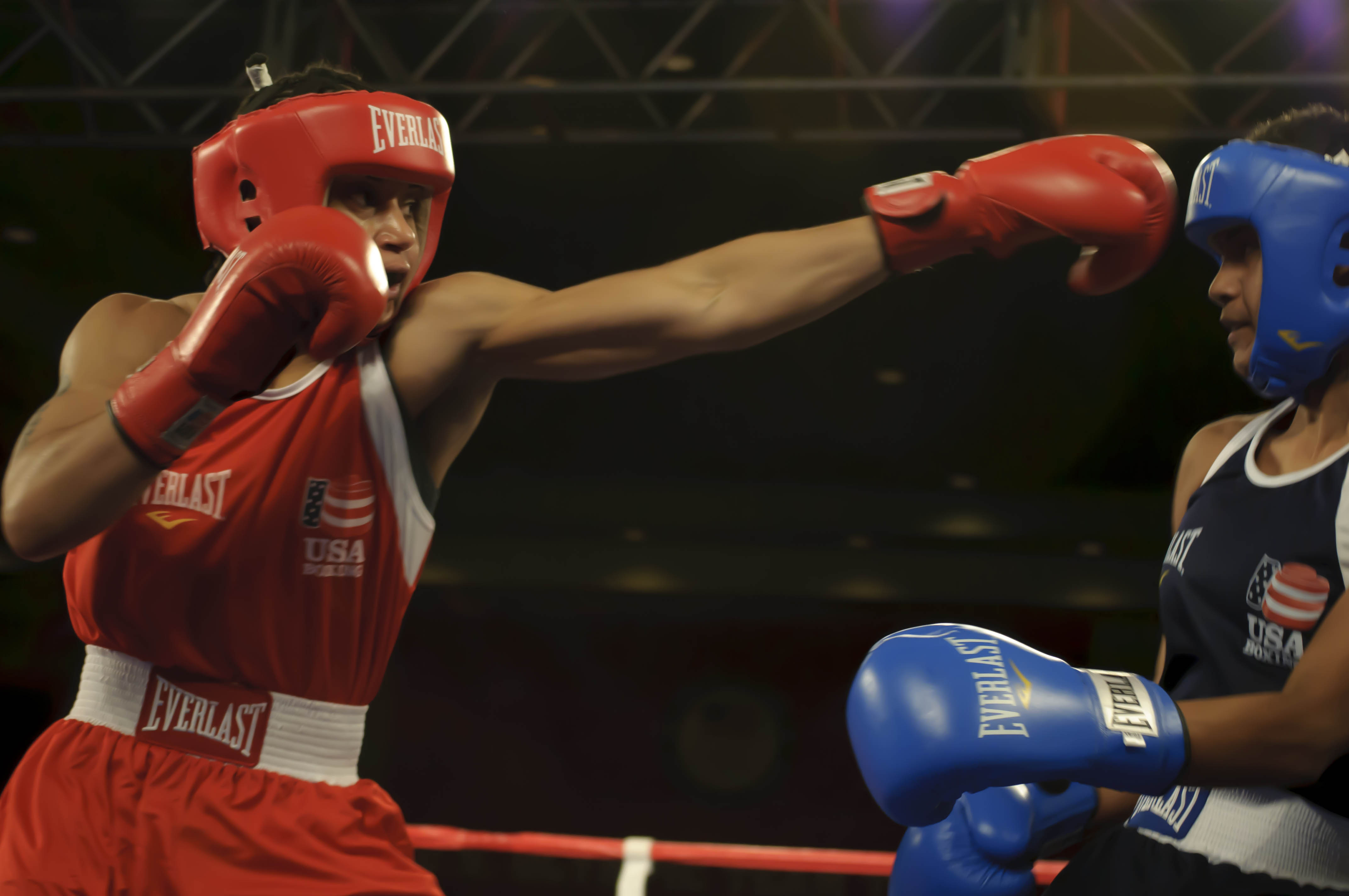 Photo: David Bluff, QBN (Queen Underwood in red; Bertha Aracil in blue)

Queen Underwood got huge support from her hometown crowd, who must have read the beautiful feature in today's New York Times describing Underwood's saga of childhood abuse. I was pulling for my own hometown underdog, Bertha Aracil, who acquitted herself well, winning the first round and generally keeping Underwood from looking good. I doubt anyone looks very good fighting Aracil, a tall, awkward southpaw. Underwood took it 22-12.
Even the ref was sexy in this California girl duel. Mikaela Mayer came in ice-cold and ultra confident, sporting her Rolls Royce of a trainer, Al Mitchell. Lisa Porter fought a great fight, pressing the action throughout. The 27-10 score for Mayer seems crazy; I thought Porter landed more punches, although her right hands and hooks lack leverage. Mayer will have to be more active than this when she faces Underwood in tomorrow's semifinal.
N'yteeyah Sherman, coltlike and impossibly tall, delivered the boxing performance of the night from the lightweights. Channeling Alexis Arguello, she threw fast combinations on the inside, stunning the tough Asia Stevenson in the final round en route to a 42-17 win.
I'd amused myself before the bouts by picking winners, and this was the only one I got wrong. My Mohawked favorite, Patricia Manuel, started off slow and never quite caught up to the slick and fast Tiara Brown, who won 18-13.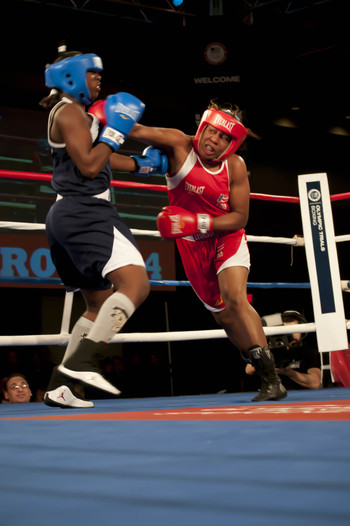 Photo: David Bluff, QBN (Shields in blue; Crews in red)
The fight of the night saw sixteen-year-old Claressa Shields beat the five-time national champion Franchon Crews 31-19. Crews is an intimidating woman. Her trainer Marvin told me, "I've never seen a female that tough. At the gym she spars men and it's hard sparring. We call them Ike and Tina Turner." Shields refused to be cowed, entering the ring looking serene and even trotting over to Crews's corner to initiate a stare-down before the match. The two women traded heavily during the first round, but Crews soon tired. Shields was supremely focused, staying in the pocket and landing some beautiful tight hooks inside her opponent's looping rights. Ah youth! I don't see anyone in this weight beating Shields, who looked like she could have gone another four rounds.
This is a big step up in weight for Andrecia Wasson, who won a gold medal at the 2010 World Championships at 152 pounds, but she displayed plenty of power in her 34-9 decision over Dara Shen. Andrecia has the best jab of all these women, that Sonny Liston style of jab that's almost a power punch.
"Which Tiffanie will reign supreme?" quipped the nice AP guy next to me. It was my fitness room buddy Tiffanie Hearns, beating Tiffanie Ward 18-17 in a rough match that was almost too close to call.
Pittsburgh's Tika Hemingway beat Raquel Miller 16-10 in an ugly fight with a lot of holding. I liked the way Hemingway's trainer kept yelling, "Get back on that stick! Double up that stick." "Stick" is boxing slang for "jab," a boxer's greatest weapon.
After the fights, I caught up with USA Boxing's head coach, the smooth and affable Joe Zanders, surrounded by an entourage of lovable old pugs.
"Which team was better, '76 or '84?" asked Rowdy Welch, a tough middleweight who's manning the glove table this week.
Zanders picked '76, the year of Sugar Ray and the Spinks brothers, "because look at who they went against."
"It's because kids today are so entitled," Johnny Bryant complained. "They play video games and they don't want to run. Back in the 'seventies, if you lost to someone, it was because he was better than you, not because you ran out of gas."
The women who fought tonight showed no signs of entitlement. What some lacked in polish they all made up for in hunger.
REAL LIFE. REAL NEWS. REAL VOICES.
Help us tell more of the stories that matter from voices that too often remain unheard.