Down came the announcement and up went the cheap bunting and shabby little American flags. "Do you believe in miracles?" a USA Today headline blared, comparing the International Olympic Committee's decision to ban Russia from the 2018 Pyeongchang Olympics with the U.S. hockey team's upset of the Soviet team in 1980. "The bad guys just lost, big time," columnist Christine Brennan wrote in the accompanying piece. Meanwhile, U.S. skiers Lindsey Vonn and Mikaela Shiffrin went on television to chatter about "integrity" and "clean, friendly competition," as if the Olympics have ever been known for either.
The IOC dumped Russia for having engaged in a broad, state-sponsored doping scheme at the 2014 Sochi Games and before, and now the Americans, jocks and media alike, were beating their chests. It was a new kind of victory, in a new kind of sports cold war.
All of this would be bad enough if the United States had clean hands. But our own record on the subject is dirty, and the finger-wagging Americans ignored a basic truth about the Olympics: We cheat, too. It's just that our cheating has an American accent — it's privatized and corporatized.
Kara Goucher knows it. The former Olympian, who competed in Beijing in 2008 and in London four years later, couldn't help but notice how quickly Americans pounced on the Russia news without giving any thought to their own doping issues.
"There's the old saying about throwing stones at glass houses," Goucher told HuffPost. "Before we are so quick to jump on the 'ban Russia' boat ― which I think it's fine to want Russia banned ― we need to look at ourselves and who we want to be."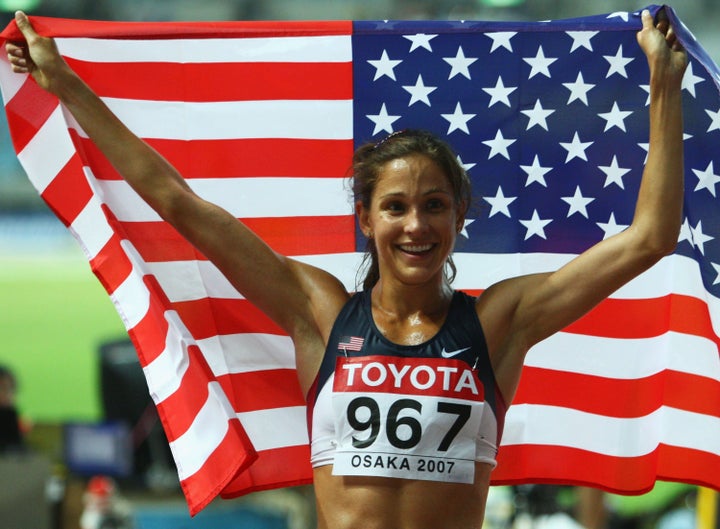 In 2015, Goucher and Steve Magness, a U.S. Olympic team coach, publicly blew the whistle on what they said was widespread cheating at the Oregon Project, the Nike program charged with training American distance runners for the Olympics. The pair accused Alberto Salazar, the famed runner and the Oregon Project's top coach, of helping athletes cheat by prescribing them medicines they didn't need, experimenting with performance-enhancing substances like testosterone, and exceeding mandated limits on IV injections and other treatments.
The allegations Goucher and others leveled against the American program do not rise to the level of Russia's malfeasance, and the United States has never been accused of engaging in such a systematic scheme of state-sponsored doping. But that's not the result of our nation's inherent integrity. As Aaron Gordon wrote for Vice Sports last year, it's an accidental byproduct of an Olympic system created by American capitalism and run like an American business.
In both Russia and the U.S., the structure of Olympic sports is shaped by the broader political economy. Russia's doping is state-sponsored because nearly everything in Russia is centralized and state-controlled. In the United States, where the U.S. Olympic Committee, by law, receives no government funding and American athletes receive no state support, Olympic training is outsourced to athletes and private interests like Nike. Any doping is outsourced to those same private interests. Cheating in Russia is a product of the state. Cheating in the U.S. is merely another capitalistic venture: To get money to fund adequate training, one must win, and it's a whole lot easier to win on dope.
"We can yell at them and say, 'We're for clean sports. They need to be banned!' But we don't really want to look at what's happening in our backyard."
That system also makes it easy for the U.S. and its top sporting officials to simply look the other way, claiming that each cheater is a one-off and that each private entity that facilitates doping ― like BALCO, which provided drugs to now-disgraced Olympic champions Marion Jones and Tim Montgomery ― is cheating on its own volition and in its own interest.
The United States in fact has a lengthy history of doping at the Olympic Games and other international events, and of turning a blind eye to its own cheating. That's especially true in track and field, the front porch of the U.S. Olympic program because of track's ability to drive American medal supremacy.
Nike's track-and-field training program, for example, has been dogged by doping allegations since at least the 1970s, when its top officials were allegedly aware that athletes used steroids and other performance enhancing drugs. Since the U.S. boycott of the 1980 Moscow Games, every single U.S. Summer Olympic team has included at least one sprinter who either had previously failed a drug test or would later do so. And that's to say nothing of athletes in the other disciplines.
American drug cheats include some of the country's most notable Olympians. Carl Lewis admitted in 2003 that he had failed three drug tests prior to the 1988 Seoul Olympics, but avoided a ban with the help of the U.S. Olympic Committee and won two golds and a silver instead. Justin Gatlin won the 100-meter dash at the 2004 Athens Games before later failing a drug test. Tyson Gay, the world's fastest man entering the 2008 Beijing Games, later failed a drug test too. Gay and Gatlin nevertheless formed half of the American men's 4x100 relay team in Rio de Janeiro in 2016.
And history at least raises the possibility that some of our doping has been centralized, a la Russia. Eighty-four American Olympians failed drug tests in the year prior to the 1984 Los Angeles Games but went on to compete anyway, according to author Mark Johnson. Carl Lewis claimed that "hundreds" of Americans failed tests while remaining eligible to compete, with the assistance of the U.S. Olympic Committee, in Seoul. The USOC faced allegations ahead the 2000 Sydney Games that it had withheld information on 15 positive tests from international officials; by 2003, it had been accused of covering up at least 114 positives between 1988 and 2000.
"We have, every year, representatives on our team who win awards at the end of the year who have served bans," Goucher said. "And we choose to look the other way. But we're not looking to do that for anyone else, and certainly not for Russia. And don't get me wrong: Russia deserves this ban, but they've become this easy target, right? We can yell at them and say, 'We're for clean sports. They need to be banned!' But we don't really want to look at what's happening in our backyard."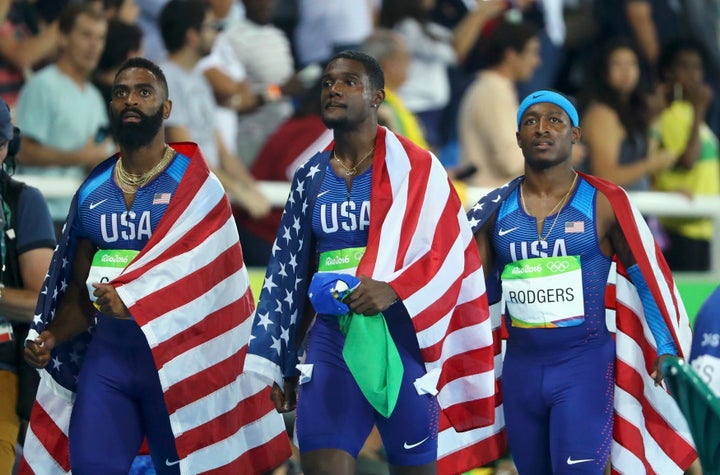 Alysia Montaño finished fifth in the 800-meter finals in London behind two Russians, now accused of doping, who kept her off the medal stand. She supports Russia's ban, but also worries that the international sports community may be "scapegoating" that country to avoid a proper reckoning. Although she isn't a product of the Oregon Project, she said she believes Goucher's claims ― which would suggest the U.S. isn't as far removed from its past shenanigans as some may like to believe.
"I definitely think we are overpraised as being this super-clean country," Montaño told HuffPost. "Every country should be under the same scrutiny. Every country should be under the same microscope."
Both Montaño and Goucher said they trust the U.S. Anti-Doping Agency, which has been hailed as one of the most aggressive anti-cheating organizations of its kind in the world. But this February will also mark five years, Goucher said, since she first quietly alerted the Anti-Doping Agency to alleged widespread doping at the Oregon Project, and it has been two years since the scandal became public. The agency's investigation is still ongoing, and there have been indications that some punishments loom. But there have been few calls, in the media or elsewhere, for speeding up the process.
It's hard to fault athletes like Montaño and Goucher for believing in the Olympic ideal or for crusading for clean sport. This is their livelihood and passion, after all.
But the history of sports offers little basis for their idealism, and recent history suggests the overzealous policing of that unattainable ideal is causing more harm than good. With medals, money and fame on the line, athletes will cheat; drugs will be a part of sports; and regulators and organizations will always lag behind, failing to catch all, or even most, of the cheaters. The prestige and soft political power the Olympics offer countries will continue to incentivize the sort of schemes that Russia concocted and that the U.S. Olympic Committee has engaged in before ― and that its private backers and interests may still be engaging in today. And as long as we maintain our current drug prohibition regime, the careers and lives of great athletes will continue to get ground up in our habitual frenzies surrounding the substances they consume to make themselves better at sports.
As it is now, it's not even clear anyone in charge wants to catch the cheaters or that the anti-doping crusade is built on anything sturdier than hypocrisy and lies: those of the IOC, for perpetuating the myth that it cares about integrity more than its bottom line; those of the various athletic federations and national Olympic committees, who point fingers at obvious culprits while refusing to acknowledge their own problems; and those of the media, for too often failing to acknowledge these realities, even as the same old song plays at every Olympics.
We've turned drug interdiction and enforcement into an Olympic sport unto itself, subject to the same fits of nationalism and tribalism as the actual events. It's hard to believe that Russia's ban will have any long-term effect, that anything will change here, there or elsewhere as a result. Or that it ever could, including in the United States. And even some of the clean athletes now sound like they're starting to live with that reality.
"We have an opportunity to be better," Goucher said. "But I don't have a lot of hope that we will."
Related
Popular in the Community