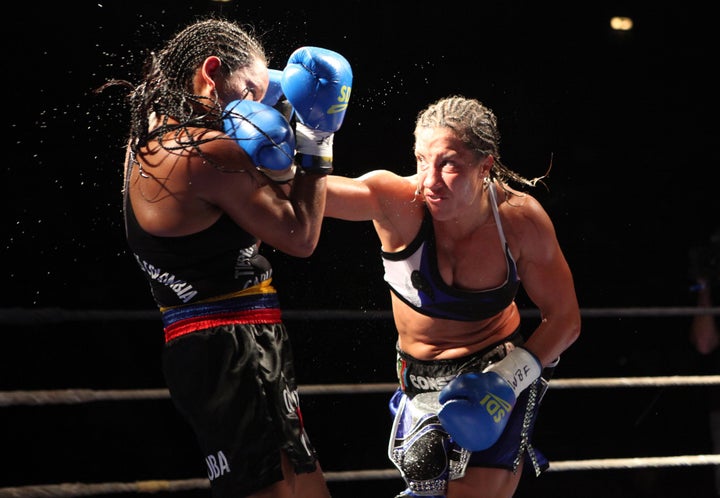 A heartbreaking Valentine's Day for five of the women in the U.S. Olympic trials, who were eliminated in tonight's bouts or forced to withdraw for medical reasons. This leaves 18 still vying for the three Olympic berths.
Hometown favorite Alex Love came out very strong against boxer-puncher Marlen Esparza of Houston, but Esparza turned it on in the later rounds, delivering a truly impressive boxing display. She's the most versatile fighter in the tournament and the only girl I've seen who's effective going backwards. 22-12 for Esparza.
Christina Cruz eked out a 20-15 win over the tough Tyrieshia Douglas. Cruz stuck to her Willie Pep plan, moving throughout and controlling the rhythm of the later rounds with her jab and 1,2.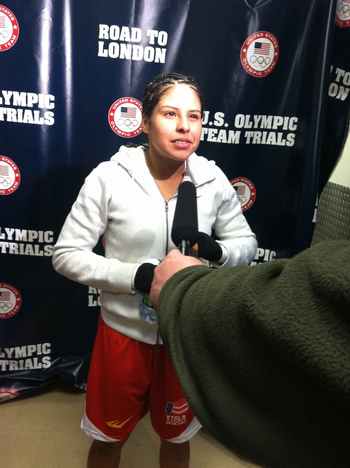 Cruz and Esparza will face off on Thursday. Esparza has won two of their three previous fights. As facile in front of a camera as she is in the ring, she told the press she deserved the Olympic spot because of her seniority in the sport. When speaking on Thursday's bout, she said, "Christina does the same thing over and over, and I would have thought Tyrieshia would have figured that out. All she's got is the right hand, and I'm going to neutralize her right by keeping my left hand high. I won't rush to be first."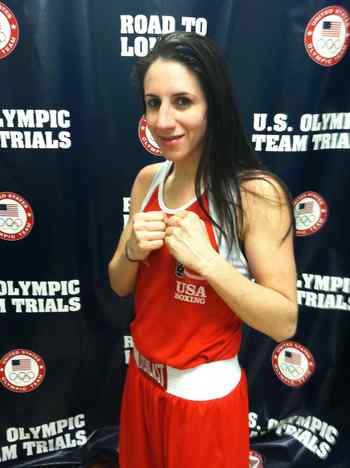 I confess to pulling for Cruz, who looked soulful after her win and sported a delicate pink bruise on one shoulder. A hardworking secretary from Hell's Kitchen, she's a different species than the extroverted Esparza with her instant pull quotes and flashy Nike shoes. When I told Cruz she had thrown some beautiful right hands, she shrugged.
"Thanks. I try to counter. Timing is one thing I'm good at."
She declined to elaborate on strategy for the Esparza rematch: "I'll have to see how she fights and base it on that."
In the challenger's bracket, Taversha Norwood advanced unopposed, and Viginia Fuchs took a close 15-14 decision in an awkward, clinch-laden fight with Latonya King.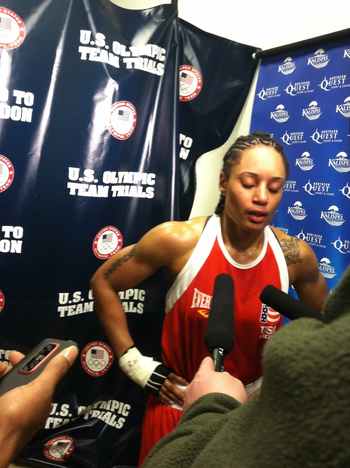 The crowd got a great show when Queen Underwood out-fought Mikaela Mayer 27-20. Both fighters looked infinitely more impressive than they had the previous evening. Mayer boxed beautifully and got great leverage on her right hands, but Underwood did more, especially to the body. Now I understand what all the fuss is about.
The virtuosic N'yteeyah Sherman took the fight to slick Tiara Brown with six and seven-punch combinations, taking a 32-24 decision.
"You fight a lot on the inside for such a tall fighter," I told her.
"Yeah. I know it would be easier if I boxed," she said, "But I just like to fight. I like to get in there."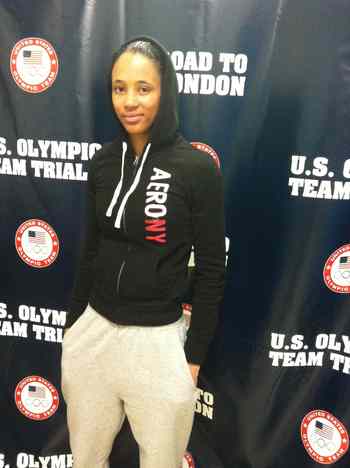 I hadn't realized how young Sherman was -- just nineteen -- until I saw her beautiful face up close. She and the sixteen-year-old Claressa Shields both benefit from youth's speed and stamina, but their bodies are softer than the grownups.
"They have woman strength," said Claressa Shields of the older fighters she faces.
Perhaps that's why Shields hasn't stopped anyone yet and why Sherman doesn't really seem to hurt her opponents, despite landing so often. It will be fascinating to see what happens when Sherman's speed meets Underwood's "woman strength" on Thursday.
In the challengers bracket, Bertha Aracil won a somewhat unpopular 16-13 decision over Lisa Porter, cemented with a big fourth round. Porter looked good: much more set behind her punches than last night. It's sad to see this game fighter go home.
Even sadder was Patricia Manuel's withdrawal due to a shoulder injury, giving Asia Stevenson a walkover win. Heal up, Patricia, and we'll see you in the pros.
Claressa Shields looked like she was having a great time as she took apart Andrecia Wasson 31-12. Afterward, Shields' trainer Jason Crutchfield said he would give her a B plus for the night and that she still had a lot to work on. Shields looked mildly crushed.
"His opinion is the only one that matters to me," she told the press.
Tika Hemingway looked strong and wild in her 19-15 victory over Tiffanie Hearns, who did a great job boxing behind the jab and made it a close fight.
Among the challengers, Franchon Crews advanced unopposed after Dara Shen withdrew, and I was glad because I didn't want to see Shen take Crews's punches. Raquel Miller looked like a different fighter than she had in yesterday's match with Hemingway, making a classy showing in a 23-12 victory over Tiffanie Ward. I doubt anyone in the tournament can touch Shields.
The lovely Tiffanie Ward will have to go home, but at least she has a Valentine waiting for her. She's engaged to Olympic heavyweight hopeful David Imoesiri, whom she met at a USA Boxing tournament. Maybe they'll end up like Fran and Ricky Webb, a darling husband and wife referee/judge couple here together officiating. They've been married for fourteen years, and his wedding ring says "USA Boxing."
Popular in the Community