This was the third night of hard work for the twelve fighters in the challengers bracket. Six go home, leaving just twelve in the running for the U.S. Olympic team.

Flyweights

Tyrieshia Douglas handed Taversha Norwood the first stoppage of the tournament at one minute and eighteen seconds into the fourth round. In amateur boxing, a referee gives a boxer a "standing eight count" when she appears dazed or has received too many blows. Three standing eight counts in one round -- or four standing eight counts in the entire fight -- and it's over. Douglas controlled this fight from early on, and she smelled blood in the last round, mixing digging body shots in with her hooks and lefts to give Norwood three eight counts in the fourth.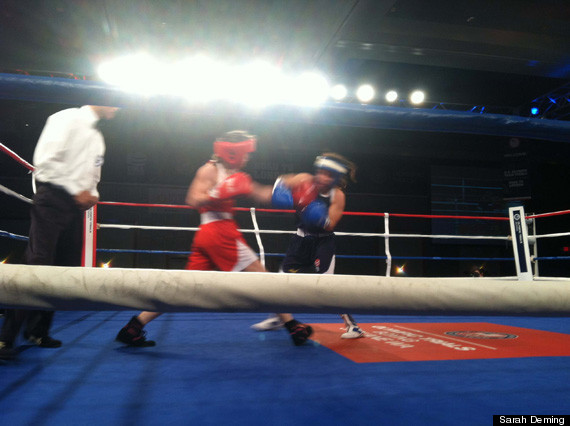 Fuchs connects with a left against Love

Virginia Fuchs seems like a stick-and-move boxer, but she always comes out more aggressively than I expect. She's really impressed me, and she impressed her opponent, winning a 21-16 decision that dismayed the huge cheering section in "Alex Love" tee-shirts.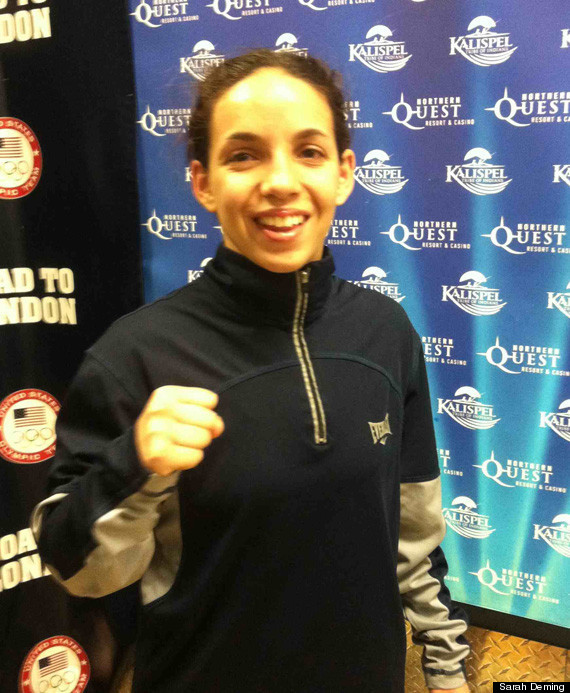 Alex Love

Love has a bit of the ronin about her. Prior to the tourney, she traveled all across the country, picking up knowledge of the sweet science wherever she could. She heads home to her llama farm and loving Pakistani mother and vows to return in four years.

Lightweights

Tiara Brown eliminated Bertha Aracil, 12-11. From the sidelines, teammate Christina Cruz yelled out, "Bertha, don't clinch!" It may have been Brown's greater activity on the inside that gave her the edge in this very close fight.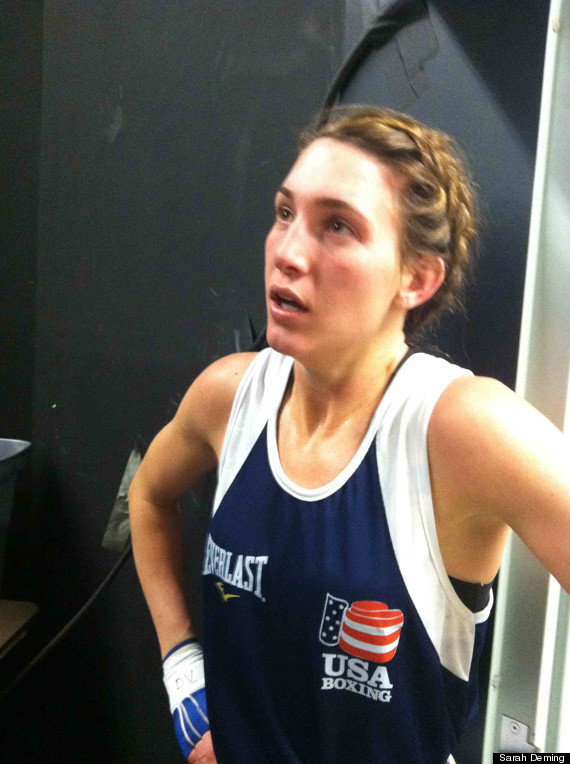 Mikaela Mayer

California girl Mikaela Mayer continued her roll, stopping Asia Stevenson at one minute and twenty-four seconds into the fourth round after giving her two eight counts in the second, another in the third, and backing her up against the ropes in the final round with a beautiful 1,2,3 and working methodically until the ref stepped in.

Middleweights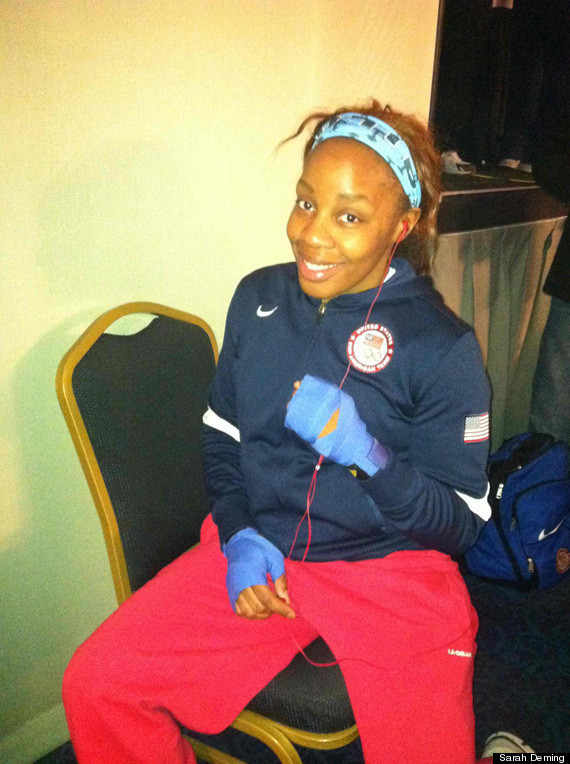 Franchon Crews waits to fight

It was personal for Franchon Crews as she edged out Tiffanie Hearn 27-26 in a messy brawl that saw point deductions for both fighters for wrestling and a point deduction for Crews for taunting. Both women scored with big shots; Hearn with the straight 1-2 and Crews with a hook counter that looked like it had the population of Baltimore behind it.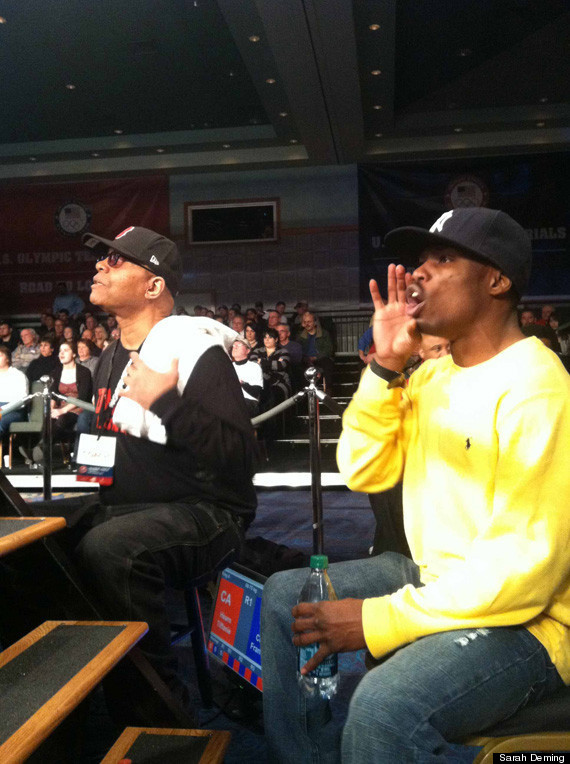 Franchon's corner gets rowdy

The final bout was a bit of a stinker with lots of clinching and circling from Raquel Miller and Andrecia Wasson. The annoying woman behind me, who has been screaming inanities in my ear every night, yelled, "Do something! You're boring me!" Miller, who was celebrating her 27th birthday, got a nice gift in the 7-6 decision.

The Trainers

Twenty-four boxers means at least twenty-four trainers, which means a lot of good times in the Northern Quest fitness room. Franchon's corner is one of my favorites, featuring the humorous stylings of Dennis James and the deep thoughts of Marvin McDowell.

McDowell gave me a history lesson on Joe Gans, who I learned was the first African American world champion in any sport, holding the lightweight crown from 1902-1908. Gans was also a shrewd businessman who owned the Goldfield Hotel, where pianist Eubie Blake got his start. Jack Johnson was so impressed by Gans's swinging joint that he used his own prizefight earnings to start the Cotton Club.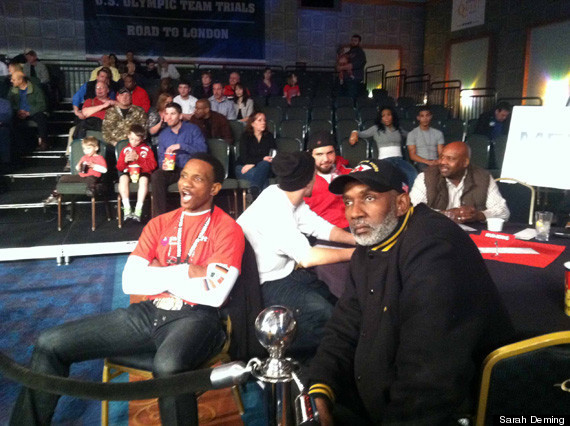 Coach Marvin (R) watches his girl

The mood was gay in the fitness room this afternoon as the undefeated fighters got in light workouts on their day off. Claressa Shields showed off superb balance and handspeed as she worked the pads with trainer Jason Crutchfield.

Olympic bronze medalist Nate "The Snake" Jones watched over his prospect N'yteeyah Sherman, whom he began training one month before these trials. He first spotted Sherman when she beat one of his own girls in a tournament. When she said she'd only had ten fights, he thought she was lying.

"Then she told me she'd been training all her life but her father just started letting her fight. I said, 'OK, I believe you now.'"

Sherman senior sounds like a good dad. When he knew he'd shown his daughter as much as he could, he contacted Jones on Facebook and asked him if he would take her on.

"I tried to play it cool, but I was so happy," Jones said. "Because I loved her the first time I saw her."

For every session, the Shermans drove six hours from their home in Ohio to Jones' Chicago gym, where even the little girls get down.
Meanwhile, Mack Arlison was doing reps on the bench press. Arlison is a conditioning coach for Tyrieshia Douglas, and he eats, sleeps, and breathes martial arts. When we chatted, Tyrieshia was still fresh off yesterday's loss to Cruz.

"It's hard to see her lose when you know she's got more in the tank," he said.

"What will you say to her before tonight's bout?" I asked.

"I try to turn the light on inside her. I tell her to please herself, that it's about her not about me." He paused. "But I'm going to have to be a little harder on her tonight."

Whatever he said, it worked.
REAL LIFE. REAL NEWS. REAL VOICES.
Help us tell more of the stories that matter from voices that too often remain unheard.