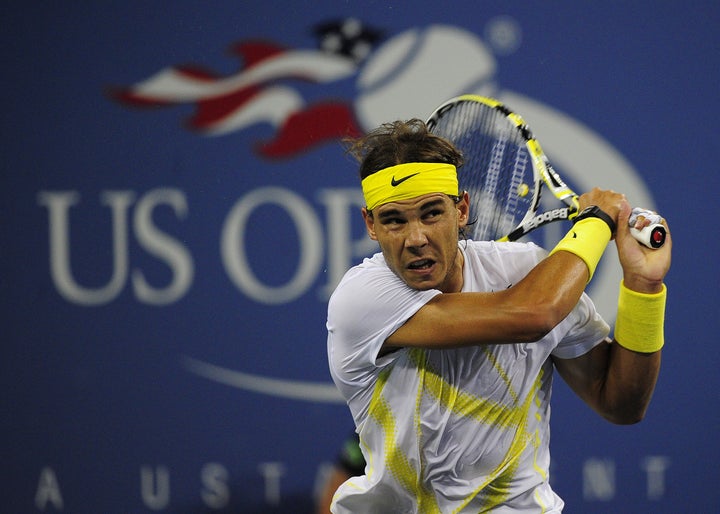 FLUSHING MEADOWS, New York – For a second consecutive day a reigning women's Grand Slam champion, loses in the first round in the U. S. Open while a defending men's champion struggled to fight off a feisty opponent.
"It's a great win for me, said Halep. "It's unbelievable. I feel very good. I played good. I played before a lot of great players, Serena Williams in Wimbledon, Kuznetsova in Toronto. A lot of good matches for me. This one, it's my best."
"Yes, it's not easy to play against one Grand Slam champ because it's very top level. I had emotion. I was nervous before the match. But I wanted just to enjoy the match, to feel the ball good, and to play my best. And was good.

"I am a little bit injured at my ankle. But I hope that next match I'll be better and I'll feel better, my foot. And I hope that I play my best again."

Li was extremely disappointed with her performance which produced 54 unforced errors, "I think it's terrible feeling. I mean, two years in a row, first round here, first round Indian Wells, Miami.
"I mean, normally I like hard court a lot. But I think these two years I just doing ****"
With Li's loss all of the current women's grand slam champions are no longer in the tournament (2010 US Open and 2011 Australian Open –Kim Clijsters (did not play US Open due to injury), 2011 Roland Garros Champion Li Na and Wimbledon titlist Petra Kvitova.

Topsy –Turvy Straight Set Win for Rafael Nadal

"I was a little bit lucky to win today in straight sets," said Rafael Nadal of his 6-3, 7-6(1), 7-5 win over Andrey Golubev of Kazakhstan.

The Spaniard's serve was broken six times in the match and he was forced to save seven set points in the second set of the match. Golubev held leads in each of the three sets – 3-2, 5-2 and 5-2 to see Nadal rally in each set.

Toni Nadal, Rafael's uncle and coach states "his confidence is not too good…I hope in one week, it will be different."

"If you don't think about the points, it was not bad performance," proclaimed Golubev. "I mean, you have to win the points when you have to win—for example, like second set or third set, when you serve for the set."

Quick Work for Djokovic, Serena and Wozniacki

World No. 1 Novak Djokovic played a mere 44 minutes to build a 6-0, 5-1 lead over qualifier Conor Niland of Ireland when he retired from the match with food poisoning.
"Great opening performance… today I didn't feel any pain. I served well, and I played well, so I have no concern."
The Serb improved his record on the year to 58-2 "This year has been tremendous—best so far in my career—and there has been a lot of talk about history-making and this incredible run," said Djokovic.

Serena Williams advanced to the second round of Flushing Meadows with a 6-1, 6-1 romp over Serbian Bojana Jovanonski in the evening session.

The 56 minute match saw Williams make only 10 unforced errors and 22 winners.
"I'm so happy to be here. I didn't think I would make it," said Williams. "Just feel so blessed. I'm so happy."
Williams was out of action for almost a year with a foot injury and later an embolism.

World No. 1 Caroline Wozniacki had an easy time with N. Llagostera Vives 6-3, 6-1 but was asked about the lack of "a big shot" and to name her new coach.
"They can say what they want. I'm the type of player I am. I've won a lot of tournaments. I'm No. 1 in the world, and of course I can still improve. There are a lot of things to my game I can still improve, but everyone can.
"You know, I'm on the right track. I just go out there and I play the way I do, and, you know, hopefully that's good enough.
"I mean, I won six tournaments this year already. You know, I should definitely not be complaining. I'm in a good position. I'm in a good spot. I'm happy, healthy, and I can go out there and compete. That's what's most important.
"I'm winning a lot of matches, which is why we practice. We practice to win. Yeah, I've won a lot of matches, and that's what satisfies me.

"I'm settled. (on the coaching front) I like the way I have everything now. You know, I'm happy about things around my team. I'm happy about the way I'm playing, how everything is right now
"So I can just focus on the things on court."

Welcome to the top 100

Eighteen-year-old American Sloane Stephens outlasted Hungarian qualifier Reka-Luca Jani 6-2, 3-6, 7-6 (3) on Tuesday. The win assures Stephens a place in the WTA tour top 100 where she will be the newest and youngest member.
Stephens is part of a group of teens making their way up the rankings and pays attention to what the others are achieving as well. "But I know that Christina (McHale) won yesterday and Irina (Falconi) won yesterday. The person I was most pleased with yesterday is Heather Watson. She's a good friend of mine. I know she's not American. We all grew up playing ITFs together. For our group yesterday, she by far had the best performance. Mentally she was awesome. She never gave up. She fought the whole way."
"I thought that was really awesome for our age group, whatever you want to call it. That was good.
"And Madison Keys. I forgot about her. She's younger than us. She didn't grow up playing ITFs with us. She played Jill. Obviously Jill is another great player. She's awesome. She's older than us. She's been playing a while.
"But we're tight because we're PTA. We're with Under Armour. Every time I see her, I'm like, PTA, PTA. It was disappointing obviously for her to lose, but awesome for Madison to get her first win. I wish I could have gotten my first win at 16 at a US Open. It's a big step. Hopefully she can keep moving forward with it."
Advancing Sseeds

Women
(1) Caroline Wozniacki (DEN) d. Nuria Llagostera Vives (ESP) 63 61
(4) Victoria Azarenka (BLR) d. Johanna Larsson (SWE) 61 63
(7) Francesca Schiavone (ITA) d. (Q) Galina Voskoboeva (KAZ) 63 16 64
(10) Andrea Petkovic (GER) d. (Q) Ekaterina Bychkova (RUS) 62 62
(11) Jelena Jankovic (SRB) d. (WC) Alison Riske (USA) 62 60
(15) Svetlana Kuznetsova (RUS) d. Sara Errani (ITA) 75 61
(16) Ana Ivanovic (SRB) d. Ksenia Pervak (RUS) 64 62
(17) Anastasia Pavlyuchenkova (RUS) d. Anna Tatishvili (GEO) 62 62
(18) Roberta Vinci (ITA) d. Irina-Camelia Begu (ROU) 63 64
(20) Yanina Wickmayer (BEL) d. Sorana Cirstea (ROU) 61 75
(22) Sabine Lisicki (GER) d. Alona Bondarenko (UKR) 63 63
(23) Shahar Peer (ISR) d. Sania Mirza (IND) 67(5) 63 61
(26) Flavia Pennetta (ITA) d. (WC) Aravane Rezai (FRA) 61 64
(28) Serena Williams (USA) d. Bojana Jovanovski (SRB) 61 61
(29) Jarmila Gajdosova (AUS) d. Iveta Benesova (CZE) 76(5) 75
(31) Kaia Kanepi (EST) d. Tamarine Tanasugarn (THA) 64 63
Men
[1] N Djokovic (SRB) d C Niland (IRL) 60 51 ret. (illness)
[2] R Nadal (ESP) d A Golubev (KAZ) 63 76(1) 75
[5] D Ferrer (ESP) d I Andreev (RUS) 26 63 60 64
[11] J Tsonga (FRA) d Y Lu (TPE) 64 64 64
[14] S Wawrinka (SUI) d M Gonzalez (ARG) 36 64 61 63
[17] J Melzer (AUT) d E Prodon (FRA) 62 76(4) 62
[19] F Verdasco (ESP) d J Nieminen (FIN) 36 64 61 64
[24] J Chela (ARG) d M Matosevic (AUS) 31 ret. (ankle)
[26] F Mayer (GER) d A Mannarino (FRA) 62 60 61
[30] I Ljubicic (CRO) d B Kavcic (SLO) 76(5) 36 61 75
Seeds Upset
Simona Halep (ROU) d. (6) Li Na (CHN) 62 75
Pauline Parmentier (FRA) d. (21) Daniela Hantuchova (SVK) 62 63
Mona Barthel (GER) d. (32) María José Martínez Sánchez (ESP) 63 64
E Gulbis (LAT) d [16] M Youzhny (RUS) 62 64 64
N Davydenko (RUS) d [32] I Dodig (CRO) 67(6) 63 60 26 62
Popular in the Community