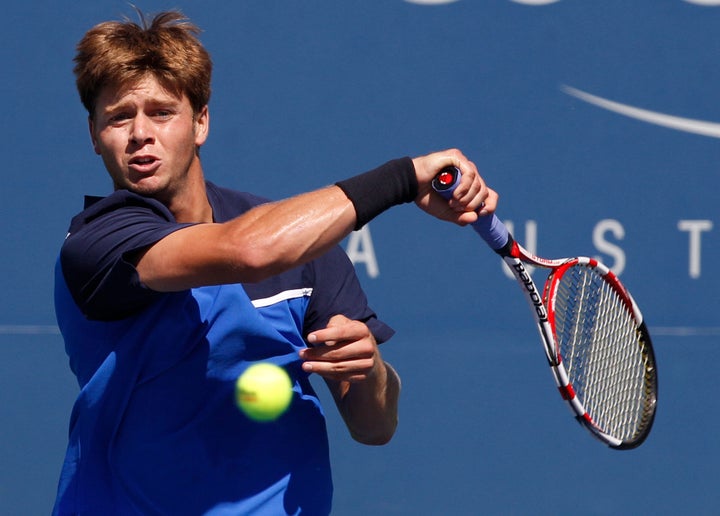 Ryan Harrison is supposed to be the new face of American tennis. In his second U.S. Open though, the brash 19-year-old with the floppy hair and the big forehand looked more like a big flop than anything else.
Playing on the prestigious Louis Armstrong court against Marin Cilic on Monday, Harrison was not only outclassed but outbehaved. Midway through a brutal three-set defeat, he channeled his inner McEnroe so energetically that the crowd started to laugh. Watching live, I counted eight racket tosses and, of course, the classic ball kick into the stands.
Such emotion could be construed as a positive. Hey, at least the kid has some fire. Americans can surely relate.
But this is still tennis, and tennis on any level is a gentleman's game. By the conclusion of the match, Harrison had embarrassed himself so greatly that the crowd -- the 98 percent American crowd -- was booing him.
When it comes to Harrison's play, the comparisons to Andy Roddick aren't far off. While Harrison struggled with his serve on Monday (only 43 percent), the velocity was certainly there, and the powerful forehands are similar. However, Harrison is a far better athlete and much more fluid on the court. He doesn't volley often (who does really?) but when he comes to net, he is surprisingly effective for a young player, something Roddick never figured out. Even in the loss to Cilic, this was evident. His backhand is much more technically proficient as well.
When Roddick won the U.S. Open at 21 years old, he was No. 1 in the world and looked like the next boy wonder of tennis. But the competition quickly figured him out as a one-trick pony whose main weapon was the serve, and in a shockingly short time, he descended from the elite.
For all his antics, Harrison seems more likely to sustain long-term success. Like A-Rod, he may be a punk at 19, but maybe he'll have grown up by 25.
At 15 years old, Harrison became only the 10th player in the history of the ATP Tour to win a match before turning 16. While he has yet to advance past the second round of a Grand Slam, he has shown a lot of potential, most recently rising to 66th in the world.
Tennis, as we know, is the peculiar sport where you start very early and end very soon. The wins Roger Federer has racked up into his third decade are incredibly rare. Tennis players just don't last that long. I spoke with Toni Nadal last week about his protege Rafael Nadal, who's just 25. "I don't know how many years he can stay at the top," he said. "In a few years, Rafa won't be active."
Harrison is still a teenager, which means he has time, but not as much as you'd think.
American tennis meanwhile is floundering. Sam Querrey is not the answer, nor is once-promising teen Donald Young. John Isner can serve with anyone, but isn't a threat to ascend to premier status. Even the women's side is bare. In May, for the first time in four decades of computer rankings, no American player made the men's or the women's Top 10.
It's quite simple, really. The rest of the world has caught up.
For better or worse, and with all due respect to 29-year-old Mardy Fish, Ryan "Temper-Tantrum" Harrison is the new face of American tennis. He seems to have the tools, but does he have the mental fortitude?
Email me at jordan.schultz@huffingtonpost.com or ask me questions about anything U.S. Open-related at @206Child for my upcoming mailbag.
Plus, check out my brand-new HuffPost sports blog, The Schultz Report, for a fresh and daily outlook on all things sports.