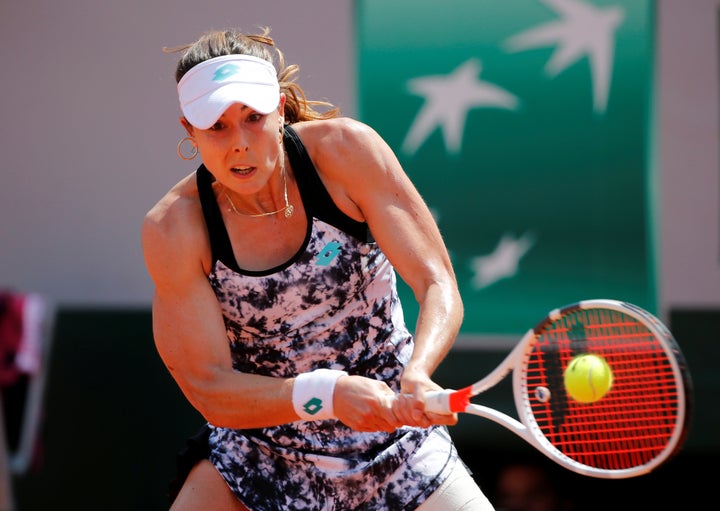 U.S. Open tennis officials backtracked after a chair umpire on Tuesday issued a code violation to Alizé Cornet for changing her shirt on court after the French player realized she had been wearing it inside out.
Tennis has a long history of gender inequity, including pay disparities and scrutinizing female players' appearance and clothing choices while rarely doing so for male competitors.
The United States Tennis Association (USTA), which organizes the U.S. Open, responded to the backlash by expressing "regret" over the code violation given Cornet, which constituted a warning for "unsportsmanlike conduct." She was not assessed a point loss.
"All players can change their shirts when sitting in the player chair. This is not considered a code violation," the USTA said in a statement on Wednesday. "We have clarified the policy to ensure this will not happen moving forward. Fortunately, she was only assessed a warning with no further penalty or fine."
Cornet ended up losing her match to Sweden's Johanna Larsson in three sets.
Players at the Grand Slam tournament in New York have battled sweltering heat this week, as temperatures have soared into the 90s and intense humidity has made it feel like 100 degrees or more.
USTA officials did not immediately respond to a request for further comment on the to-do over the shirt change or whether the chair umpire, Christian Rask, plans to apologize to Cornet.
The Women's Tennis Association (WTA) joined in the criticism of the USTA, calling the code violation Cornet got "unfair."
"Alize did nothing wrong," the WTA said in a statement.
"One must respect the game and the place," Bernard Giudicelli, the president of the French Tennis Federation, said in explaining the move.
On Twitter, tennis legend Billie Jean King, who has long fought for gender equality in the sport, criticized the decision on Williams' attire, calling on tennis officials to stop "the policing of women's bodies." 
"Fashion usually dictates our freedoms. Back in the old days, our wrists and our ankles couldn't be shown," she said in an interview with New York magazine's The Cut on Tuesday. "If you look at the fashion every decade in women's tennis... you can see how things are changing in the world for us: our freedoms, the way we dress, which is good. But I never hear them really talk about how the guys should dress."
Responding to Cornet being unfairly singled out, King on Wednesday tweeted that the USTA rule on shirt changes by women players was "outdated and impractical."
Calling all HuffPost superfans!
Sign up for membership to become a founding member and help shape HuffPost's next chapter