Thousands of people at the U.S. Open golf tournament in Wisconsin were shocked when a commercial blimp flying over the golf course crashed and burst into flames Thursday.
The blimp was advertising PenFed Credit Union above the Erin Hills golf course, about 35 miles north of Milwaukee, during the U.S. Open. It was operated by aerial advertising firm AirSign.
The pilot had previously been involved in two forced landings.
Trevor Thompson, the pilot of the downed blimp, had been involved in two forced landings in the past three years. In 2016, Thompson was forced to make an emergency landing in Philadelphia after the engine failed mid-flight. Thompson also made a forced landing in 2015 when his airship was caught in high winds during a flight over traffic in Long Island, New York, headed to the Macy's Thanksgiving Day Parade.
Thompson was trying to land because the winds were too strong.
Air Safety Investigator Pamela Sullivan said in a news conference Thursday that Thompson had reached an altitude of 1,000 feet when he noticed that the winds were too strong. Thompson said that he heard panels rip from the blimp during his descent, then his airship pitched nose down. The envelope of the airship collapsed and caught fire from the burners, which still burned residual fuel after the pilot shut them off.
Patrick Walsh, president of AirSign, believes the crash was caused by a failure of the airship's skin, which likely caused the blimp to depressurize, The Guardian reported.
Thompson was wearing a fireproof flight suit.
The blimp was actually a blimp-shaped hot air balloon.
Thursday's crash involved a hot air balloon known as a thermal airship, according to Jon Radowski, owner of hot air balloon manufacturer Apex Balloons. Unlike a traditional blimp, which is inflated with helium, a thermal airship uses propane burners to fill the balloon with hot air.
Another difference between blimps and thermal airships: Blimps are always inflated with helium from the day they launch to the day they're permanently grounded. An airship can be deflated and transported in a truck or trailer as needed.
Pilots of commercial thermal airships usually ride alone.
Thompson was alone in the airship when it crashed near the U.S. Open golf tournament, although airships like the one he piloted Thursday can hold up to three passengers.
Thermal airships "typically carry only the pilot," Alvaron Bellon, a trustee of the Lighter-Than-Air Society, an organization for blimp and airship pilots, told HuffPost in an email. "In the case of the traditional helium-filled blimps, the pilot would be accompanied by a television operator."
Blimp and airship pilots typically don't wear parachutes.
Since blimp and airship crashes are rare, pilots usually don't wear parachutes or carry them aboard. Airships also travel relatively close to ground, just above 1,000 feet, which Radowski said is "too low for parachutes."
"If [blimps] were to develop a leak (from a tear, or possibly even a gunshot) the loss of helium or hot air would be very slow as they are inflated at practically zero pressure," Bellon said. "This allows ample time to land the airship."
There are an estimated 20 to 25 blimps in the world.
Although there is no official tally on airships, the Van Wagner Airship Group estimates that there are 20 to 25 blimps in the world and at least 13 active advertising blimps.
Bellon told HuffPost that there are "quite a few thermal airships in use around the world" but said there was no accurate estimate of how many are being used today.
A ground crew follows airships when they are flying.
A crew in a vehicle on the ground typically follows airships during flights to assist with flight operations, takeoffs and landings. Goodyear blimp flights require 20 to 25 people, including the pilot, to complete a successful flight, Michael Dougherty, Goodyear's chief pilot, told HuffPost.
It is unclear how many crew members were assisting AirSign's craft on ground, but a member of that team reportedly pulled the pilot from the wreckage, according to Wired.
Blimp pilots must have a commercial pilot's license.
Pilots who have commercial licenses start training to be blimp pilots by working with ground crews and eventually work their way up to being airship pilots. Some companies require blimp pilots to complete a substantial amount of flight time before they are allowed to operate their airships. Goodyear, for example, requires its pilots to complete 170 to 225 hours of flight time.
"Blimp pilot training is essentially on the job," Bellon said. Candidates "will start working as a ground crew member and then get in-house, on-the-job training. The training culminates with a blimp certification from the FAA."
Blimp pilots are more rare than astronauts.
There is no official count of how many airship pilots exist in the U.S., but Dougherty and Radowski agreed that there are definitely more astronauts than there are commercial blimp or airship pilots.
The last major blimp incident occurred in 2011, when a Goodyear blimp crashed in Germany, killing the pilot.
The most infamous crash was the Hindenburg disaster of 1937.
A German airship known as the Hindenburg caught fire and crashed while attempting to land at an airfield at Lakehurst, New Jersey. The accident killed 35 of the 97 passengers and crew on board.
Related
Before You Go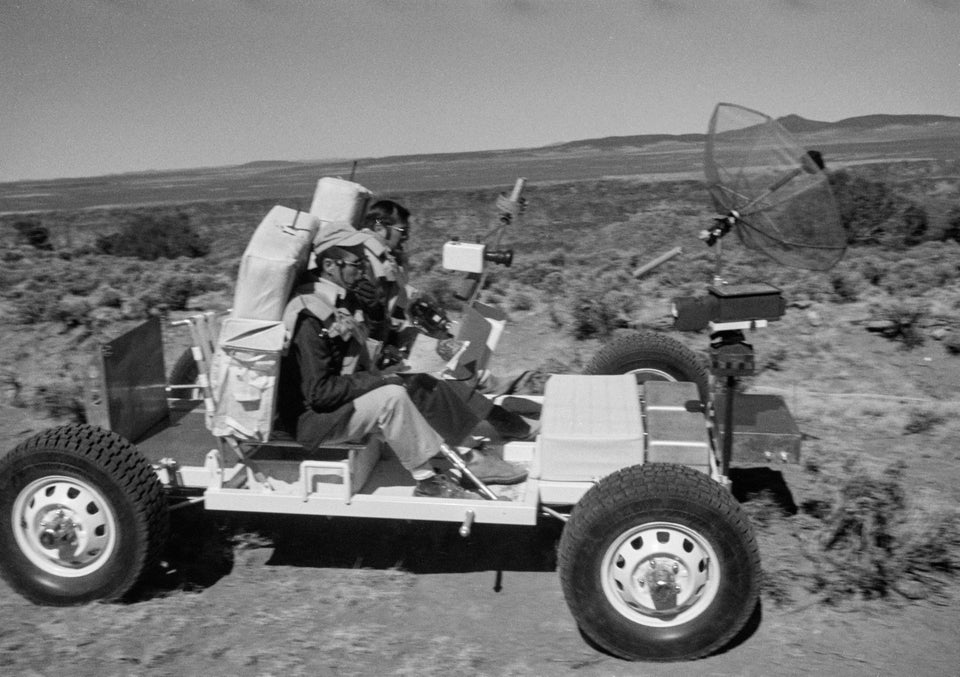 Vintage Photos Of Apollo Astronauts Training
Popular in the Community