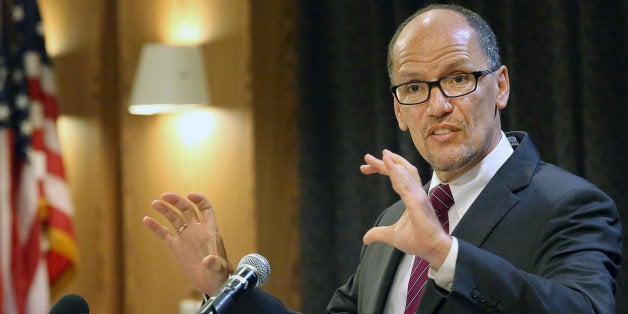 WASHINGTON -- In a wide-ranging and progressive speech on jobs, Labor Secretary Tom Perez said Monday the path to more "shared prosperity" in the U.S. economy lies in a higher minimum wage, paid family leave for workers and stronger union density in the private sector.
Speaking at the National Press Club, Perez argued that U.S. workers are significantly better off than they were when President Barack Obama took office, though he said the statistical improvements "don't mean a whole lot" to many low- and middle-income workers or to the unemployed.
"Frankly, there's just no dignity in working 40 or 50 hours a week and getting your food at the food pantry," Perez said.
In their effort to raise the minimum wage, Perez and the Obama administration have gone out of their way to hold up corporations that they deem good actors, such as Costco, which is well-known for the higher wages it pays to store workers, and Gap, which recently raised its company-wide wage floor.
On Monday, Perez returned throughout his discussion to the subject of Market Basket, the New England supermarket chain that made headlines this summer when its chief executive, Arthur T. Demoulas, was driven out by the company's board. Hundreds of Market Basket store workers protested to have the popular Demoulas reinstated to lead the company. Perez praised Market Basket as a company whose decent treatment of workers was rewarded with broad rank-and-file support.
"Worker voice wasn't a threat to the company -- it was an indispensable asset," Perez said to an audience that included Market Basket officials. "They have really captured the imagination of the nation. They have demonstrated that you can do good and do well. What we need are more companies like Market Basket."
Perez also used the speech to argue for a nationwide paid leave law. The U.S., he noted, is alone among industrialized nations in having no paid maternity or paternity leave mandate on the books for workers. Perez, who's been discussing the issue more and more recently, described the U.S. record on this front as "dismal."
The lack of a comprehensive law, he said, leaves too many families having to choose between their careers or their newborn children. He argued that paid leave would improve the country's labor participation rate.
"This is a family issue and an American issue," Perez said. "We need to lead on leave. We can't simply leave talent on the bench."
Members of the Obama administration and cabinet don't often make public pleas for more trade unionism, but Perez at several points cited the decline in union density as a factor in the country's stagnating wages. Less than 7 percent of private-sector workers in the U.S. are now members of unions.
Perez said that union rights in the U.S. had recently "come under attack," an apparent allusion to laws like Wisconsin's Act 10, which repealed collective bargaining rights for most public-sector workers in 2011, as well as the right-to-work law passed in Michigan in 2012. Perez argued that shrinking union membership is one reason that the wage growth of the U.S. middle class is falling behind that of Canada and other nations.
"There is an absolutely direct relationship between the health of the middle class and the health of the labor movement," Perez said. "Look at places like Germany. You have a very robust economy and very robust union density."
Perez is rumored to be on Obama's short list of candidates to replace outgoing Attorney General Eric Holder. At the end of his speech, Perez took questions from the press that included several about whether he'd move back to the Justice Department, where he previously served as the administration's head of the Civil Rights Division.
Perez mostly deflected questions on a possible nomination, though he did praise Holder for his work on voting rights and criminal justice reform. In addressing Holder's several battles over voter identification laws in Republican-led states, Perez said such statutes had little justification.
"That is a phantom problem," he said of alleged voter fraud.
Before You Go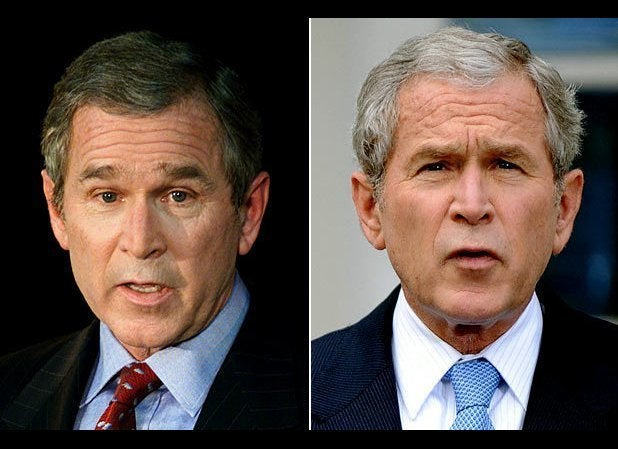 Aging in Office
Popular in the Community