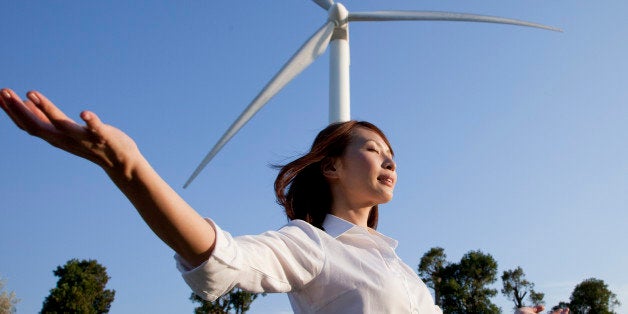 Earlier this month, when the Environmental Protection Agency announced plans to reduce power plant carbon emissions by 30 percent, critics were quick to rattle off tired arguments, claiming that the new standards would wreck the economy. But this time many businesses opposed these claims.
More than 170 companies and investors, including EMC, Nike, KB Home, Starbucks, and Unilever, came out in support of the EPA rules. Why? Well, the answer is that in part companies are seeing the economic benefits of clean energy in their own businesses.
Today, many of America's largest companies are strengthening their bottom lines by jumping on the clean energy bandwagon -- to the tune of more than $1 billion in savings per year.
A new analysis released today by Ceres, Calvert Investments, the World Wildlife Fund and David Gardiner & Associates shows that clean energy is going mainstream in company circles, with 60 percent of the Fortune 100 firms having goals for renewable energy sourcing or greenhouse gas reductions. Fifty-three of the Fortune 100 reporting on climate and energy targets have collectively decreased their annual CO2 emissions by about 58.3 million metric tons -- the equivalent of retiring 15 coal-fired power plants.
That's stunning -- and it should inspire other companies as well as policymakers to see clean energy as an enormous economic opportunity.
According to the report, Power Forward 2.0: How American Companies are Setting Clean Energy Targets and Capturing Greater Business Value, 85 percent of the Fortune 100 companies whose targets ended in 2012 achieved their goals. They're also saving oodles of money by investing in clean energy and energy efficiency: UPS ($200 million in annual savings); Cisco Systems ($151 million in annual savings); PepsiCo ($120 million in annual savings); United Continental ($104 million in annual savings); and General Motors (more than $73 million in annual savings).
Clean energy is becoming the new "business as usual." Even among Fortune 500 firms, 43 percent have set targets in at least one of three categories: reducing GHG emissions, improving energy efficiency and procuring more renewable energy.
What's most encouraging about these trends is that the nation's largest companies are successfully steering around Washington gridlock on climate change. They are innovating to take advantage of the economic benefits of tackling climate change and are no longer waiting for national policies to catch up.
As more companies join the global transition to a low-carbon economy, they are seeking stable policy environments that facilitate their adoption of renewable energy and remove barriers. They are making access to renewable energy a key decision when siting or expanding new facilities in specific states, particularly large energy consuming facilities like data centers and factories. A number of companies, such as American Express, Apple, Facebook, Google, Mars, Unilever and Yahoo!, have evaluated their ability to purchase renewable energy when determining the most financially attractive locations for running their facilities and cutting their carbon footprint.
Harnessing the power of these companies to drive economic growth and curb climate change will require policymakers to create stable policy environments in their states, or risk losing out on substantial investments.
Michigan, for example, missed out on $400 million of investment and up to 150 jobs when American Express passed over the state as the site for its new data center in 2010. Michigan, which had made a play for the data center, was ranked third among potential sites on the short list.
American Express chose North Carolina instead.
Why? Because, according to a memo to the Michigan Economic Development Corporation, American Express sought "a community and state whose power providers are seen as environmentally friendly" -- and Michigan's renewable energy standard is tied for lowest in the nation among all states with such a standard.
This case, and several others illustrated in today's report, demonstrates that states that neglect to sufficiently grow their renewable energy sector may lose out on corporate investment and job opportunities and may be disadvantaged in terms of economic competitiveness.
Despite weak policies in many states, companies continue pushing ahead with their clean energy goals. In some cases, as surprising as this may be to some, these targets are met through partnerships with state utilities. In 2013, for example, numerous states competed to attract an estimated $300 million investment when Facebook announced its plans to build a new data center. Ultimately, Iowa won the bid.
According to Facebook, one of the deciding factors in selecting Altoona, Iowa, as home for its new data center was the opportunity to help develop a new wind project in the state. And since MidAmerican Energy had agreed to build 138 megawatts of wind power to supply the data center, it was a good fit.
Despite tremendous progress, corporate clean energy investments are not yet at the scale we need to reduce GHGs at the pace climate scientists say is needed to prevent catastrophic climate change. This point was made clearly in Ceres' recent Gaining Ground report benchmarking the 600 largest U.S. public companies on broad sustainability indicators, including GHG reductions and energy efficiency. A number of companies have yet to set goals, while others are facing challenges to accelerate their use of renewable energy. A big reason why is weak and inconsistent clean energy policies -- the most obvious example being the perpetual limbo status of the federal Production Tax Credit for renewable energy projects.
There are several steps state and federal policymakers should take to support companies looking to boost their clean energy commitments, including promoting tax credits or other incentives that level the cost playing field for renewable energy. Top priorities include extending the Production Tax Credit for wind energy this year; maintaining Renewable Portfolio Standards (RPSs) in the 30 or so states that have them, and supporting them in those that don't; removing policy hurdles in states that prevent companies from contracting to buy the cheapest renewable power available and building on-site renewable power generation; and supporting market-based solutions that put a price on carbon pollution from conventional energy generation.
We already know that the future of our global economy depends on taking strong action today. We also know that the world must invest more than a trillion dollars each year over the next 36 years if we have any hope of limiting global warming to 2 degrees Celsius -- the level scientists agree is necessary to limit catastrophic climate change and protect our way of life. If America's largest companies are up to the challenge -- a challenge Ceres calls The Clean Trillion -- our elected officials should also be stepping up to the plate -- not standing in the way.
Support HuffPost
The Stakes Have Never Been Higher
Related
Popular in the Community