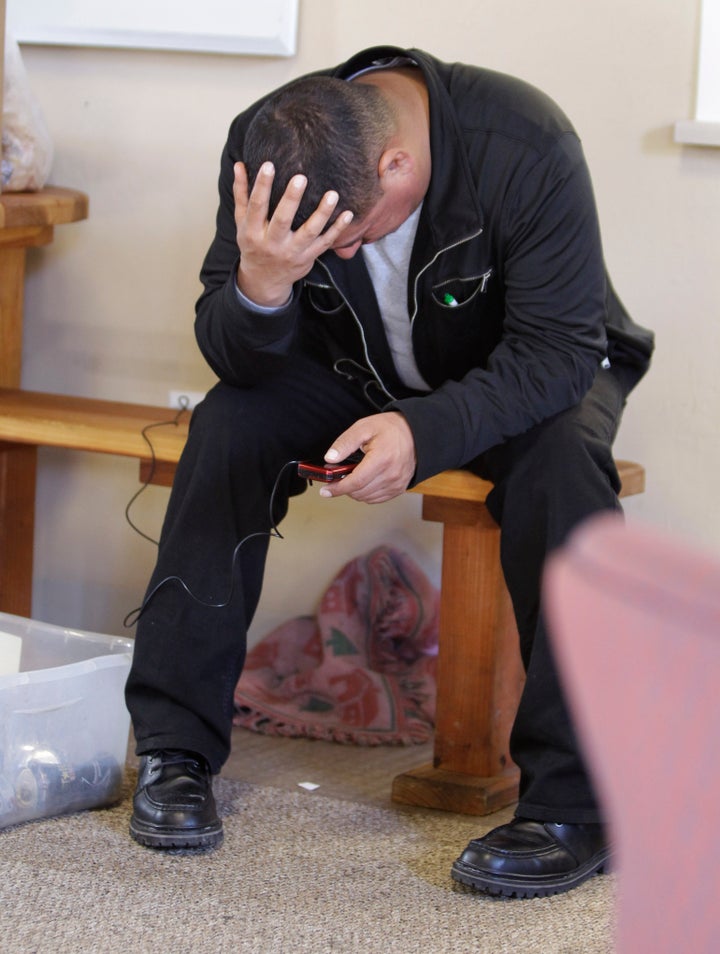 WASHINGTON -- Even though the Great Recession technically ended in 2009, incomes fell, poverty rose and the number of Americans without health insurance jumped again in 2010, the federal government announced Tuesday.
The nation's poverty rate increased to 15.1 percent in 2010, up from 14.3 percent in 2009 and the highest level since 1993, according to the U.S. Census Bureau's annual Income, Poverty, and Health Insurance Coverage report for 2010. An additional 2.6 million people landed in poverty last year, bringing the total to 46.2 million -- the highest number since the government started tracking poverty in the 1950s.
"Income down, poverty up, health insurance coverage down or flat," said Ron Haskins, a senior fellow at the Brookings Institution, in a statement. "The news on economic well-being in the U.S. is not good. Worse, children's poverty increased for the fourth year in a row and at 22 percent is the highest since 1993. Child poverty has been higher than the 2010 level in only three years since the mid-1960s."
Poverty is defined by family size and income. The federal government considers a family of four with annual earnings of less than $22,314 to be poor. In 2010, 9.2 million families lived in poverty, up from 8.8 million in 2009.
The report also found a growing number of families are welcoming adult relatives and others into their homes. The number of households "doubled up" with an additional adult rose to 21.8 million, up 2 million since 2007.
The poverty rate for working-age people between 18 and 64 rose to 13.7 percent from 12.9 percent last year, the highest level since the 1960s.
Median household income declined 2.3 percent from the year before to $49,445, making the total decline 6.4 percent since the recession began in 2007. But that drop was not evenly distributed: Income declined for whites and blacks, but not for Asians or Hispanics.
Poverty increased among every racial and ethnic group except Asian Americans. The share of white Americans living in poverty grew to 13 percent, up from 12.3 percent in 2009. African Americans and Latinos saw similar increases in poverty and remained significantly more likely to be poor than whites. In 2010, black poverty climbed to 27.4 percent from 25.8 percent in 2009, and Latino poverty reached 26.6 percent, up from 25.3 percent in 2009.
The share of Americans covered by private health insurance continued its decade-long fall. Nearly 50 million Americans lacked health insurance in 2010, an increase of 900,000 from the previous year. (The Census Bureau changed the way it counts the uninsured; it previously estimated 50.7 million were uninsured in 2009.) The number of Americans who participate in a government health insurance program, however, continued its four-year climb.
Economists expect the health care reform law passed by Congress last year to reverse the trend of people losing insurance coverage in 2014, when the law's major provisions kick in. In the meantime, a temporary program created by the law to cover the uninsured has so far reached only 21,000 people -- far below its expected enrollment. The administration has estimated that as many as 25 million Americans who lack health insurance have pre-existing conditions such as heart disease and diabetes.
In 2010, Economists at the Congressional Budget Office estimated that the federal government's extended unemployment insurance prevented a record poverty rate the year before. In 2009, the rate rose to 14.3 percent. Without unemployment benefits, which paid tens of billions of dollars to middle class families, poverty could have risen to 15.4 percent.
The federal extended benefits have remained in effect. They currently support roughly half the unemployed who receive insurance, but are set to expire in January unless Congress acts. The Census Bureau said Tuesday that unemployment benefits kept 3.2 million people out of poverty in 2010, and that Social Security retirement benefits did the same for nearly 14 million seniors.
CBO's analysis demonstrated that unemployment insurance mainly supports middle class families. Households with total income more than twice the poverty threshold accounted for 70 percent of the $120 billion the government spent on benefits in 2009. Families with income below the poverty threshold received 8 percent of all benefits.
Alice O'Connor, a historian at the University of California, Santa Barbara, and author of "Poverty Knowledge: Social Science, Social Policy and the Poor in Twentieth Century U.S. History," said explanations for rising poverty often focus on the work ethic and personal choices of the poor. But since the Great Recession, she said, a growing number of Americans have come to understand that the availability of living-wage jobs plays a large role in determining a family's economic state.
Despite that recognition, O'Connor said many still fail to understand the role social policies -- such as those that make collective bargaining difficult, or tax income from work and investments differently -- contribute to increased poverty.
She noted that public health insurance programs for poor children and adults and cash welfare assistance, among other social safety net measures, have seen significant cuts in many cash-strapped states. And many workers -- particularly men -- are effectively earning less than they did three decades ago, while also lacking access to health insurance and other benefits.
"What we are looking at today is really the result of decades of eroded protections for workers and just a declining number of good jobs," said O'Connor.
Tuesday's report details the share of Americans who live on poverty-level wages or less. That measure is an important indicator of earnings, but it's not the most telling measure of household economic well-being, said Darrick Hamilton, an economist at The New School.
Wealth is what really determines the neighborhood in which most people live, the schools their children attend and what resources they have to shore them up in a crisis, said Hamilton. Wealth is the value of assets and cash that an individual or family has after accounting for debt.
"We really need to shift the national dialogue away from looking at snapshots and subsistence income and start taking a closer look at wealth, assets and what their absence or presence means in people's lives," said Hamilton.
"Education, occupation and income matter," he added. "But wealth trumps them all because it gives you choices and protection when times are good or times are bad."
In 2009, the most recent year for which wealth data is available, the gap between wealth of the average black and average white household grew to a size unseen since the 1980s, according to a July Pew Research Center report. Median white household wealth was about $113,000. Median black family wealth was about $5,700, and median Latino household wealth was $6,300. Hamilton said that wealth gap exists in large part because much of white household wealth is inherited.
The recession has caused families of all races and ethnicities to lose wealth because of a loss or reduction in the value of critical assets, such as homes. The vast differences in median household wealth also help explain why black and Latino poverty rates are more than two times higher than that of white families.
Related
Popular in the Community