By Susan Blumenthal, M.D., Melissa Shive, Beth Louise Hoffman, and Yi-an Ko*
With its official theme of "leadership," the commemoration of World AIDS Day this year on December 1st coupled with recent attention to some of the presidential candidates' positions on this public health issue has shone a spotlight on the urgent need for intensified action against the largest infectious disease epidemic of our generation, which has claimed the lives of millions of people, caused enormous human suffering, and devastated the economies of countries, especially in southern Africa. Paradoxically, less than two weeks after UNAIDS issued a downward revision of HIV prevalence worldwide from 40 million to 33.2 million people, recent news articles reported that the Centers for Disease Control and Prevention (CDC) plans to increase estimates of HIV incidence in the United States by as much as 50 percent. That means that there are approximately 50,000-60,000 new HIV infections each year in America, up from 40,000, a number that had been allegedly stable over the past decade.[1] This revelation underscores that infection rates in the United States are of a much greater magnitude than previously recognized and that AIDS in America has become, in many ways, a forgotten epidemic. In their efforts to improve health, which currently ranks as the top domestic issue for American voters,[2] presidential candidates must address the significant public health issue of HIV/AIDS. The resurgence of HIV in the United States and the disease's continuing global impact underscore why Presidential leadership is needed in the fight against this disease and why candidates, with the U.S. Presidential primaries beginning in less than a month, must describe their proposals to address this pandemic now.
Globally, every minute, 4 people die from AIDS and every 13 seconds, a person is infected with HIV.[3] That equates to 2.5 million new infections and 2.1 million deaths from the disease in this past year alone.[4] Right now, there are 33.2 million people living with HIV, and 1.1 million of them are Americans.[5] Every day almost 50 Americans die from AIDS; every hour (the time it takes to watch our favorite television program), 5 people in the United States alone are newly infected with HIV. Of these new infections, 10% of them are children and adolescents under 24 years old.
As each minute passes, more people are becoming a part of the growing HIV/AIDS epidemic. In the United States, since the disease was first reported 26 years ago, AIDS has infected 1.5 million people, and 500,000 individuals have died from this infectious illness.[6] Just last week, the Washington DC health department released a report characterizing the prevalence of HIV/AIDS in the city as a "modern epidemic." The report estimates that a startling 1 out of 20 Washington DC residents is infected with HIV, and 1 out of 50 people in the city are living with AIDS.[7]
Furthermore, the U.S. epidemic disproportionately impacts racial/ethnic minorities and women. A study of U.S. national household survey data revealed that over 2% of African Americans are HIV positive--more than any other demographic group. African Americans also have lower survival rates after an AIDS diagnosis as compared to other minority populations. With 27.8 HIV/AIDS cases per 100,000 people, the HIV/AIDS prevalence among Latinos is triple the rate of Caucasians. Women also represent a growing share of new diagnoses, accounting for 27% of all new AIDS cases in the United States in 2005, up from 8% in 1985, and globally, 50% of people living with HIV are female. Geographically in the U.S., although the numbers of cases are increasing in rural communities, this disease continues to be concentrated primarily in large, metropolitan areas, so that the ten largest metropolitan areas account for about half of cumulative reported AIDS cases. [11]
Myths and stigma about HIV/AIDS also continue to persist. Since 1990, there has been no change in the percentage of people in the United States who mistakenly believe that HIV can be transmitted by kissing (37%), sharing a drinking glass (22%), or touching a toilet seat (16%).[12] Additionally, according to a new global study from the MAC AIDS Fund, nearly half of respondents said that they would not be comfortable working alongside someone who was HIV positive; 59% of people living in India wrongly believe there is a cure available for HIV, and nearly 3 in 5 older adults in France do not realize that AIDS is fatal.[13] These figures underscore the need for more effective education campaigns to increase knowledge as well as to shatter the stigma that still surrounds this disease.
Advances in Treatment: Successes and Challenges

Over the past decade, there has been good news as a result of our national and international investment in AIDS research, thanks to the important advocacy and research contributions of organizations including amfAR, The Foundation for AIDS Research, the National Institutes of Health (NIH), the Centers for Disease Control and Prevention (CDC), and the Gates Foundation. The establishment of the President's Emergency Plan for AIDS Relief (PEPFAR), the Global Fund to Fight AIDS, TB, and Malaria, combined with the work of the World Health Organization (WHO), and other organizations have brought advances in treatment of the disease to the developing world, substantially reducing AIDS-related morbidity and mortality and extending the lives of many people.
There are currently 30 FDA-approved antiretroviral (ARV) medications available for treating HIV/AIDS,[14] allowing people who receive these drugs to live on average 13-14 years longer than those people who do not receive these medications.[15] Additionally, as a result of medical advances, perinatal transmission has declined to 2% today in the United States. In total, scientific discoveries in HIV/AIDS treatment have resulted in at least 3.0 million years of life saved in America.[16]
But despite this progress, in the United States, a quarter of people infected with HIV do not know their status; an estimated 42% to 59% of Americans living with HIV/AIDS are not receiving regular HIV care, and only 55% of people with HIV/AIDS in America who need antiretroviral (ARV) therapy are actually receiving it.[17] The circumstances are worse in low- and middle-income countries, where fewer than 1 in 5 people who need ARVs are receiving them.[18] Furthermore, for every individual who receives treatment, at least 6 more people will become infected with the HIV virus worldwide.
Moreover, the recent revision in numbers of people infected with HIV/AIDS by both the CDC and UNAIDS highlight methodological challenges in HIV/AIDS reporting and surveillance that need to be rectified. Additionally, the September 2007 failure of the much-anticipated, multi-million dollar HIV vaccine clinical trial has refocused attention on the power of using cost-effective and relatively simple preventive measures to slow disease transmission. Evidence-based strategies such as education, male circumcision, increased availability of condoms, and harm reduction programs are relatively inexpensive measures that are immediately available and have a proven value. Even though these techniques are not perfect and do not possess the glamour of a technological breakthrough or "magic bullet," prevention remains a critical tool and strategy whose worth and power should be reiterated and where greater investments in research, education, and service delivery can yield life-saving dividends.
A Call for Presidential Leadership
The dramatic decline in mortality from AIDS in the United States coupled with the recent report from UNAIDS of lower numbers of infected people globally can lead policymakers, the public, and the media to believe that AIDS is no longer a major public health hazard in the United States and that it is being conquered in the developing world. That belief is incorrect and perilous to the health of people in America and worldwide. Increasing HIV infection rates in America, as the CDC statistics are purported to reveal, suggest that there may be a growing complacency about the illness in the United States.[19] Beyond America's borders, there is also evidence of resurgence in the United Kingdom and parts of Western Europe,[20] and the disease continues to devastate nations in the developing world--damaging economies, lowering life expectancy, causing financial burden, and creating national security concerns.
Given the significant consequences of this disease both nationally and internationally, there is a pressing need for the U.S. Presidential candidates to share their proposals for combating this public health threat to our country and world and to describe their plans to enhance access to care and other services, address issues related to vulnerable populations, increase research, improve treatment, prevention, and education programs, foster global initiatives, and establish innovative partnerships and international collaborative activities.
Much of the information is presented in the candidates' own words, based on a comprehensive review of information gathered from their official websites, interviews, speeches, debates, and press statements. Several of the candidates have signed the STOP AIDS 08 pledge for "Presidential Leadership on Global AIDS and Poverty," which contains initiatives to help eradicate HIV/AIDS. Relevant components of the pledge are included in the chart and are delineated in red font to differentiate these policies from the candidates' own proposals. Yet even with the existence of this pledge, a quick review of the charts reveals significant gaps in information about many of the candidates' plans to address the AIDS epidemic in the United States and worldwide.
More than ever, a comprehensive approach with proactive policies and strategies is needed. This begins with strengthening the efforts of the National AIDS Policy Office, appointing a Director, increasing its outreach efforts, and expanding PEPFAR countries and programs with science-based interventions. A comprehensive approach means enhancing national and global initiatives in the fight against AIDS and connecting the dots of development, including reducing poverty, providing educational opportunities, and rectifying inequalities. It means fostering public/private sector partnerships and mobilizing citizens, businesses, philanthropists, scientists, health care providers, communities, and other governments to work together. It also means bringing innovation to the battle against this disease, including supporting and implementing evidence-based prevention, establishing accurate and reliable surveillance systems, and investing in new prevention technologies, including the development of a vaccine that may help eradicate this illness in the future. It means discovering improved treatments with fewer side effects, providing a range of services (such as housing), and addressing issues related to HIV testing as well as the needs of vulnerable populations (including women, minorities, youth, men who have sex with men, and incarcerated persons). Importantly, the next President must make it a top priority to ensure access to quality health care for people with HIV/AIDS and for all Americans.
Throughout history, infectious diseases like AIDS have been major killers of people worldwide and therefore, decisive shapers of history. That is why it is essential for the 2008 Presidential candidates to detail their plans for eradicating this disease in the United States and globally now.
Chart #1-Democratic candidates with last names A-E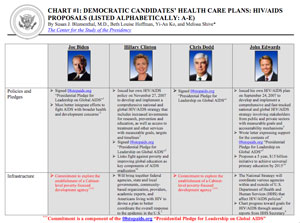 * Rear Admiral Susan Blumenthal, M.D. (ret.) is the Distinguished Advisor for Health and Medicine at the Center for the Study of the Presidency in Washington, D.C. and a Clinical Professor at Georgetown and Tufts University Schools of Medicine. She served for over 20 years in health leadership positions in the Federal government, including as Assistant Surgeon General of the United States, the first Deputy Assistant Secretary of Women's Health, and as Chief of the Behavioral Medicine and Basic Prevention Research Branch at the National Institutes of Health. Her work has included a focus on HIV/AIDS since the beginning of the epidemic in the early 1980s.
Beth Louise Hoffman, a recent magna cum laude graduate of Brown University, and
While efforts have been made to make these charts on the Presidential candidates' proposals on HIV/AIDS as comprehensive as possible, this information is intended to be used as a non-partisan reference only and does not necessarily represent the opinions of sponsoring organizations.

20 "Estimate of AIDS Cases in U.S. Rises." 1 Dec. 2007. Washington Post. 1 Dec. 2007.
2 "Kaiser Health Tracking Poll: Election 2008- October 2007." 26 Oct. 2007. Kaiser Family Foundation. 4 Nov. 2007.
3 "UNAIDS/WHO AIDS Epidemic Update: December 2007." 20 Nov. 2007. UNAIDS. 20 Nov. 2007.
4 "UNAIDS/WHO AIDS Epidemic Update: December 2007."
5 "UNAIDS/WHO AIDS Epidemic Update: December 2007."; "A Glance at the HIV/AIDS Epidemic."
6 "A Glance at the HIV/AIDS Epidemic."
7 "Study Calls HIV in D.C. a "Modern Epidemic." 26 Nov. 2007. Washington Post. 1 Dec. 2007.
8 McQuillan GM et al., "Prevalence of HIV in the US Household Population: The National Health and Nutrition Examination Surveys, 1988 to 2002." JAIDS, Vol. 41, No. 5; April 2006.
9 "HIV/AIDS Surveillance Report, 2005." June 2007 Centers for Disease Control and Prevention. 26 Nov. 2007
10 "The HIV/AIDS Epidemic in the United States." July 2007. Kaiser Family Foundation. 29 Nov. 2007.
11 "The HIV/AIDS Epidemic in the United States." July 2007.
12 "2006 Kaiser Family Foundation Survey of Americans on HIV/AIDS." May 2006.
13 "New Global Study from M·A·C AIDS Fund Uncovers Surprising Reality That Disease Is Still Underestimated as a Global Killer " 13 Nov. 2007. MAC AIDS Fund. 26 Nov. 2007.
14 "Treatment of HIV Infection." Nov. 2007. National Institute of Allergic and Infectious Diseases. 16 Nov. 2007.
15 Vermund, Sten. "Millions of life years saved with potent Antiretroviral Drugs in the United States: A Celebration, with Challenges." 1 July 2006 (194): 1-5.
16 Walensky, Rochelle et al. "Survival Benefits of AIDS Treatment in the United States."
17 Fleming PL et al., "HIV Prevalence in the United States, 2000," Abstract #11, 9th Conference on Retroviruses and Opportunistic Infections; February 2002.; Teshale EH et al., "Estimated Number of HIV-infected Persons Eligible for and Receiving HIV Antiretroviral Therapy, 2003--United States," Abstract #167, 12th Conference on Retroviruses and Opportunistic Infections; February 2005.
18 Merson, Michael M. "The HIV/AIDS Epidemic at 25--the Global Response." New England Journal of Medicine. 354(23): 2414-17.
19 "Estimate of AIDS Cases in U.S. Rises."; Jaffe, Harold W., Ronald O. Valdiserri, and Kevin M. De Cock. "The Reemerging HIV/AIDS Epidemic in Men Who Have Sex With Men." Journal of the American Medical Association. 28 Nov. 2007. 298(20):2412-2414.
20 Kahn, Michael. "U.N. warns AIDS Could Spike if Countries Drop Guard." 20 Nov. 2007. Washington Post. 22 Nov. 2007.
Popular in the Community