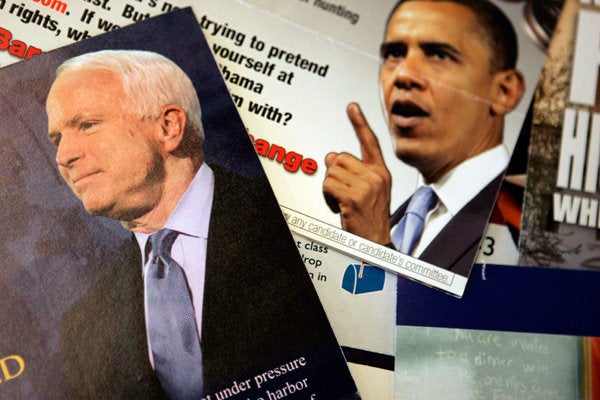 By: Susan J. Blumenthal, M.D., M.P.A.*
Health care is a top issue that American women want their next President to address. Currently, women comprise 51% of the population in the United States, 61% of the population over the age of 65, and 70% of the population over age 85. Yet, despite these facts, women's health is a cause that was neglected at the research bench, in the halls of public policy, and in clinical settings until the past fifteen years. In the past, despite clear differences in the bodies and experiences of men and women, most research studies were conducted solely in male subjects, as if they were "generic" humans -- but the results were then generalized to guide the diagnosis, treatment, and prevention of disease in women. This omission of women as research subjects and as the focus of prevention campaigns has put women's health at risk -- as evidenced by rising rates of undetected heart disease, lung cancer, mental and addictive disorders, and the epidemic of AIDS.
Although women seek more medical care, use more health services across their lives, and spend more on medications than do men, they suffer greater disability from disease. 19 million women -- 18% of women in the United States -- are uninsured. Furthermore, women are more likely than men to lack coverage because many are part-time workers or dependent on their spouses for care and may lose insurance as a result of divorce or being widowed. In the United States, 38% of women obtain coverage through their employment, 25% through their spouse's employment, 10% receive services through Medicaid, and 6% purchase insurance through the individual market. Health care services of particular importance to women, including maternity care, fertility treatment, prescription drugs, mental health services and contraceptives may be limited in some employer based insurance plans and are often excluded in the individual insurance marketplace. A recent study found that women pay much higher premiums than men for individual insurance policies providing comparable coverage. They also are more likely than men to report that costs are a barrier to obtaining health care services. As a result, among women with private insurance, 17% report delaying or having gone without needed care. Today, women are losing their jobs and health insurance as a result of the current financial crisis on Wall Street and Main Street.
Since women live longer than men, they comprise the majority of the oldest and frailest group of seniors. 50% of women as compared to 28% of men over the age of 65 live on less than $20,000 a year. Of these, almost 1 in 5 women have a physical disability, 1 in 4 has cognitive limitations and 25% live alone. Three quarters of nursing home residents are women. Medicare has very limited long term care benefits and Medicaid supports long term care only for low income women or those who have become impoverished as a result of their health care bills.
Furthermore, the chronic disease epidemic in America is disproportionately affecting women in part because of their longer lifespan as well as a lack of investment in prevention generally, and the fact that most educational campaigns in the past targeted men to stop smoking, lower their cholesterol or change other health damaging behaviors while leaving women at increased risk. Today, the major killers of females in the United States are chronic illnesses including heart disease, cancer, stroke, chronic lung disease, and diabetes -- conditions for which as much as 50% of the cause is attributable to behavioral and lifestyle factors such as smoking, obesity, and lack of physical activity. 23% of women are smoking, the #1 preventable cause of death, in the United States today. 61.8% of women are overweight and 34% are obese leading to an epidemic of Type II diabetes, the sixth leading cause of death in the United States. Chronic diseases linked to preventable factors constitute 75% of health care spending in America. That's why both disease management and prevention have emerged as key issues in the health care reform debate today.
Reproductive health across the life span are critical issues for women. Federal and state laws have been used to restrict access to comprehensive sex education and to family planning services. Domestic violence is another major threat to women's health resulting in approximately 1,200 deaths and injuring 2 million women annually. One in six women have experienced an attempted or completed rape and young women.
Research is another issue of importance to women because it is medicine's field of dreams from which new findings about the causes, treatment and prevention of disease are harvested. Science has shown that there are important sex differences at the molecular, cellular and organ system level and in environmental influences on health and disease. These research findings have important implications for women's health policies including service delivery approaches, prevention and chronic disease management, health care workforce issues and the application of information technology to improve health.
In the 21st century, women's health is very much a global issue. There are over
3.1 billion women worldwide and in most regions of the world, women outnumber
men. Yet, a number of factors including poverty and discrimination undermine
women's health. The health status of women is critically linked to their empowerment
and fundamental freedoms. Women's rights -- human rights -- are essential to national
development, economic growth and global progress. However, for women in
many countries, discrimination and denial of their basic rights, beginning in infancy, negatively impacts the trajectory of their lives. Worldwide, education, occupational opportunities, proper nutrition, family planning, and access to health care are critical
components of ensuring a healthier future for women.
That means our work on women's health cannot stop at the United States' borders for humanitarian, economic, and national security reasons. Millions of orphans overseas whose mothers have died of AIDS, malaria or tuberculosis are an invitation to political instability. Caring for the millions of women with HIV/AIDS or tobacco and obesity related diseases bankrupts nations of the human resources and the funds needed to build healthy communities, economies, and democracies. These are reasons why our next President must make global health -- and the health of the world's women -- a top priority. After all, our common quest for improving women's health in the 21st century must cut across cultures, languages, and politics.
Madame Curie once remarked, "I never see what has been done, I only see what remains to be done." Yes, much progress has been made in women's health, but much more needs to be done. Increased research is needed on sex differences in health and disease and on the conditions that affect women across the lifespan. There is also an urgent need to make the shift from a treatment-oriented society to one of prevention; to increase the level of preparedness to meet and beat new threats to women's health and safety; to close the gap when it comes to health care disparities for women of color; and to more effectively translate what we know from science and public health to improve the delivery of services to women.
That next President of the United States must mobilize the resources of the Federal government and work with the private sector in partnerships to leverage skills and resources to improve the prevention and treatment of diseases in women in our country and internationally.
This article provides a comprehensive side-by-side comparison, in chart form, of the Presidential candidates' proposals to improve women's health. The charts below include a review of the Presidential candidates' plans to increase access to quality health care, to address reproductive health issues across the lifespan, to foster scientific and medical research, to incorporate health information technology to provide 21st century care, and to address critical concerns including breast and ovarian cancer as well as domestic violence.
This in-depth comparison reveals that there is only one candidate who will write a healing prescription as President to improve women's health in the United States and worldwide -- and that candidate is Senator Barack Obama.
Click on the thumbnail chart for a full PDF.
U.S. Presidential Candidates' Plans for Improving Women's Health: A Side-by-Side Comparison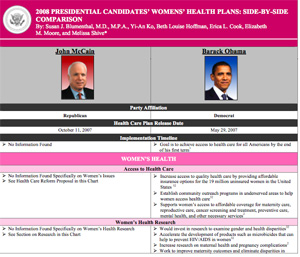 *Rear Admiral Susan Blumenthal, M.D. (ret.) is the Director of the Health and Medicine Program at the Center for the Study of the Presidency in Washington, D.C. and a Clinical Professor at Georgetown and Tufts University Schools of Medicine. For more than twenty years, Dr. Blumenthal served in senior health leadership positions in the Federal government including as Assistant Surgeon General of the United States and as the first Deputy Assistant Secretary of Women's Health in the U.S. Department of Health and Human Service. She was also Chief of the Behavioral Medicine and Basic Prevention Research Branch at the National Institutes of Health and a White House Advisor on health issues. Dr. Blumenthal has received numerous awards including honorary doctorates and has been decorated with the highest medals of the U.S. Public Health Service for her pioneering contributions to improving health in the United States and globally.
The views expressed in this article do not necessarily reflect the views of the author's affiliated organizations.
Calling all HuffPost superfans!
Sign up for membership to become a founding member and help shape HuffPost's next chapter