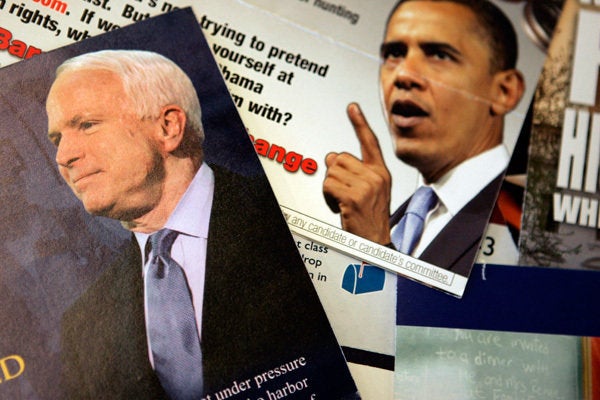 By: Susan Blumenthal, M.D. and Melissa Shive*
With an historic election in the United States occurring tomorrow, it is critical that the next President make it one of his top priorities to eradicate HIV/AIDS in America and around the world. There are 33 million people infected with HIV globally, and more than 2 million people die from AIDS annually. It is shocking that in Washington, DC, the capital of the nation and where our next President will reside, 1 out of 20 people are infected with HIV, the virus that causes AIDS -- a number that is higher than the rate in Ethiopia, Rwanda, and Nigeria. In fact, every 10 minutes, an American is newly infected with HIV and 34 percent of them are young people under the age of 30.
Earlier this year, the Centers for Disease Control and Prevention (CDC) released a report that revealed that 56,000 people become infected with HIV annually in the United States -- a number that is 40 percent higher than previously estimated. For the past 15 years, the CDC had reported that the number of newly infected people with HIV was stable at an estimated 40,000 people annually, down from a peak of 130,000 in the mid-1980s. This apparent plateau of annual HIV infections has contributed to complacency about HIV/AIDS in America, with the mistaken assumption by many that medical advances had stopped the disease's growth. The CDC report also revealed that ethnic minorities and men who have sex with men (MSM) are disproportionately affected. In fact, the majority of new HIV cases in 2006 -- 53 percent -- were in MSM. Forty-five percent of all new HIV infections occurred among Blacks in the United States, although they comprise 12 percent of the population. In fact, the number of Blacks living with HIV in the United States exceeds the number of HIV infected people in 6 of the 15 focus countries of the PEPFAR initiative. These numbers are an ominous flashback to the situation when the epidemic first emerged, but now many of these men are Black or Hispanic. Furthermore, women account for an increasing proportion of the epidemic, growing from 8 percent of cases in 1985 to 28 percent in the United States and 50 percent of those affected worldwide. The CDC's new statistics provide dramatic evidence that HIV remains a major public health problem in America that requires a national strategy to address it.
Over the past decade, there has been good news as a result of our national and international investment in AIDS research, thanks to the important advocacy and research contributions of organizations including amfAR, The Foundation for AIDS Research, the National Institutes of Health (NIH), the Centers for Disease Control and Prevention (CDC), and the Gates Foundation. The establishment and expansion of the lifesaving President's Emergency Plan for AIDS Relief (PEPFAR), the Global Fund to Fight AIDS, Malaria and TB, combined with the work of the World Health Organization (WHO), and other international and community based organizations have brought vital resources to the developing world and significantly reduced AIDS-related morbidity and mortality in many countries globally.
The dramatic decline in deaths from AIDS in the United States over the past decade coupled with the report last year from UNAIDS of lower numbers of infected people around the world can lead policymakers, the public, and the media to believe that AIDS is no longer a major public health hazard in the United States and that it is being conquered in the developing world. That belief -- a kind of AIDS amnesia -- is incorrect and perilous to the health of people in America and worldwide. In the United States, 1.1 million people are infected with HIV and one in five of them do not know their status; an estimated 42% to 59% of Americans living with HIV/AIDS are not receiving regular HIV care, and only 55% of people with HIV/AIDS in America who need antiretroviral (ARV) therapy are actually receiving it.
The circumstances are worse in low -- and middle-income countries, where fewer than 1 in 5 people who need ARVs are receiving them. Furthermore, for every individual who receives treatment, at least 2.5 more people will become infected with the HIV virus worldwide. Beyond America's borders, there is also evidence of a resurgence of HIV in the United Kingdom and parts of Western Europe, and the disease continues to devastate nations in the developing world--damaging economies, lowering life expectancy, causing economic hardship, and creating national security concerns. AIDS remains a leading cause of death worldwide, particularly in the developing world, where in Swaziland, Botswana, and Lesotho, 25% of people are HIV positive and the average life expectancy in some of these countries is less than 38 years of age. The disease is spreading in Asia and Russia, new frontiers of the pandemic. This means that HIV/AIDS continues to be a leading cause of death worldwide, and the epidemic is far from over.
A Call for Presidential Leadership
The resurgence of HIV in the United States and Europe combined with its continuing global impact underscore why Presidential leadership in the United States is needed in the fight against this disease more than ever. It underscores why the new Administration must issue and begin the implementation of a National Strategy to Fight HIV/AIDS -- a domestic PEPFAR-within the first 100 days of office that includes both domestic and global actions to increase research and enhance access to testing, treatment, care and other services, address issues related to vulnerable populations (including men who have sex with men, women, minorities, youth, and incarcerated persons), improve prevention and education programs, provide a range of services (such as housing), strengthen and expand global initiatives ensuring they are evidenced based, and foster innovative public and private partnerships and international collaborations. After all, if PEPFAR requires that recipient countries establish national plans to address their epidemics, then why doesn't America have such a plan to address the disease here at home?
A comprehensive approach with evidence-based policies is needed in the fight against HIV/AIDS. This begins with re-opening the doors of the White House AIDS Policy Office, appointing a Director and increasing its outreach efforts. It means reauthorization of the Ryan White Care Act. It also means connecting the dots of development, including reducing poverty, providing educational opportunities, and rectifying inequalities. It also means bringing innovation to the battle against this disease, such as supporting and investing in new prevention technologies, including the development of a vaccine (using new approaches) and PrEP (pre-exposure prophylaxis) that may help eradicate this illness in the future. Importantly, the next President must make it a top priority to ensure access to quality health care for people with HIV/AIDS and for all Americans.
This article provides a side-by-side comparison in chart form of the 2008 U.S. Presidential Candidates' proposed initiatives for addressing HIV/AIDS and for health care reform. Much of the information is presented in the candidates' own words, based on a comprehensive review of information gathered from their official websites, interviews, speeches, debates, and press statements.
Throughout history, infectious diseases like AIDS have been major killers of people globally and therefore, decisive shapers of history. That is why when voting tomorrow, it is important to consider which of the Presidential candidates will work tirelessly and effectively to eradicate this disease in the United States and worldwide.
Click on the thumbnail chart for a full PDF.
* Rear Admiral Susan Blumenthal, M.D. (ret.) is the Director of the Health and Medicine Program at the Center for the Study of the Presidency in Washington, D.C. and a Clinical Professor at Georgetown and Tufts University Schools of Medicine. She served for more than 20 years in health leadership positions in the Federal government, including as Assistant Surgeon General of the United States, the first Deputy Assistant Secretary of Women's Health, as a White House Advisor on Health, and as Chief of the Behavioral Medicine and Basic Prevention Research Branch at the National Institutes of Health. Throughout her career, she has worked to eradicate HIV/AIDS. Dr. Blumenthal has received numerous awards including honorary doctorates and has been decorated with the highest medals of the US Public Health Service for her pioneering leadership and significant contributions to advancing health in the United States and worldwide.
Melissa Shive, a Fulbright Scholar and honors graduate of the University of Pennsylvania, is a medical student at the University of California, San Francisco and served as a Health Policy Fellow at the Center for the Study of the Presidency in Washington D.C.
This article is updated from the previously published article: U.S. Presidential Candidates' Health Care Plans 2008: HIV/AIDS Proposals - A Time for Leadership by Susan Blumenthal, M.D., Melissa Shive, Beth Louise Hoffman, and Yi-an Ko

While efforts have been made to make these charts on the Presidential candidates' proposals on HIV/AIDS as comprehensive as possible, this information is intended to be used as a non-partisan reference only and does not necessarily represent the opinions of sponsoring organizations.
Calling all HuffPost superfans!
Sign up for membership to become a founding member and help shape HuffPost's next chapter