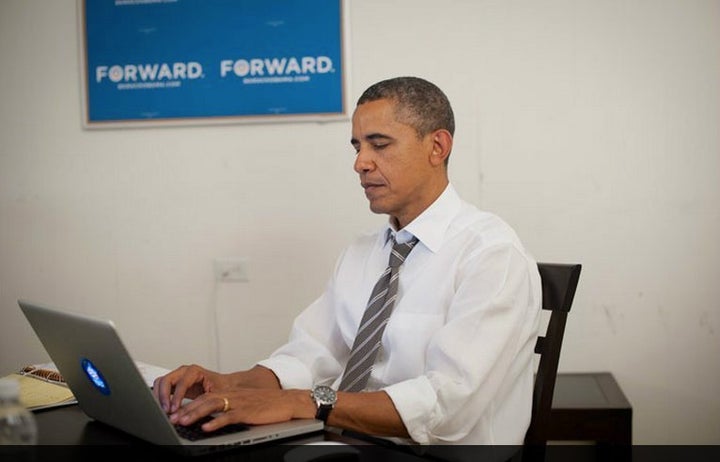 Use of social media in the 2012 US presidential election is expected to reach new levels of sophistication as the political parties increasingly use digital techniques to help raise election cash as well as influence the outcome of the vote.
The previous contest for the White House in 2008 went down in history as the first election to be heavily influenced by the new social media phenomenon. Many voters, especially those who were voting in a political election for the first time, used social media sites to talk to their friends about the voting process as well as posting a record of their experience in pictures and video. Nowhere was this more evident than on social networking site Facebook, where users sent each other virtual Obama or McCain buttons, or pledged their support to either candidate with wall posts on their respective pages.
A day before the 2008 election Barack Obama's followers on Facebook and Myspace dwarfed those of John McCain by nearly four to one. Obama's campaign films specifically created for YouTube were watched for 14 million hours, equivalent to a broadcast TV spend in excess of $47 million, more than nine times his Republican presidential rival.
The Democrats mobilized supporters and organized digital communities and raised $600 million from three million people through barackobama.com. With corporate America funding the Republican Party it provided a vital resource of funding for the Democrats.
Fast forward to 2012 and Chris Hughes, one of the three co-founders of Facebook, has been recruited to increase the effectiveness of Obama's digital campaign. Social media and online news now rapidly outpaces TV news channels and print as the preferred method of voter and donor news gathering and the political parties have not been slow to recognize this shift in media power.
Obama has built on the social media lead he gained on the Republican party in 2008. Based on analysis by SBS World News Australia, Obama had 28,658,765 Facebook fans but also 19,806,314 Twitter followers. Republican candidate Mitt Romney (whose Twitter profile simply reads "Former Governor of Massachusetts") had just 6,961,665 fans on Facebook and 1,123,637 followers on Twitter in comparison. According to SBS World News, the Obama team's online popularity is due in part to the "more sophisticated way" they are using the available communications tools.
It seems that the Obama team understands the language for social media better than his Republican rival. They're "willing to be lighthearted and jokey" and their social media language and graphics have a tone and feel which sits comfortably with the digital world. Romney's approach is more traditional and is reminiscent of a 65-year-old encountering social media for the first time and trying to force the pace.
Obama is also eager to experiment with the latest social media techniques such as 'hangouts.' Over 200,000 people recently tuned in to Reddit to see Obama take part in what's known as an "AMA" -- Ask Me Anything. He personally answered over 1000 questions, no minions intervened, ranging from politics, to philosophy, to Washington's secret beer recipe. Obama received a mountain of praise for his efforts.
But will all this social media activity keep Obama in the White House? If the Internet were to decide who will be the next U.S. President, Barack Obama would win by a landslide. However, the most recent polls paint a drastically different picture. They show that the candidates are virtually neck and neck.
The true test of whether the ease and speed of social media to deliver and spread campaign messages will reap a political dividend for the Democrats will be decided in November. If the Republicans get wise to the benefits of a progressive social media strategy and utilize the traditional advertising armory of negative campaigning, the online election may just start heating up.
Editor's Note: This post has been updated to reflect independent research conducted by SBS World News Australia.
Popular in the Community