Jenni Monet, one of a half-dozen journalists arrested this year covering the Standing Rock pipeline protests in North Dakota, recalled being verbally abused by police during her 30-hour detention, including hours in a freezing garage.
Monet's ordeal received some coverage at the time, but less than anti-press incidents in media-saturated cities or on the presidential campaign trail. And it's been tough to sustain attention, even though the freelance journalist's story is far from over. Monet, who spoke via video chat to reporters last week in the Committee to Protect Journalists' office, is scheduled to go to trial next year, charged with trespassing and rioting.
Cases like Monet's, said Committee to Protect Journalists senior researcher Alex Ellerbeck, illustrate why the group is partnering with more than 20 other journalism organizations to launch the U.S. Press Freedom Tracker, which will assemble the details in one place, allowing users to search all press-freedom incidents in the United States. Nineteen journalists have been arrested in the U.S. this year, including several during inauguration protests in Washington in January.
Ellerbeck recalled her difficulty earlier this year finding basic, verifiable details about journalists' arrests at Standing Rock and the status of their cases. "We could've been so much more agile if we had that in one central location," she said.
The new tracking site can be used by anyone and will be regularly updated. In addition to arrests, users can search under categories such as subpoenas and legal orders, denial of access, equipment search and seizure, leak investigations, border stops, and statements aimed at chilling press freedom.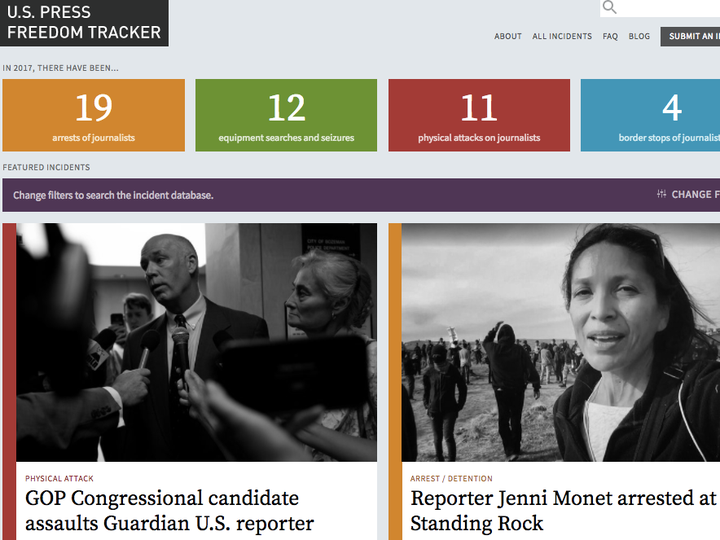 The Committee to Protect Journalists started the site with the Freedom of the Press Foundation, whose senior reporter, Peter Sterne, will serve as managing editor. Representatives from Reporters Without Borders, the Knight First Amendment Institute, Reporters Committee for Freedom of the Press, and Index on Censorship, serve on the project's steering committee.
Donald Trump's anti-media rhetoric and actions on the campaign trail, such as blacklisting news organizations, set off alarms at the Committee to Protect Journalists, which described him in October as a threat to press freedom "unknown in modern history." As president, Trump has repeatedly tried delegitimizing the news media, which he's maligned as the "enemy of the people" and "fake news."
Other Republican politicians have followed Trump's lead, and a spate of violent rhetoric and attacks have heightened fears that U.S. journalists are under increasing threat for simply doing their jobs. Montana Rep. Greg Gianforte (R), for example, assaulted a Guardian reporter the night before the election for asking a question about health care.
Reporters Without Borders, which like the Committee to Protect Journalists is best known for tracking press freedom attacks abroad, began publishing a weekly U.S.-focused report in May in light of the "intense frequency" of events, a spokesperson told HuffPost at the time.
Kathleen Carroll, who stepped down as executive editor of The Associated Press last year and now chairs the Committee to Protect Journalists' board, said the site will be bolstered by facts, "which are increasingly in short supply in our dialogue about journalism."
"It's important that we not overinflate nor undercount the things that are happening to journalists in the United States," Carroll said. "And the Press Freedom Tracker will give us facts … in the stories that we write about these issues and in the advocacy work that many of the organizations that are part of this are doing."
Support HuffPost
The Stakes Have Never Been Higher
Related
Popular in the Community