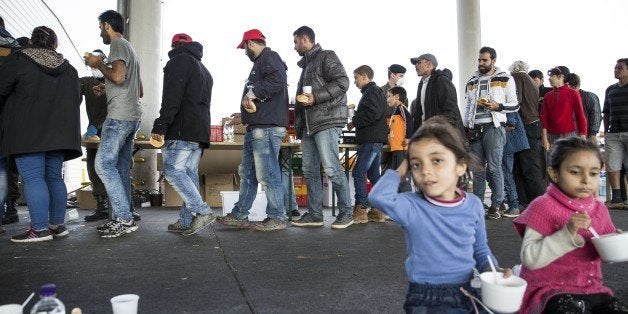 When the little body of Aylan Kurdi washed up on the shores of Turkey the whole world paid attention. The image of a child that could have been anyone's, face down on a Mediterranean beach, struck a chord with mothers, fathers, brothers and sisters across the globe, and rightly so: no three-year-old should have met Aylan's fate, nor that of his five-year-old brother or their mother who died in a vain effort to save them.
Yet, over the past four and a half years the most deplorable crimes against humanity have occurred in Syria, from where Aylan and his family were fleeing, with such sickening regularity that global public has become numb to their happenings. The visceral shock from images of mutilated bodies, starving children, and smoldering cities has all but evaporated. We now stare blankly at the rising numbers of those killed the past four and a half years, their individual stories for the most part lost amidst the staggering figures of the hungry, displaced, and dead.
Nearly two years ago, I came to Washington, D.C. to bear witness to the wave of violence and suffering sweeping across Syria. I believed, as did others, that raising awareness of the horrors being borne by innocent civilians in Hama, Homs, Idlib, Aleppo and elsewhere would spur global action to stop it. We were certain that in the face of the most barbaric humanitarian crisis of our time, inaction was an impossibility. We were wrong.
The world's most powerful nations cannot claim ignorance of this wholesale slaughter. Numerous resolutions, statements, and hearings point to the systematic and deliberate targeting of Syrian civilians by the warring parties, the chief culprit being the government of Bashar al-Assad. These resolutions have done little to quell the violence: in the brief span of 4 days this past August, government warplanes bombarded 9 separate hospitals, each one more than 10 kilometers from the closest frontline, a clear and irrefutable violation of universally recognized medical neutrality in time of war.
The failure to enforce UN resolutions aimed at protecting civilians and civilian infrastructure has often been looked at by policymakers with a shrug, a shake of the head and a well-worn "Syria is complicated," as if to justify their abdication of responsibility to protect civilians.
That Syria is a humanitarian catastrophe goes without dispute, but failing to recognize Syria's crisis as fundamentally political and military in nature has led to a complete shortfall of ideas aimed at resolving it. Instead, governments across the world have substituted humanitarian assistance and refugee resettlement in place of concerted political action, knowing full well that no number of bread baskets or blankets will put an end to the deliberate bombing of schools or hospitals.
This failure of leadership is cause for global concern. Syria's crisis cannot be contained. Tens of thousands of weary Syrians, of whom little Aylan was only one, have risked everything looking for refuge in Europe to spare their loved ones and themselves the relentless horrors of this war. 2,500 have lost their lives this year alone in the process, and those who make it to the shores of Europe rarely find solace for their sacrifice. What's more, the global obsession with the self-proclaimed Islamic State has conveniently ignored the fact that their continued grip in Syria and Iraq finds its foundation in the massacre hundreds of thousands of innocent civilians. Collective punishment and the ensuing desperation have engendered a tide of hopelessness, bitterness, and anger that fuels the ISIS fire.
And yet, hope remains. The countless acts of heroism from ordinary Syrians taking place every day demonstrate that there is light at the end of this dark road. But the people of Syria cannot get there alone.
Twenty months ago I came to Washington, D.C. to bear witness. Now I come with a call to action. The United States must move past hollow statements of sympathy and halfhearted diplomatic measures to take up a leadership role to marshal international action to end this conflict. The U.S. must take advantage of new diplomatic energy around political negotiations to convene other nations seized of the issue, including Russia and Iran, to find a swift and lasting peace for the people of Syria. A clear political vision, accompanied by genuine conviction to see it through, is needed to stop the bloodshed.
If such efforts are to have any hope of success, they must include an end to indiscriminate attacks against civilians, including through the threat of military force if necessary. For there to be peace in Syria, the daily murder of blameless men, women and children must stop. Prohibiting the flagrant violations of international humanitarian law that have pushed thousands to flee for Europe or into the hands of the so called Islamic State is an indispensable element of that effort. It will not be easy. Syria is complicated. But each Syrian, like little Aylan, lost to this crisis not only represent a darkening stain on our collective conscious, but a degeneration of global stability for all.
Popular in the Community