The nonprofit Prison Policy Initiative released a graphic on Tuesday showing just how many people are currently locked up in the U.S., as well as where they're being held. The short version: It's a lot.
Drawing on a wealth of federal data, the chart illustrates a criminal justice system that now incarcerates more than 2.3 million people in a sprawling network of federal, state and territorial prisons, local jails and juvenile and immigration detention centers. At a time when politicians are directing increased attention to issues of criminal justice reform, particularly mass incarceration, the report serves as further evidence that meaningful change will require an ambitious and comprehensive effort.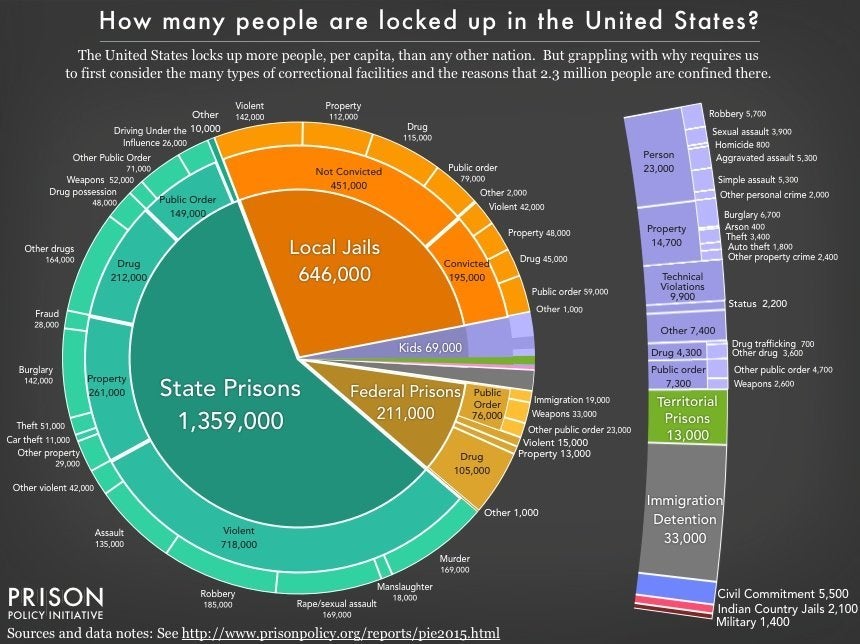 Much of the current political clamor for reducing the prison population concerns "nonviolent drug offenders," whom some reformers see as the people best suited for a return to civilian life, and the least likely to pose a threat to others. A bipartisan bill introduced in Congress earlier this year offered only modest reforms to the draconian system of federal sentencing for drug offenses, including the mandatory minimums that have been used to throw even lower-level dealers in prison for decades.
As the chart above shows, that proposal would only have bearing on a limited number of federal prisoners, who make up a tiny share -- 105,000 out of 2.3 million, or about 4.5 percent -- of the nation's overall prison population.
If we want to make a real dent in the problem of mass incarceration, we're going to have to do much, much more. The U.S., after all, still incarcerates nearly 25 percent of the world's prisoners, despite being home to less than 5 percent of its population. Another 7 million people are either on probation or on parole. Caging and monitoring this many people costs the U.S. over $80 billion a year. Critics blame this state of affairs on the failed war on drugs, and that's certainly fair, but the issue is far more complicated than just that.
A number of prominent criminal justice reform organizations want to reduce the U.S. prison population by as much as 50 percent in the next 10 to 15 years. To make this happen, policymakers at both the state and federal levels will need to look beyond the so-called "non, non, nons" -- nonviolent criminals, nonserious criminals and non-sex offenders.
In a blog post earlier this year explaining various models to reduce the state prison population as part of the Cut50 initiative, The Marshall Project's Dana Goldstein wrote that "changes could include shortening sentence lengths; making it easier for prisoners to win parole; deciding that probation or community service are more appropriate consequences than prison time for entire classes of crimes; diverting more suspects to mental illness programs or addiction treatment; and even redefining what offenses are considered violent in the first place."
You can tinker with your own models using The Marshall Project's interactive tool below:
But as the Prison Policy Initiative graphic shows, state and federal prisons only tell part of the story of a uniquely American obsession with putting people behind bars. Almost 650,000 people around the country are currently locked up in local jails, and nearly 70 percent of them haven't actually been convicted of anything. Among those awaiting trial, many are stuck behind bars because they can't afford bail, products of a system that regularly forces legally innocent people to serve time.
PHOTO GALLERY
Prison Inmates Create Artistic Monuments
Calling all HuffPost superfans!
Sign up for membership to become a founding member and help shape HuffPost's next chapter