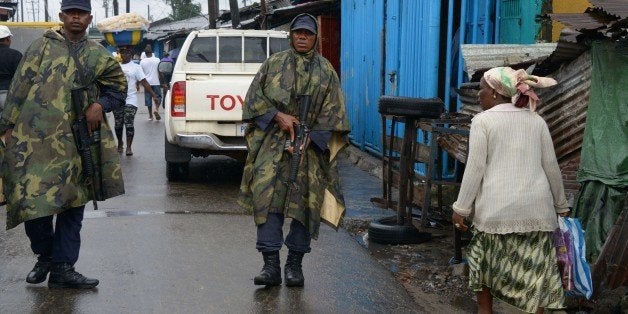 (Recasts with details, background)
WASHINGTON, Oct 3 (Reuters) - The Pentagon said on Friday it may send nearly 4,000 troops to West Africa to support America's response to the Ebola crisis, almost 1,000 above its previous estimate, and cautioned its projections may change further.
The increased Pentagon forecast came as the World Health Organization hiked the estimated death toll from Ebola to 3,439 people, and as U.S. authorities scrambled to contain the spread of the virus after the first person was diagnosed with Ebola in the United States.
Rear Admiral John Kirby said American troops preparing to deploy to West Africa would take all the necessary precautions and added the Pentagon would disclose as much information as possible about the health of deployed forces, who are mainly headed to Liberia.
"We will be as transparent as we can about what we learn, should any of our troops fall ill," Kirby told a Pentagon news conference.
There are now 205 U.S. military personnel in Liberia and another 26 in Senegal, the Pentagon said. Kirby said the troops in Senegal would remain small in number, setting up an "air bridge" which could become vital in the event of evacuations.
The Army said it has already committed 3,200 forces for troop deployments. The Pentagon cautioned it may never deploy all of the nearly 4,000 forces it says may be needed but also refused to commit to any firm numbers going forward.
"I'm not going to put a floor or ceiling on this," Kirby said.
The outbreak of the disease, which causes fever, bleeding, vomiting and diarrhea, has overwhelmed health systems in the three most affected countries, Liberia, Sierra Leone and Guinea where it originated. It has also spread to Senegal, Nigeria and the United States.
The U.S. military aims to open a 25-bed field hospital which will be used to treat infected medical personnel on Oct. 18 and set up two other treatment centers by the end of the month.
Kirby said the U.S. military's response was aimed at getting Liberia's infrastructure up and running to combat the illness.
"We aren't going to be in the treatment business," Kirby said. "These are logisticians, engineers, civil affairs folks, that are going to be helping establish the infrastructure so that health care workers can do the job that they need to do."
He said that over the past 36 hours, two Ebola testing laboratories manned by personnel from the U.S. Naval Medical Research Center were fully operational, with a capability of processing about 100 samples a day. (Reporting by Phil Stewart; Editing by Bill Trott and Sandra Maler)
Calling all HuffPost superfans!
Sign up for membership to become a founding member and help shape HuffPost's next chapter