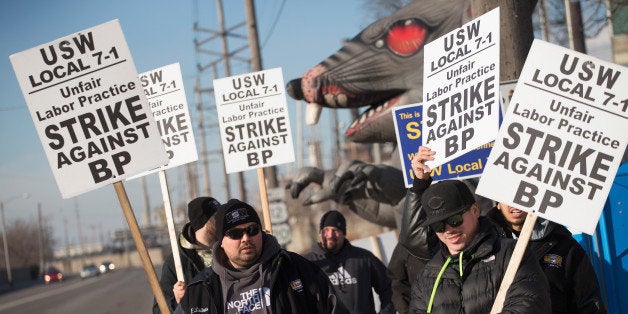 (Adds Shell letter, background, detail)
HOUSTON, Feb 21 (Reuters) - The U.S. refinery strike widened on its 20th day, with workers at the nation's largest refinery walking off jobs and joining picket lines on Saturday as the United Steelworkers union (USW) pushes for a new contract that improves wages and safety.
Strikes are underway or have been called at 15 plants, including 12 refineries with a fifth of U.S. crude processing capacity. The stoppages, which have forced companies to rely on trained temporary workers to keep plants running close to normal, are the largest in the refining sector since 1980.
Shortly after talks between union and oil company representatives ended on Friday night, the union notified Motiva Enterprises of a strike by its members at the company's 600,250 barrel per day (bpd) refinery in Port Arthur, Texas.
USW members are also scheduled to go on strike by 12 a.m. Sunday at Motiva's 235,000 bpd Convent, Louisiana and 238,000 bpd Norco, Louisiana refineries and the Shell Oil Co chemical plant in Norco, the union said.
"The industry's refusal to meaningfully address safety issues through good faith bargaining gave us no other option but to expand our work stoppage," USW International President Leo Gerard said in a statement.
As of Saturday, no new talks had been scheduled between the two sides.
Motiva was targeted for the strikes because it is a 50-50 joint venture of Royal Dutch Shell Plc and Saudi Aramco . Shell's U.S. arm Shell Oil Co is the lead oil company negotiator in talks with the USW for a national agreement on safety, pay and benefits.
Shell and the USW were near an agreement for a new contract on Friday night, but other oil companies were unwilling to accept the bargain, said sources familiar with the talks.
"As the lead company, Shell has the role to get the oil companies to come along," said one of the sources. "The (union) leadership group decided Shell needed to be put on the list of targeted companies."
A Shell spokesman said the company was disappointed by the Port Arthur walkout and strike notices to the Louisiana plants.
In a letter Shell has sent to striking employees at its Deer Park, Texas, refinery and chemical plant, a copy of which was seen by Reuters, the company said the key sticking point was non-union contractors who perform daily maintenance, which the USW would like to see replaced with union workers.
The company said it needed flexibility.
"Hiring flexibility is a proven way to protect our core Shell workforce and the long-term economic viability of our workforce," the letter said. "This strategy has served us all well, as we have not had to conduct any layoffs in decades."
The strike that began Feb. 1 was last expanded Feb. 6, when workers at BP Plc-operated refineries in Indiana and Ohio were told to begin a work stoppage the following day.
Workers were already on strike at Shell's 327,000 bpd joint-venture refinery in Deer Park since the strike began on Feb. 1.
The Motiva walkout may complicate operations at the Port Arthur refinery, which has several units shut but did return its second largest crude distillation unit (CDU) to full production on Friday night.
The 195,000 bpd CDU is one of three at the refinery that do the initial refining of crude oil coming into the plant and provide feedstock for all other production units.
The refinery's largest CDU, which has a rated capacity of 325,000 bpd is running at about 200,000 bpd, the sources said, because a 60,000 bpd hydrocracking unit is shut due to a malfunction. The hydrocracker produces motor fuel, primarily diesel, which has become a lucrative export for U.S. refiners.
Motiva also shut a 92,000 bpd gasoline-producing fluidic catalytic cracking unit at the refinery in early January for an overhaul. It is scheduled to restart in the first half of March.
Shell and the union had been meeting continuously since talks resumed on Wednesday following a week-long break for the company to reply to an information request and a counterproposal from the USW.
Union negotiators have rejected seven contract offer from Shell.
The USW's lead negotiator, International Vice President Gary Beevers, has told Reuters that safe staffing levels were a point of contention in the talks.
The union also wants "no retrogression" language, which preserves agreements from previous contracts.
In addition to the BP plants, workers are striking at ones owned by Lyondell Basell, Marathon Petroleum, and Tesoro in California, Kentucky, Texas and Washington.
Only one refinery has shut down due to the strike - Tesoro's 166,000-bpd plant in Martinez, California, which was previously scheduled to undergo maintenance.
The USW wants a three-year pact that would cover 30,000 workers at 63 U.S. refineries with two-thirds of domestic capacity. (Reporting by Erwin Seba; Editing by Terry Wade, Chizu Nomiyama and Franklin Paul)
Calling all HuffPost superfans!
Sign up for membership to become a founding member and help shape HuffPost's next chapter