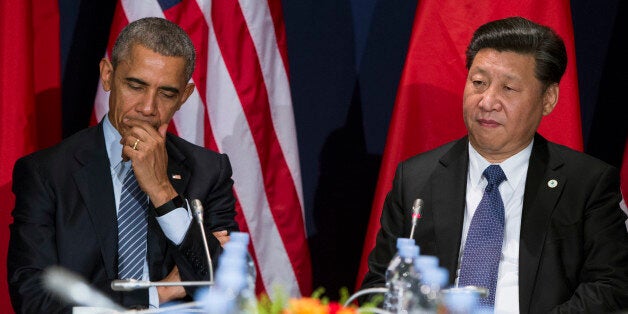 With U.S. elections just three months away, it is open season for China-bashing. Candidates will be talking tough on trade, currency manipulation, cyberattacks and other issues, vowing they will not let China push us around.
We certainly have reasons to be concerned about China's policies and its growing influence and ambition. But political bluster is not the right response. We have to acknowledge the importance and centrality of our relationship with China. Managing it effectively will take a mix of cooperation and confrontation. It will require a delicate balancing act.
In terms of Chinese politics, President Xi Jinping has consolidated his power impressively, ruthlessly and across the board: militarily, politically and economically. Xi is leader of the Communist Party, the center of power in the country. He has also acquired additional titles, leading pundits to label him "chairman of everything."
China is not likely to become democratic soon, and Xi wants to further strengthen the one-party dictatorship of the Communist Party. He wants a strong, rich, stable country, restored to its former greatness, the so-called Chinese dream.
Xi has overseen a repressive security regime, shrouded in secrecy. He has enhanced his power with anti-corruption drives and a crackdown on dissent. He worries most about unrest in his vast country, where hundreds of protests occur daily. He has tightened the screws on the media and hammered at civil society, with hundreds of human rights lawyers having been detained or prosecuted.
Much of his rhetoric sounds positive: He praises the rule of law and insists that no one should be above it. But these ideals seem not to apply to party members.
The Chinese government has done some good things for its people. It has raised income levels, instituted modest local political reforms and improved access to education and health care. It is hard to gauge public opinion in a country like China, but Xi seems to have a lot of popular support.
China has the world's second-largest economy by GDP (four times the size of Japan's, five times the size of Germany's) and arguably the largest by purchasing power. It is a bewildering mix of free markets and state control: socialism with a lot of capitalism built into it. And it has a voracious appetite for resources.
China's growth has slowed somewhat but continues at a vigorous pace. China's leaders believe their system is superior to ours, and they argue that it's a model for the world to follow.
The country is huge and complicated: One in every five people on Earth lives in China, with tremendous geographic, economic and ethnic diversity. Someone once said that whatever you can say about China will be correct -- somewhere in China -- because it is such a big and diverse country.
The United States and China differ in many ways: size, language, history, culture, ethnicities, ideologies and our views of the appropriate role of government. Maintaining a productive relationship will require recognizing and accepting these differences.
Political posturing has its appeal in an election year. But our national interest will be best served by smart and pragmatic engagement.
To a great extent, our efforts toward China will be about managing problems, not solving them. In this most important bilateral relationship in the world, we should deal with China from a position of economic and military strength.
Where we have common interests and potential for cooperation, such as climate change, nuclear security and cybersecurity, we should work together. We should accept that China has its sphere of influence in the world and has the right to its own system of government and its own standards of political legitimacy and social justice. While we recognize China's rise to power and prominence, we should exert what influence we can to ensure it is a responsible member of the international community.
Every major global challenge we face -- peace, prosperity, environmental protection, population and resources, and terrorism -- will be easier to solve if we work with China and much more difficult if we work at cross purposes. Our economies are tied together through investment, debt, deals and trade; in so many ways we rise and sink together.
Our leaders should elevate the relationship with China to the highest levels and priorities of our government. We should energize and sustain high levels of engagement, including military exchanges, and we should support and work closely with our allies and partners in the region, avoid provocative military actions and conflict, and insist China do the same. Congress must play an active role, through hearings on various aspects of the relationship and frequent visits to China.
We should accept China's appropriate role in international organizations, and we should oppose any Chinese claim contrary to international law and norms.
China is not a world superpower, and it is not going to become one anytime soon. It has few allies. But it is a regional power, and its importance and influence are growing. We should welcome a peaceful, stable, prosperous China that chooses to play a responsible role in the world, but we should not expect breakthroughs in the relationship.
Lee H. Hamilton is a Distinguished Scholar, Indiana University School of Global and International Studies; Professor of Practice, IU School of Public and Environmental Affairs; and Senior Advisor, IU Center on Representative Government. He served as U.S. Representative from Indiana's 9th Congressional District from 1965-1999.
REAL LIFE. REAL NEWS. REAL VOICES.
Help us tell more of the stories that matter from voices that too often remain unheard.