 When Mary McBride said, "The State Department is the best booking agent I've ever had," my taxpayer's antennae went up.
What are our tax dollars doing sending this pretty, articulate singer-songwriter to far-flung post conflict zones and conservative Muslim nations?
A newly-minted U.S. cultural ambassador, McBride's job is to showcase American culture by engaging audiences in nations of strategic importance to the U.S.
After Labor Day, Mary McBride and her band take their State Department-sponsored charm offensive to Libya and Afghanistan, among other countries.
For the past 12 months McBride and her band have toured their mix of country-western rock'n'roll to Saudi Arabia, Bahrain, Pakistan and Turkey, among other nations such as Vietnam and Laos. This spring they toured Iraq for eight days. In each trip, they do outreach concerts for abandoned and disabled people in institutional homes, hold workshops with students, meet prominent local musicians, play for international personnel, and appear on local media.
"I've never felt as welcome as I have in Pakistan and Iraq," said McBride during a two-hour in-person interview in Brooklyn in June. She has the voice of a full-throated blues singer and a camp counselor's infectious enthusiasm.
"We didn't know what to expect," she admits. "But the connections we made with audiences in Pakistan and Iraq were incredible."
"I have more friends on Facebook from Iraq and Pakistan than anywhere else in the world," McBride adds with a grin.
It's this very people-to-people connection that enables others to "see the tolerance and diversity and values of Americans, who we are and what we stand for," said Ann Stock, assistant secretary of state for Educational and Cultural Affairs in a phone interview this week. And thanks to technology, once a relationship is established, it can grow via email, Skype and the Web.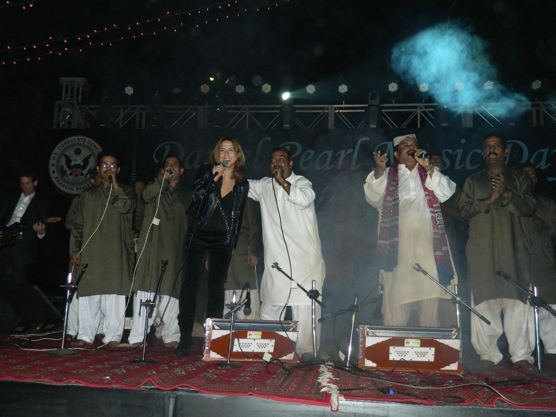 Shown above: Mary McBride with Qawwals Fareed Ayaz and Abu Muhammad, Daniel Pearl World Music Day Concert, Karachi Pakistan, 2011. Photo courtesy of Mary McBride
Making of A Cultural Ambassador: Charity Began at Home
Although she stumbled into a career in cultural diplomacy, McBride's a natural.
She radiates that special combination of gregariousness and drive that often undergirds political success. It's not surprising that McBride grew up inside the Beltway with parents, both Washington insiders, who traveled in political circles.
The 42-year-old has recorded a few albums and played many concerts. Accomplished if not famous, she's best known for singing "No One's Gonna Love You Like Me" in the movie Brokeback Mountain.
In 2010, McBride (no relation to singer Martina McBride), relaunched herself with the "Home Tour," an unconventional initiative to "bring live rock performances to people who wouldn't otherwise get to hear it" in whatever place they had to call "home." Financed by foundation and corporate support, the Home Tour debuted in an Louisiana penitentiary. Her new audience: socially marginalized, vulnerable populations.
In 2011, the New York-based Humpty Dumpty Institute (HCI) an international NGO, invited McBride to compete for a place in a July 4th tour to Russia co-sponsored by the State Department and U.S. embassy in Moscow. She won.
Shortly thereafter, her horizons expanded from America's vulnerable populations to strategically vulnerable societies, as in Iraq and Libya.
"I never thought I'd say 'the crowds in Islamabad were amazing,' " laughs McBride, "and how joyful the students were in Basrah."
People in the Middle East may have heard Western rock (British singer Adele is huge in Pakistan, says McBride), but the opportunity to play for people in foreign cultures who've never seen a live performance is, she says, "a gift."
Veteran guitarist Paul Carbonara, who toured with rock-legend Blondie (and, with bass player Greg Beshers, is a regular on the Mary McBride band tours) reflects, in an interview, "We've seen the impact that art can have on relationships: it transcends political problems." He adds, "I never thought I'd be able to connect with these people, they're so caricatured in our media. But people are people; they love their kids, too."
Above all, McBride and the band are game. Perform outdoors in Baghdad's red zone in Al-Zarwaa Park, delivered by armed soldiers? Bring it on. Play at the bedside of a mentally-ill elderly woman who survived wartime horrors, abandoned in a dumpster and eaten by rats? It would be our honor.
"We go in and play like it's a stadium," says McBride, "even it's for just ten people in a nursing home. We play a full-on show, knowing this may be the only live show they'll ever see."
Their audiences clap, dance, and sing along. "Live music is powerful, and we're obviously having fun," says Carbonara. "It's contagious."
McBride's band does up to three performances a day when on a diplomatic tour. They carry and set up their own gear. Their media coverage is local, and, in the Middle East, more often in Arabic or the local language than English - but it carries their music, through radio, TV, and social media to potentially millions of people.
The band displays a certain "you-get-used-to-it" nonchalance about security. In Iraq and Pakistan, they "always traveled with armed escorts," McBride said. They'd travel to gigs in armored caravans and sometimes in military helicopters; photos show them decked out in protective Kevlar vests and helmets. At night, they'd return to what she described as "heavily armed international zone, which is surrounded by twenty-foot concrete blast walls, T-walls and barbed wire."
Performing for special needs audiences and people who are obviously suffering in post-conflict societies might derail some musicians. But, "we know how to work that crowd," says McBride. Her band has learned through their Home Tour gigs, she says, that "people with disabilities in one culture aren't that different from people with disabilities in another."
McBride, like some war correspondents, has acquired an appetite for being where the action is. And, working for Uncle Sam has definite perks: travel to extraordinary places, embassy staffs at one's disposal, and scheduled events produced with military precision. Band members enjoy talking shop with local musicians, hobnobing with a rarified international crowd, and occasionally meeting a legend, as they did with Seal Team 6's Admiral Ed Winters, of bin Laden raid fame. There's also a sense of purpose.
At its best, when the chemistry is right, when the musicians and audience click, their work feels less like "cultural diplomacy" than like loving arms reaching around the world, through music.
The Cost of Cultural Diplomacy
It sounds like a light bulb joke: how much does it cost to send five rockers to three cities in Iraq?
"Their tour in Iraq cost about $54,000, inclusive," says Joe Merante, HDI's Executive Director and former State Department cultural affairs chief, in a telephone interview.
The costs are low, because "an embassy has extra seats on aircraft, plentiful food in its cafeterias, excess temporary housing, and we have a large security presence," explains Former US Ambassador to Iraq James F. Jeffrey in an email interview.

Troops Move Out, Rock Rolls In
So, is it worth the taxpayers' dollars to send rock'n'roll emissaries like McBride to global hotspots?
"Whenever our fundamental relationship with a country is formal, diplomatic and particularly security-heavy, like with Iraq, there is a huge foreign policy interest in showing the 'softer' side," says Jeffrey.
And, "a large segment of the Iraqi population is tuned in literally to American culture and music," he says, so there's benefit derived "from the band simply coming to Iraq."
As a role model, McBride also strikes a subtle blow for gender equality. "She's performing in countries where women are terribly discriminated against. And here she is, this strong woman leading an all-male band," says Merante.
It's all hard to quantify. But, as Merante says, if, through a McBride tour, "we were able to change one mind of one person who would have been a terrorist who could have killed a hundred Americans," then, yes, these are tax dollars brilliantly well spent.
CORRECTION: This article has been corrected to state that McBride is 42 not 43 and started her tour in Louisiana and not Arizona.
Popular in the Community