Several years ago when my youngest son left for college, I decided to leave as well, if only for a month and a half to drive cross-country on the second longest highway in the U.S., Route 6. Also known as the vaguely communist sounding Grand Army of the Republic Highway, US Route 6 was once the longest road in America, running 3,652 miles through 14 states from Provincetown, MA to Long Beach, CA, but fell to second place (Route 20 is longer) after California renumbered its highways in 1964. US Route 6 now officially ends in Bishop, CA - a colorful Eastern Sierra's town rich in murals and mules - but I also intended to retrace Historic Route 6 from Bishop to Long Beach and include that portion, too, in a mile by mile Route 6 guidebook.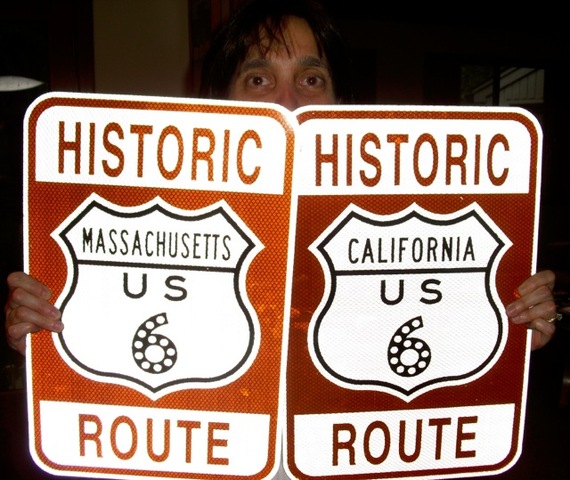 For nearly three decades -- from the time US Route 6 became an ocean-to-ocean highway in 1937 until 1964 - small communities along the way benefited from a high volume of truck and tourist traffic. Motels and restaurants thrived. Gas stations saw plenty of patrons. And then came the Interstate Highway System. Built in the 1950's and 60's, these superhighways meant the death of many of these proud little towns.
A freelance magazine and newspaper travel writer with a Northeast US Travel "beat" - I knew nothing about the country's mid-section, particularly the states of Iowa and Nebraska. Who traveled there except farmers and farm-industry folks, I asked myself. What crazy New Yorker would want to vacation in Omaha, NE or Moline, IL? But I was up for the cross-country road trip challenge; hell bent on driving the country's "Longest Contiguous Highway" (Route 20 breaks up through Yellowstone National Park and therefore is not considered "contiguous") all by myself, even if it meant staying in some godforsaken prairie and desert outposts.
What compelled me? If you saw my very first copy of "Let's Go USA," purchased when I was just a teenager, you'd understand. Highlighted, dog-eared and poured over more thoroughly than the Higgs Boson, my "Let's Go" travel guide became the bible for my fantasy American road trip. I never did take that two-year-see-everything excursion that I'd planned so meticulously, but now, done with child-rearing responsibilities, I wanted to at least get from one U.S. coast to the other.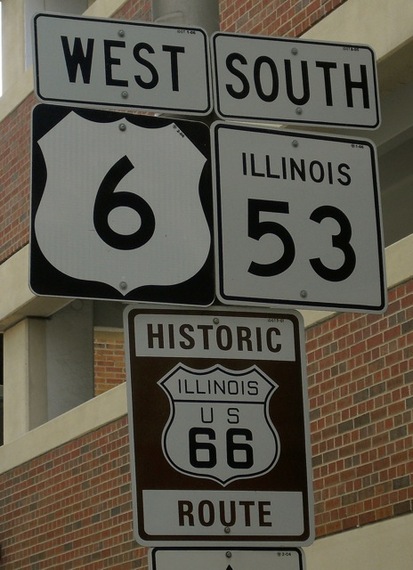 Using my travel writing skills, I researched, planned and plotted interviews and stays in even the smallest of hamlets. As I established contacts in the hundreds of Route 6 communities across the nation, a strange thing happened. I began to receive dozens of unsolicited emails from individuals in some of these "godforsaken" towns, imploring me to stop, engage and learn about local organizations, events, and unsung but worthy attractions.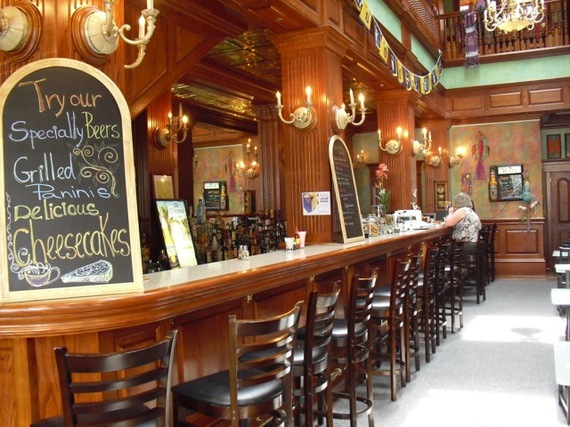 John and Olga Snyder, Coudersport, PA; "I recently learned about the trip you're planning across U.S. Route 6. My wife & I have a couple of businesses in historic downtown Coudersport, Pa. that we urge you to check out. We have one of the premier Yarn shops in Pa., Yarn at Olga's & an amazing Art Gallery & Cafe, Olga Gallery, Cafe, & Bistro; www.eggdecorator.com."
Jim McQuiston, Communications and Marketing for Blair Corporation, and curator of onsite Blair Corp. Museum, Warren, PA: After inviting me to visit the new museum, he wrote, "If I am only one of many, your email box must be full every day. The implications of what your (sic) are doing for the pride and even a potential "healing" within these small communities, is no doubt far beyond what you can imagine or probably originally intended."
Sabrena and Blair Miller, Columbus, PA: "Please see what we do here on Route 6, here in Columbus PA. This event called the Cornfield 500, is a growing sensation, that is pulling tourist in from many different states. My husband and I are the host of the event on our property, which is about a mile along both sides of our beautiful Route 6, and we were also married on CMT's, My Big Redneck Wedding. Last year, we made history on Route 6, for the Guinness Book, with the World Record Monster Truck Jump. (Update - a new World Record was made again in Sept. '13 as seen here)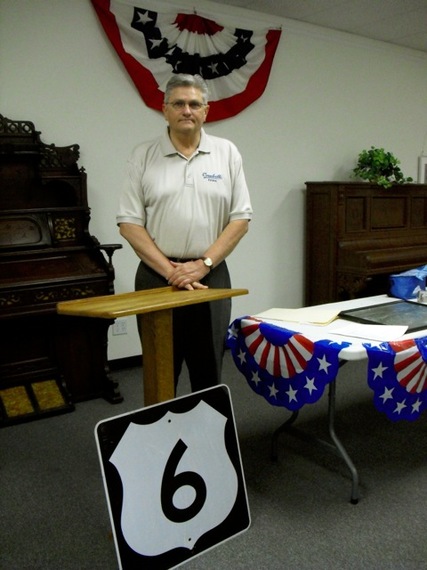 Rex Brandstatter, Coralville, IA: "I have been advised by our local City Administration, that you will be traveling U.S. Hwy #6 through Iowa this Spring/ Summer. I am the Historian for Coralville, Iowa, located along and on U.S. Highway 6. I would be happy to meet with you when you visit this area. We have a NICE stretch of original U.S. Highway 6 here right through town that you can travel,, we can also visit our memorial to the Mormon Trek that started here in 1855-57 and ended in Salt Lake City."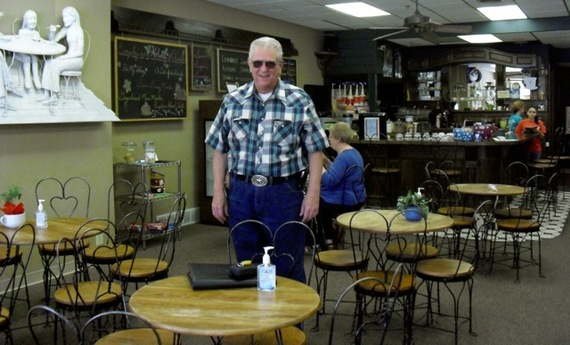 Roger Bratt, Ashland, Nebraska; "Malerie , we would be honored to be your host & guide while you are here ! We would love to call a 'special meeting', invite the public, the media, etc.. The Ashland Gazette (now a division of the Omaha World Herald) is VERY cooperative. We are REALLY EXCITED about your upcoming arrival. Feel free to call, e-mail or send up smoke signals !"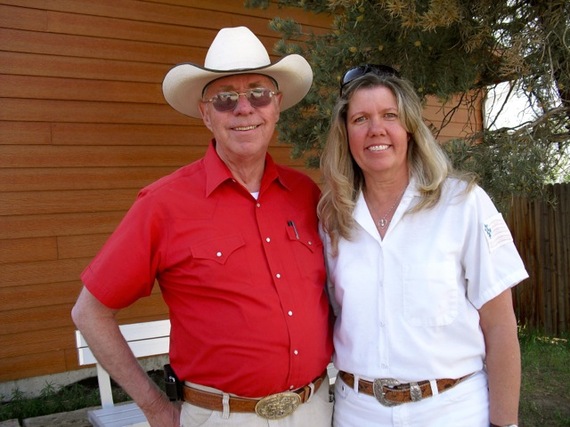 Debbie Koop/Westernaires, Lakewood, CO: "My name is Debbie Koop, a former councilwoman for Lakewood Colorado. I want you to know about the Westernaires, a non-profit organization for over 1,000 dedicated young people, ages 9 to 19, from Jefferson County, Colorado. We encourage self-respect, responsibility and leadership through horsemanship and family participation. For over sixty years, Westernaires has proudly trained young people to use their talents and skills in the best traditions of the West. On any Saturday (year around) at the Jefferson County Fairgrounds where they practice, you can see teams of dedicated youth working on their drills. If you are going to be passing by this summer, we also have practices in the evenings all week long. The view of the sunset over the mountains while watching horses dancing with flags is just amazing!"
I got back to everyone. Yes, I'll meet you. Of course, I'm excited to see what your town has to offer. The upcoming cross-country trip became less a teenager's unfulfilled dream and more a mission to shine a spotlight on some of America's forgotten small towns.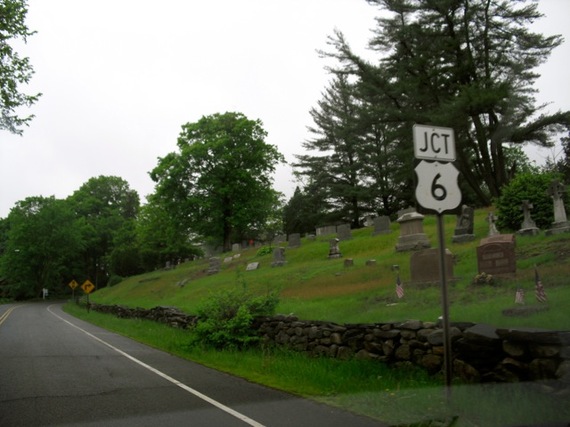 A few weeks before leaving, I was seized with anxiety so fierce, it set off a bout of arrhythmia, sending me to the cardiologist. "Under stress, are we?" he offered after a clean EKG and stress test. I laughed. "As long as I know I'm not going to keel over from a heart attack on the road, I'm fine."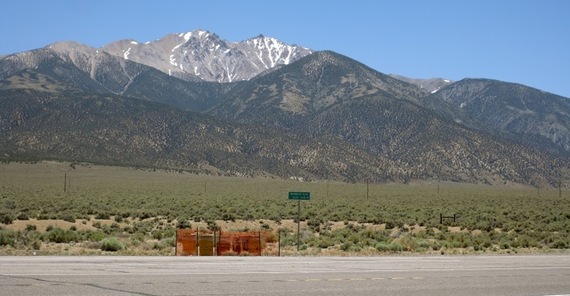 What was I worried about? I worried about being alone at night in one-horse-town motels. I worried about boulders raining on my car in the Rockies. I worried about getting sick. I worried about my car dying on me on an isolated canyon road. I worried about tornados. By mostly I worried about what I expected to be the featureless, punishing desert in Utah and Nevada; those places I'd fly over and wonder if life even existed in that relentless beige landscape. I spent hours watching YouTube videos of footage taken out the windshield on some of those empty roads, like an athlete mentally preparing for competition.
But I'm not really the worrying kind. So, I put all those anxieties in a box, mentally buried it, bought a car-phone charger so I'd never be out of touch, and set off, notebook and pen at hand, FlipCam at the ready, for the start of US Route 6 - Provincetown, MA - on May 20, 2011.
Discover US Route 6 through the travel guide, Stay On Route 6 -- available through Amazon.com and follow the authors new favorite destinations on GetawayMavens.com