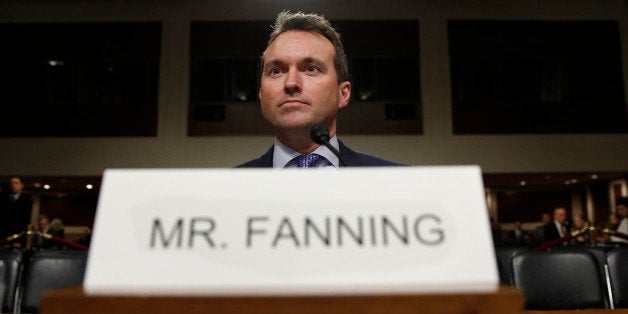 President Obama, our Commander-in-Chief of the Armed forces, appointed Eric Fanning as Acting United States Secretary of the Army in November 2015. Last week The Senate Armed Services Committee approved Fanning's nomination and now our nation waits to see if the entire Senate confirms his post. As a former Sergeant in the U.S. Marine Corps, I'm used to "hurry up and wait." As a gay man, I've waited my entire life for more public heroes. Oh yeah, Mr. Fanning is openly gay.
Fanning's well-qualified for the post. His accomplishments read like medals across a general's uniform. He served as the Army secretary's principal adviser on management and operation of the service. He was undersecretary of the Air Force and the acting secretary of the Air Force. His entire professional life is one of exemplary public service.
Serving in the Marine Corps was the best thing that ever happened to me. I lied about my sexuality when I enlisted. I had to -- it was before Don't Ask; Don't Tell, so being gay was flat-out illegal. My fellow Marines were, and are, wonderful to me. They didn't ask if I were gay. They also never asked for my pecan pie recipe. It's an awesome recipe, but it has the same relevance to my military service as my sexuality does.
Why are we even having this conversation about Fanning's future when the law of the land (the very law our military defends globally) guarantees equal rights for LGBT Americans? Are candidates asked if they're heterosexual? Some straight people are downright freaky in the sack. Do you want your prospective employer examining your private life when it has no bearing on your ability to perform your work duties? Didn't think so.
Let's talk about the economic impact of hate legislation. North Carolina and Georgia stand to lose billions of dollars, thousands of jobs and only gain contempt from their proposed anti-gay legislation currently in motion. I pray more companies boycott these states and take their business to a state that abides the law of the Supreme Court. Mr. Fanning knows that in the military we lead with "Forward, march!" not "Hey, let's retreat to the past."
I've learned that if a person is qualified for the job, and wants the job -- they'll do a good job. If anyone wants to sacrifice their time and energy for the betterment of mankind, let them. It's difficult getting anything accomplished.
We have bigger battles to overcome (like actual battles) than someone's sexuality. America rose out of individuals seeking a better life, free of restrictions. Our long history of volunteering is successful and legendary because brave men and women put personal fears aside and took charge to affect change. We are a nation made up of bright, unique citizens.
George Washington had very little military education, yet was a brilliant strategist and self-taught tactician. Our Continental Congress had faith, saw promise, and appointed him to General. He became a great leader and also a gifted statesman.
Mr. Fanning has the education and experience; all he needs is the Senate's vote. I assure you that Eric Fanning will uphold our constitution. I never met a man in the Marines that I wouldn't fight both for and with -- and Mr. Fanning would make a fine Marine.
Secretary Fanning is the best candidate. He's a great American. I'm too old for the privilege of serving under his command; yet I'll always be of service to my country in any way I can.
To all U.S. Senators: Let Freedom ring. Let Fanning serve.
I guess we are still having this needless conversation since I'm writing this piece. So, want my pecan pie recipe?
Calling all HuffPost superfans!
Sign up for membership to become a founding member and help shape HuffPost's next chapter