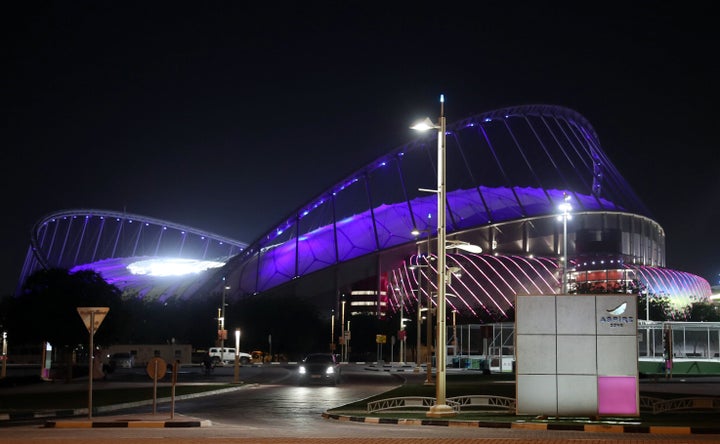 Qatar won the bid to host the 2022 FIFA World Cup. Qatar's victory came amid controversies concerning bribery and corruption, which has led to the FBI's investigation and scrutiny according to Reuters.
A newly released report by the Saudi American Public Relation Affairs Committee (SAPRAC) sheds new light on why the authorities ought to reconsider allowing Qatar to host the World Cup. The report raises critical points about Qatar's suitability to be the host of World cup 2022.
The first issue is linked to human rights violations. Qatar has been ranked in the top five countries in the world when it comes to the prevalence of modern day slavery, according to the Global Slavery Index 2016 by the Walk Free Foundation. According to Gulf Business, Qatar's construction sector has been the "dominant form of slavery reflecting the demand of cheap labour to build infrastructure related to the 2022 FIFA World Cup and the country's National Vision 2030."
The second point is related to security issues and travel difficulties. According to the SAPRAC report " World cup organizers, officials and team members will face travel difficulties and restrictions due to the boycott of airspace from neighboring countries". Several powerful countries in the region, including United Arab Emirates, Egypt, Bahrain and Saudi Arabia, have broken off diplomatic ties with Qatar. They have also blockaded Qatar's borders and seaports.
The third problem is connected to sponsorship of terrorism and compliance with FIFA's ethics and rules. The German Football Association's (DFB) president, Reinhard Grindel, pointed out that "The football community worldwide should agree that … major tournaments should not be played in countries that actively support terror."
It is worth noting that article 3 of the FIFA Statutes states "FIFA is committed to respecting all internationally recognized human rights and shall strive to promote the protection of these rights". In addition, article 24 of FIFA's Code of Ethics states that "Persons bound by this Code shall respect the integrity of others involved. They shall ensure that the personal rights of every individual whom they contact and who is affected by their actions is protected, respected and safeguarded." According to SAPRAC "Given current events and facts, the FIFA Disciplinary Committee must conclude that Qatar has committed a serious breach of FIFA ethics and rules and that its continued support and promotion for internationally recognized terrorist groups is against the Federation's code of ethics, and all the nobility and integrity that the sport stands for".
In addition, the report points to some of the previous concerns raised during the bidding process which are still valid, including Qatar's lack of proper infrastructure, excessive heat climate, and Qatar's disregard for human rights. According to the report, there exist other ethical issues that emerged during Qatar's preparation including "the indictment of Muhammad bin Hammam, former president of the Asian Football Federation and key player in 2022 world cup bid, who was banned for life from anything related to football due to bribery allegations", scrutiny from the US Department of Justice over "Qatar's corrupt influence on football's most important organizations," and "the death of more than 1200 oppressed construction workers while building stadium for the 2022 world cup".
According to the Reuters authorities were investigating "a case of $150 million paid in bribes over two decades while Swiss prosecutors announced their own criminal inquiry into the 2018 and 2022 bids." 2022 FIFA World Cup bids came from five countries: Australia, Japan, Qatar, South Korea, and the United States.
Several other countries, including the U.S. are more appropriate than Qatar to host 2022 World Cup. FIFA should take the aforementioned concerns seriously. The SAPRAC report concludes that due to the numerous reasons represented "It [Qatar] is unfit to host the FIFA World Cup and sponsor world-renowned football teams".
----------------------------------------------------------------------------
You can order Dr. Rafizadeh's books on Here. You can sign up for Dr. Rafizadeh's newsletter for the latest news and analyses on Here. You can contact him at Dr.rafizadeh@post.harvard.edu or follow him at @Dr_Rafizadeh.
Harvard-educated, Dr. Majid Rafizadeh is a world-renowned businessman, a leading Iranian-American political scientist, president of the International American Council on the Middle East, and best-selling author. He serves on the advisory board of Harvard International Review.
Dr. Rafizadeh is frequently invited to brief governmental and non-governmental organizations as well as speak, as a featured speaker, at security, business, diplomatic, and social events. He has been recipient of several fellowships and scholarships including from Oxford University, Annenberg, University of California Santa Barbara, Fulbright program, to name few He is regularly quoted and invited to speak on national and international outlets including CNN, BBC World TV and Radio, ABC, Aljazeera English, Fox News, CTV, RT, CCTV America, Skynews, CTV, and France 24 International, to name a few. . He analyses have appeared on academic and non-academic publications including New York Times International, Los Angeles Times, CNN, Fareed zakaria GPS, The Atlantic, Foreign Policy, The Nation, The National. Aljazeera, The Daily Beast, The Nation, Jerusalem Post, The Economic Times, USA Today Yale Journal of International Affairs, Georgetown Journal of International Affairs, and Harvard International Review. He is a board member of several significant and influential international and governmental institutions, and he is native speaker of couple of languages including Persian, English, and Arabic. He also speaks Dari, and can converse in French, Hebrew. More at Harvard. And You can learn more about Dr. Rafizadeh on HERE. The post was originally published on the Arab News.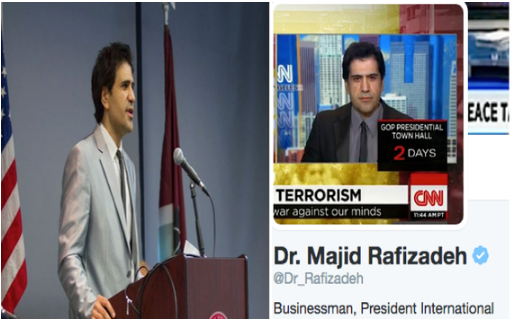 REAL LIFE. REAL NEWS. REAL VOICES.
Help us tell more of the stories that matter from voices that too often remain unheard.