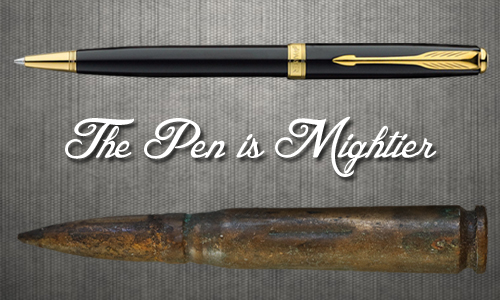 Secretary of State John Kerry has now added the United States' signature to the Arms Trade Treaty. This treaty is a great step forward in dealing with the unregulated and illicit global trade in conventional weapons and ammunition, which fuels wars and human rights abuses worldwide. I am so proud of thousands of GlobalSolutions.org members who emailed, petitioned and called the White House. Your efforts paid off!
GlobalSolutions.org also was one of 33 national organizations who urged President Obama to sign the treaty, saying it, "...would be a powerful step demonstrating the United States' commitment to preventing mass atrocities and protecting civilians from armed conflict around the globe."
Not only is it good for our nation to have all countries operating from the same rule book, it's also our responsibility. Without the treaty, warlords and terrorists will continue to get weapons which are used to force child soldiers to kill their parents, to attack American soldiers and missionaries, and to rape refugee women and girls.
As the world's largest arms dealer, the U.S. signature will put pressure on other major buyers and sellers such as Russia, China and India to join the treaty. U.S. signature will add momentum to efforts to get at least 50 nations to join or ratify the agreement so it can go into force. So far, 86 other nations have signed the treaty and four have ratified it.
The U.S. has the world's gold standard in national arms export trade controls. Kerry's signature now paves the way for the U.S. to provide assistance and cooperation with other states on how to create good export control systems for themselves.
The United States played a positive role in negotiating the treaty, which is designed to help prevent more than 500,000 deaths worldwide that happen because of armed violence. Firearms are used in armed conflicts and to carry out human rights violations, including genocide and gang rapes. More than 250,000 children have been forced into combat as under-aged child soldiers.
The Treaty will address these heinous crimes by bringing foreign governments up to U.S. export standards and moving black markets out of the shadows. This is a legacy issue for President Obama, who has made genocide and atrocity prevention a priority. The Arms Trade Treaty explicitly prohibits arms transfers when a country "has the knowledge at the time of authorization that the arms or items would be used in the commission of genocide, crimes against humanity... "
The agreement is also a win for women's rights. Before agreeing to an arms sale, it specifically calls for countries to assess the risk of weapons being used "to commit or facilitate serious acts of gender-based violence or serious acts of violence against women and children."
This treaty is in America's security, business and moral interests. Because of the diligent negotiations led by U.S. Assistant Secretary of State Thomas Countryman, the treaty is consistent with current U.S. practices and laws.
Unfortunately, here in Washington the conservative Heritage Foundation and the NRA have dreamed up dark visions of how any limits on conventional arms sales would deprive Americans of their 2nd amendment right -- a big lie: The Obama administration made sure the treaty excluded domestic sales. The American Bar Association's Center for Human Rights confirmed the treaty did not infringe on Americans' Second Amendment Rights.
Tomorrow we can begin to plan on how to get this important treaty through the Senate, along with the Women's' Equality Treaty, the Law of the Sea, the Disability Treaty and too many others. But today we can take a moment to dance, to cheer and to celebrate a win.
REAL LIFE. REAL NEWS. REAL VOICES.
Help us tell more of the stories that matter from voices that too often remain unheard.