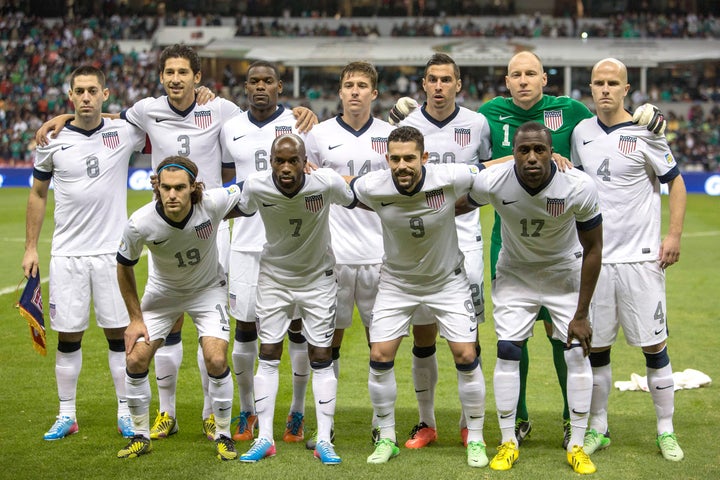 The USA earned four points in two Hexagonal matches, and Goal.com breaks down several talking points ahead of the team's next qualifiers in June.
After an opening game loss to Honduras, the United States got right back on track in its next two Hexagonal matches, winning 1-0 over Costa Rica in a Denver blizzard, then snatching a hard-earned 0-0 draw against Mexico in the Azteca Stadium.
The results couldn't have been better timed for Jurgen Klinsmann, as his grip on the locker room was strongly called into question by a Sporting News story in the days leading up to the Costa Rica game. With four massive points in the bag, what has the United States learned from its last two matches?
The United States has more defensive options than previously thought
When the U.S. roster for the Costa Rica and Mexico games was announced, the team's defense looked paper-thin, inexperienced and on course for disaster. Two games later, and Jurgen Klinsmann has the proverbial problem every coach loves to have: a selection conundrum.
In just his second U.S. appearance, Matt Besler showed he belongs on the international level. Does Klinsmann continue to go with the Besler-Omar Gonzalez pairing, or does he restore Geoff Cameron to central defense, where he hasn't featured for Stoke City? If Cameron continues at right back, where does that leave Timothy Chandler and Steve Cherundolo? Could Chandler see time at right mid, where he's played at the club level? Could Cameron see time at defensive midfield, or even left back? Fabian Johnson's left back spot looks secure, but DaMarcus Beasley at least proved to be a serviceable alternative. Ditto Clarence Goodson at center back.
Brad Guzan is going to be a factor
It is perhaps a bit early to say the Americans have a goalkeeping controversy on their hands, but Brad Guzan's displays against Costa Rica and Mexico did nothing to quell his growing reputation as a top-quality goalkeeper. Aside from flapping at air on a corner kick against the Ticos, Guzan did not put a foot wrong in either game, and came up with a number of clutch saves and clearances against El Tri. Howard is almost assuredly still the USA's starter, but the 28-year-old Aston Villa man has closed the gap remarkably quickly in the last six months or so.
The Hexagonal is evenly matched
After three games and zero wins, it's pretty clear that Mexico won't be able to steamroll its way through qualification, as many expected. Much like El Tri, the United States looks a strong, but beatable side. Through its own results and outcomes in other matches, the Americans will know they won't be able to win games just by showing up, much as they should never be trounced in any match. Honduras looked good after four points against the Yanks and Mexico, but then fell 2-0 at Panama. Jamaica, which grabbed a shocking 0-0 draw at the Azteca, is currently in last place with two points, but only three points back of group leader Panama. In short, this group should be tight all the way through autumn.
The United States still thrives in a dogfight
Changing a team's ethos is not a short-term project, as Klinsmann can certainly attest. Though the German wants the United States to win using a proactive, possession-based style, the Americans got four points from these two matches through classic, Bob Bradley-esque wars of attrition. Against the Costa Ricans, Clint Dempsey's early goal and the subsequent heavy snowfall meant the USA could bunker in and defend its lead to the bitter end. Mexico was always going to have a majority of the ball and, though the Yanks had some decent spells of possession, the final 20 minutes saw them hold on for dear life, relying on resolute defending, quality goalkeeping and Mexican profligacy to ensure a vital point.
The offense is still lacking
Four points is a fantastic outcome from this two-game series, but the results do paper over some of the offensive problems this team faces. In the two games, the United States combined for just four total shots, only one of which (Clint Dempsey's goal) was on target. Snow or no snow, Azteca or no Azteca, that's not good enough.
With one striker, the team needs to generate service from the flanks, or attacking thrusts through the center of midfield. The team's lack of width is a long-standing issue, but it did manage five successful crosses out of 10 against Costa Rica, and three out of nine against Mexico. Though he's still in red-hot club form, Jozy Altidore's barren run with the national team continues, and he just hasn't been able to get on the end of enough service. Additionally, Michael Bradley is the team's best option in a deep-lying possession role, but also a vital cog in the attack. When he's more focused on the former, the United States struggles in the final third. Dempsey can't be the team's only attacking option in the center of the pitch.
OK, so this one hardly counts as a new revelation, but in two close games, it's jarring to think how close the USA came to two entirely different outcomes. Against Costa Rica, Altidore's strike was going wide before a deflection took the ball directly into the path of Dempsey, who had a wide-open net staring him in the face. A Costa Rica goal was correctly waved off for offside but as Taylor Twellman pointed out during the ESPN broadcast, the linesman likely wouldn't have seen the infraction through the snow if the incident happened on the far side of the field. Perhaps even more fortunate for the Americans, the blizzard and snow accumulation didn't really pick up steam until after the goal, paralyzing Costa Rica's late efforts to equalize.
At the Azteca, the Yanks were fortunate to see Chicharito miss a couple chances he would usually bury. Mexico also had two penalty shouts waved off, particularly a late Maurice Edu challenge on Javier Aquino that looked for all the world like a PK. In the end, two steady performances plus a few lucky breaks was just the equation this team needed.
REAL LIFE. REAL NEWS. REAL VOICES.
Help us tell more of the stories that matter from voices that too often remain unheard.