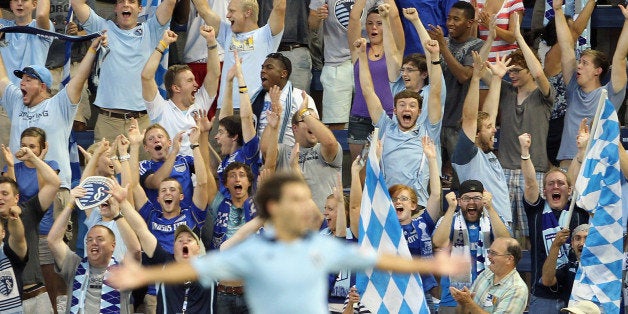 Last year, I contemplated the possibility that soccer could replace football as America's favorite sport. With an expected audience of at least 100 million for this year's Super bowl -- 111 million watched the game last year -- it certainly seemed like a fairly outlandish proposition. However, I argued there were a number of reasons to be bullish on soccer's growth potential in the U.S. Demographic trends, including the growth of the Latino population, the increasing competitiveness of U.S. Soccer in international play, and the growing popularity of Major League Soccer (MLS) all pointed to greater success for sport. But soccer's growing fandom stateside may actually be most closely related to a fact that I mentioned mostly in passing: the rise of youth soccer leagues.
Youth soccer has grown dramatically over the last four decades, with participation rates increasing by roughly 300 percent from 1974 to 2014. Reflecting this growth, the 2015 PRRI/Religion News Survey shows that participation in youth sports varies dramatically by age. Young adults (age 18 to 29) are 10 times more likely than seniors (age 65+) to have grown up playing soccer (22 percent vs. 2 percent). Young people are also more than twice as likely to have played youth soccer than peewee football (22 percent vs. 8 percent). Moreover, the advantage that youth soccer has over football remains sizable even when limiting the comparison to men. One-in-four (25 percent) young men grew up going to soccer practice, compared to 16 percent who played football.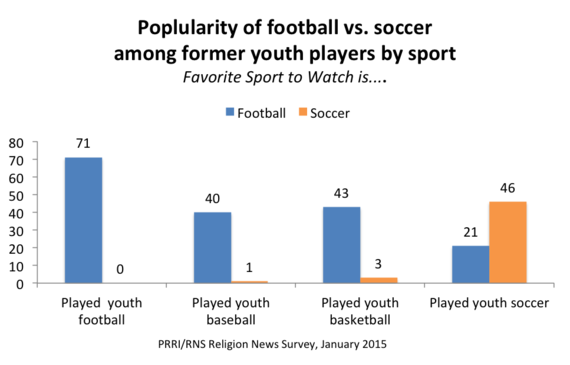 Of course, soccer's competitive advantage in attracting young athletes does not necessarily mean it is destined to surpass football in popularity. But youth sports can create lifelong fans: Americans who grew up playing soccer are more likely to have a greater appreciation for the sport and often serve as its most ardent fans. At the average MLS game, seats are often filled with former and current soccer players. The PRRI/RNS poll reveals that former youth soccer players are much more likely to say that soccer is their favorite sport to watch. While only eight percent of Americans overall claim soccer is their favorite sport, nearly half (46 percent) of former soccer players say they are soccer fans first and foremost.
There is no doubt that football remains the undisputed leader of U.S. sports, by every measure. Forty percent of the public says football is their favorite sport to watch, making it roughly four times more popular than any other sport. Even so, the dominance of football in American culture should not be taken for granted. This year, the NFL had to contend with a series of high-profile domestic abuse incidents, while traumatic head injuries remain an ongoing concern for players at every level. The growing popularity of youth soccer in the U.S. means football may soon have to compete for fans among a population that grew up playing and remain loyal to fútbol.
Related