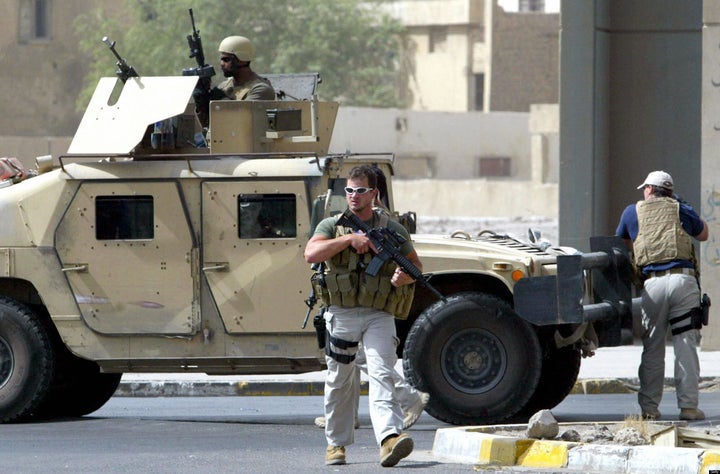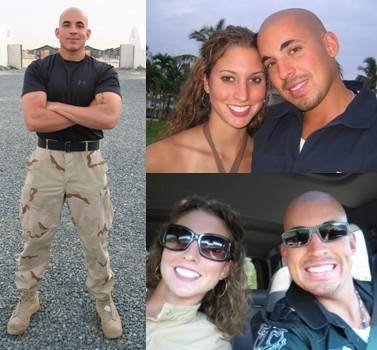 Janine Hermanson was at work when she received a phone call on September 1, 2009 from the U.S. Embassy in Iraq. She was told that her husband, Adam Hermanson, was found dead in his shower.
According to Jeremy Scahill in an article for The Nation, Patricia Hermanson, Adam's mother, also received a call around the same time from a "Triple Canopy representative named Jeff Wilczak [who said Adam] was found collapsed by his bed, and efforts to revive him were unsuccessful."
With different stories and suspicions rising immediately about Adam Hermanson's death, Janine Hermanson and other family members immediately started digging and learned that other civilians and soldiers in Iraq had died from electrocutions. Now all that Janine Hermanson wants is answers.

Janine and Adam met while they were serving in the air force in Utah in 2003. Adam was a 25-year-old decorated U.S. Air Force veteran who completed three tours of duty in Iraq and one in Uzbekistan. Adam returned to Iraq in 2009 as an employee of military contractor Triple Canopy, one of the companies the State Department placed in charge of security in Baghdad's Green Zone. Adam's plan was to take the four-month job in Iraq which would bring him home in November 2009. He then planned to use the money he had made to buy a new home with Janine in Muncy, Pennsylvania after having moved from Utah.

In an effort to get more answers, Janine Hermanson sought the legal counsel of John Dodig and Peter Newman of the Philadelphia law firm Feldman, Shepherd, Wohlgelernter, Tanner, Weinstock & Dodig. The lawyers are actively investigating the suspicious circumstances surrounding Adam's death and working to identify the responsible parties.

According to Dodig, "Janine wasn't given the whole story when she first learned of Adam's death." He said, "She was just told that Adam died in the shower; nothing more."

Adam arrived in Iraq in July and took up residence inside the Green Zone at Triple Canopy's base, Camp Olympia. He died in what is considered to be the safest place in Iraq for Americans. His body, according to Janine Hermanson, was discovered on the floor of a shower in his quarters at Camp Olympia.

Adam's brother, Jesse Hermanson, took photos of his brother's burn marks after his body arrived at Dover Air Force Base. It was only then that Janine learned the truth about her husband's electrocution.

"Adam is believed to be the 19th American to die by electrocution in Iraq. And several months after his death, there are still no answers as to why this happened," said Dodig. "It is unconscionable that this decorated war veteran who served four tours of duty for this Country died taking a shower inside the Green Zone and even more outrageous that 19 individuals have lost their lives the same way." He said, "Prior to Adam's death, the Government did nothing to require contractors like Triple Canopy to make their facilities safe for the American men and women they employed. And Triple Canopy has yet to identify the sub-contractor they hired to build the Camp Olympia facilities, where electrical wiring was not properly bonded and grounded."

An investigation began with the Department of State and has been moved to the Army Criminal Investigation Division (CID). Still no one can say who is responsible. A recent report by the Department of Defense Inspector General (Review of Electrocution Deaths in Iraq, July 24, 2009) concluded that many of the 19 electrocution deaths in Iraq were caused by improper electrical grounding or faulty electrical equipment. However, the details surrounding Adam's death have yet to be disclosed to his wife by Triple Canopy or by the Department of State, which is believed to be conducting an investigation.

U.S. Senator Robert P. Casey, Jr., supports Janine's effort to determine the cause of her husband's death. He has introduced an amendment to the FY2010 Department of Defense Appropriations Bill that will hold contractors accountable for the safety of military personnel while serving abroad. Senator Casey has also expressed concern in a press release about the significant number of "...service members and civilian contractors in Iraq [who] have died as a result of electrocutions that could have been prevented." The amendment introduced by Senator Casey would close a loophole that has left shoddy electrical work on American military bases uncorrected.

When interviewed about Adam's death, Janine Hermanson said, "Not a minute passes that I do not think about my husband. I keep asking myself why?"

Nearly four months have passed including the date Adam Hermanson was set to come home to his wife. Instead of celebrating the holidays together and starting the next chapter in their lives, Janine Hermanson wants the world to know that she will not rest until these issues are resolved.

Popular in the Community