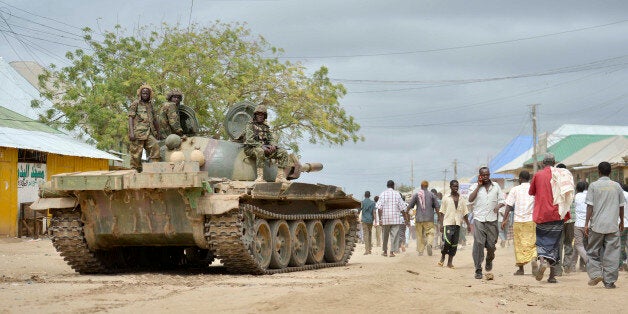 On Monday night, the United States launched a strike on two vehicles driving south of Somalia's capital, Mogadishu, killing six people. Somali and U.S. officials confirmed on Tuesday that the target of the attacks was Ahmed Abdi Godane, the leader of Islamist terror group al-Shabab. It is unclear whether Godane survived the attack.
Al-Shabab, which means "the youth" in Arabic, started as a small faction of radicalized Islamists in Somalia's Islamic Courts Union, an alliance of Sharia courts. The ICU took over Somalia's government in 2006, but the coalition was removed from power with help from the U.S. mere months later. Al-Shabab splintered off from ICU in the wake of the alliance's demise, and grew into what the Council on Foreign Relations describes as a "full-blown insurgency."
The group's well-established legacy of attacks in East Africa includes last year's assault on Kenya's Westgate Mall, brutal beheadings of suspected spies, as well as suicide bombings -- including one this past Sunday on a high-security prison.
Godane is thought to be around the age of 37 and may have grown up in northern Somaliland amid difficult circumstances. As The National Post notes, he has a background in accounting and also managed a grocery store with a friend, albeit one who he later ordered killed. He is also believed to be a lover of poetry.
Godane has been al-Shabab's spiritual and political leader since 2008. As a Washington Post profile from last year describes, he was a prominent force in taking the militant group from a loose network of hardliners into a relatively cohesive, and notably al-Qaeda-aligned, militant group. His leadership has been described as both brutal and controversial. The Post explains:
In areas that the militia controlled, Godane imposed strict Islamic sharia law enforced by public executions, amputations and stonings. The measures were so harsh, Hansen [an analyst specializing in al-Shabab] said, that even Osama bin Laden criticized him for going too far in implementing sharia and for killing other Muslims.
Under Godane's rule, al-Shabab steadily internationalized its attacks, hitting targets in Kenya and Uganda. Paul Hidalgo explains in Foreign Affairs that the group has not only plotted against foreign targets but it has also stepped up its recruitment drive abroad in an effort to export its ideology.
The U.S. has targeted Godane unsuccessfullyin the past. If it is confirmed that al-Shabab's leader was killed in Monday's strike, it would constitute a major blow to the organization.
Godane's death may have far-reaching implications. As Clint Watts, a Senior Fellow at GWU's Homeland Security Policy Institute, writes, al-Shabab could fracturing into smaller organizations or other Somali terror groups could break out and try to fill Godane's place. A new leader could even switch al-Shabab's allegiances from al-Qaeda to the Islamic State.
Related
Popular in the Community