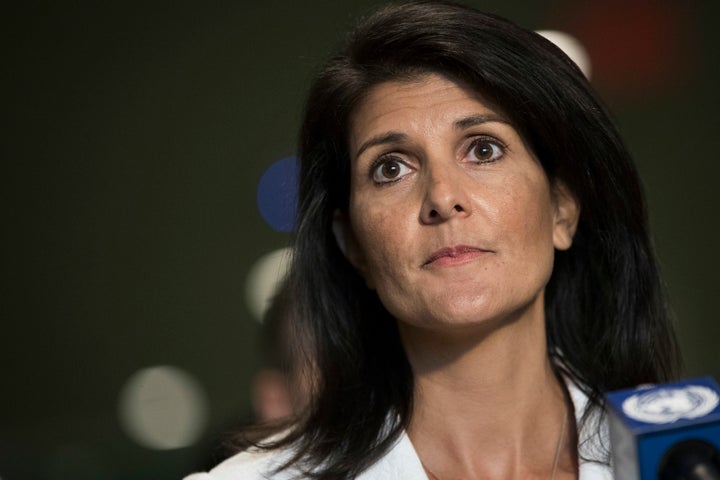 NEW YORK, March 30 (Reuters) - The United States' diplomatic policy on Syria for now is no longer focused on making the war-torn country's president, Bashar al-Assad, leave power, the U.S. ambassador to the United Nations said on Thursday, in a departure from the Obama administration's initial and public stance on Assad's fate.
The view of the Trump administration is also at odds with European powers, who insist Assadmust step down.
"You pick and choose your battles and when we're looking at this, it's about changing up priorities and our priority is no longer to sit there and focus on getting Assad out," U.S. Ambassador Nikki Haley told a small group of reporters.
"Do we think he's a hindrance? Yes. Are we going to sit there and focus on getting him out? No," she said. "What we are going to focus on is putting the pressure in there so that we can start to make a change in Syria."
The Obama administration, in its later years, was focused on reaching a deal with Russia that would eventually see Assad go though it also shifted its focus to the fight against Islamic State militants, who captures swathes of territory in Iraq and Syria in 2014.
As presidential nominee, Donald Trump said defeating Islamic State was a higher priority than persuading Assad to step down.
"We can't necessarily focus on Assad the way that the previous administration did," said Haley, a former governor of South Carolina. "Our priority is to really look at how do we get things done, who do we need to work with to really make a difference for the people in Syria."
On Wednesday, Haley accused Russia, Iran and the "Assad regime" of committing war crimes. She has also said that the United States supports the U.N.-led Syria peace talks, that Syria could no longer be a "safe haven for terrorists" and that it was important "we get Iran and their proxies out."
A senior Trump administration official told Reuters Haley's remarks reflected "a measure of just realism, accepting the facts on the ground. ... Assad is never going to have sufficient force to reassert control over the whole country ... Our focus is on defeating ISIS and al Qaeda and preventing Syria from being used as a terrorist safe haven."
Syrian opposition member Farah al-Attasi said the State Department and the White House were sending contradictory messages on Syria and should start leading and not focus exclusively on fighting Islamic State.
U.S. Secretary of State Rex Tillerson, speaking in Ankara on Thursday, said Assad's longer-term status "will be decided by the Syrian people."
Britain and France reinforced their stance on Assad earlier on Thursday.
French U.N. Ambassador Francois Delattre told reporters: "Assad is not and cannot be the future of his country."
Robert Ford, who resigned in 2014 as U.S. ambassador to Syria over policy disagreements, said the U.S. government's policy since late 2014 had been to focus more specifically on the fight against Islamic State as well al Qaeda, "even if it never acknowledged that its focus on Syria had shifted."
"Ambassador Haley's remarks just confirm that the Trump administration is following the same path," said Ford, a fellow at the Middle East Institute and senior fellow at Yale.
Since the uprising that led to the six-year-long civil war in Syria, the Obama administration insisted that Assad must go.
But in mid-2014 as Washington increased support to moderate rebels to fight Assad's regime, U.S. officials privately conceded Assad wasn't going anywhere soon and admitted the difficulty in removing him.
By September 2015, Kerry said Assad had to go but the timing of his departure should be decided through negotiation.
(Additional reporting by Lesley Wroughton in Ankara, Tom Miles in Geneva and Steve Holland in Washington; Writing by Yara Bayoumy; Editing by Leslie Adler and James Dalgleish)
REAL LIFE. REAL NEWS. REAL VOICES.
Help us tell more of the stories that matter from voices that too often remain unheard.