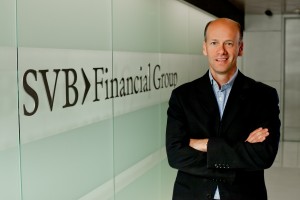 By Greg Becker
Greg Becker is president and CEO of Silicon Valley Bank, which opened its doors to the technology industry 30 years ago.
The majority of the entrepreneurs and startup CEOs we work with share a common dilemma: they struggle to find, attract and retain the engineering, scientific and technical talent they need to grow their businesses. This is a problem widely understood and attributed to large technology companies, but it is equally problematic, and perhaps even more acute for the companies that are just starting out, stretching every dollar, and competing with the tech giants for high-skilled workers.

The results of our annual Startup Outlook survey this year highlight this situation directly. While nine in ten startup executives said they were hiring, an equal number said it is challenging - or extremely challenging - to find workers with the skills they need.

Since technology startups have historically created 11 percent of all private sector jobs and 21 percent of US GDP, it's definitely in the best interest of the country to make sure we have a vibrant workforce, and that we increase the size of our tech-educated talent pool.
Our clients don't report that immigration is their issue - they don't think of it that way. Technology, healthcare and cleantech companies need skilled engineers, mathematicians and scientists to build on their ideas and their fast-growing companies. One of the ways to support these companies is through changes to immigration policy, but education is another important piece of the puzzle.
We need to create a tech-savvy, highly-skilled American workforce. The more people with skills that are in demand, the better for all of us. Congress is well aware of the issues facing the technology industry, so the time to act is now.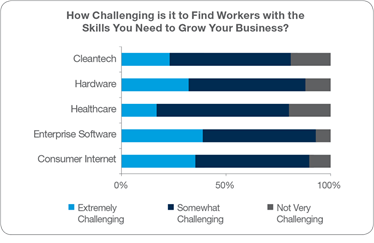 Approximately half of all the startups in our 2013 survey had at least one immigrant on their founding team. Our future economic success depends on our ability to attract - and employ - talent from around the world. Fixing this problem won't just help high-skilled tech workers either. Two in three of the startups in the healthcare, cleantech, or hardware sectors said in our survey they either currently manufacture or plan to start manufacturing in the next 18 months. More than eight in ten said they'll do some or all of that manufacturing in the US, and at least a quarter of those newly-created US manufacturing jobs will go to people with high school educations and/or on the job training. But all of that will only happen if those startups make it.
Considering the ripple effect that successful startups have on our economy, it is just good business sense to make it easier for them to succeed. Having spent a couple days on Capitol Hill last week, I am encouraged that members of Congress know what needs to be done, and are willing to make the necessary compromises to get a fix over the finish line.

Read more results from Silicon Valley Bank's Startup Outlook survey at svb.com/startup-outlook-report.
Popular in the Community