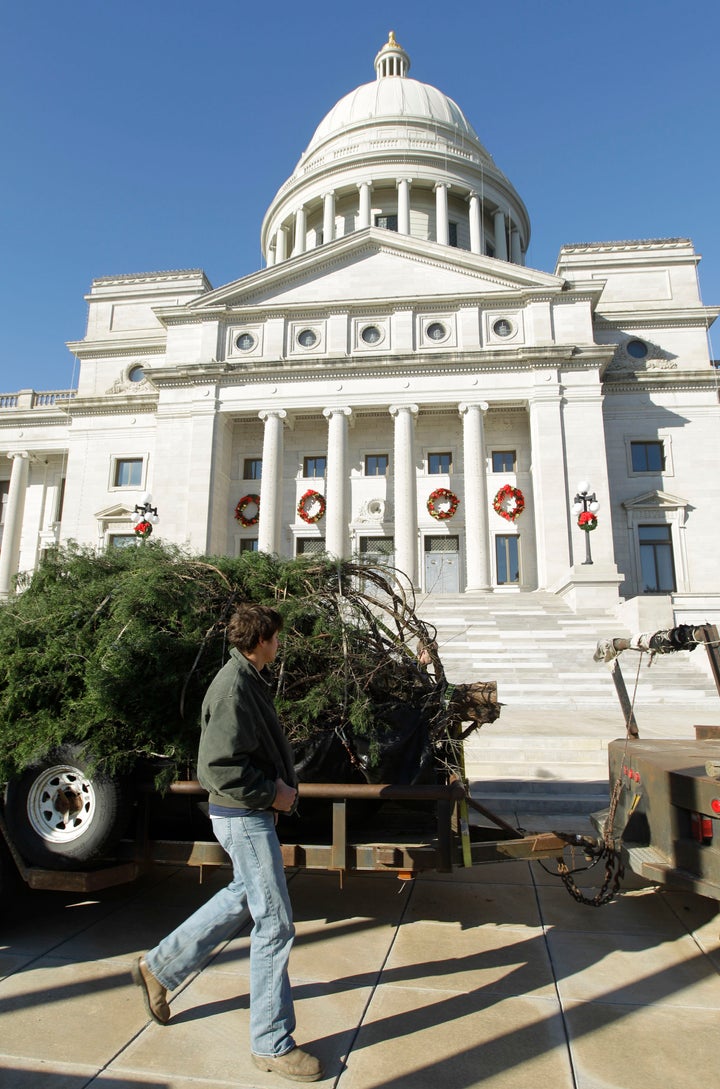 March 22 (Reuters) - State and local government tax revenue rose in the final quarter of 2011 to the highest level on records dating back to 1988, the U.S. Census reported on Thu rsday, in another sign that the recession's effect on public finances is fading.
Revenue for state and local governments was up 2.1 percent from the fourth quarter of 2010, to a total of $387.2 billion, and, the Census noted, this marked "the ninth consecutive quarter of positive year-over-year growth."
State and local revenue strengthened throughout 2011. For the year ended in December, total revenues were $1.35 trillion, 4.5 percent higher than the 12 months to December 2010.
That, too, was the largest on record, surpassing the $1.32 trillion collected in 2008, the last year before the recession took a heavy toll on state and local revenue.
Although the recession began in late 2007, the effect on state and local governments was delayed until the end of 2008. Throughout 2009, revenue cratered to 20-year lows.
Because all states except Vermont must balance their budgets, they slashed spending, hiked taxes, borrowed and turned to the federal government for help. States often had to call emergency budget meetings to make additional adjustments, caught off guard by the rapid decline in revenue.
Now, most states have four months until their next fiscal year begins and many legislatures and governors are in the thick of budget negotiations, where the major question is how quickly revenue will recover.
A think tank report released this week showed that revenue growth is slowing, making state budgets more vulnerable to any new downturn in the economy.
For the year ended in December, state revenues alone were $769.8 million, the largest intake since 2008, according to the Census.
In the fourth quarter of 2011, state revenues were $183.8 billion, up 3.5 percent from the fourth quarter of 2010. They were boosted by individual income taxes, which rose 4 percent to $64.4 billion, and general sales taxes, which increased 3 percent to $59.5 billion.
Still, sales tax collections remained below the $61.2 billion reached four years earlier.
"Recent data shows us that discretionary purchases are picking up a little bit," said Chris Mauro, head of U.S. municipal research strategy at RBC Capital Markets, on a conference call. "We haven't really seen the level of retail sales ... so far in this recovery that we would have hoped for."
Mauro added that rising consumption of nonessential items, which are taxed by many states, would "drive some significant, organic growth in states' tax revenues".
While state revenue collections in 2011's fourth quarter were the highest on record, the year's second quarter, which encompasses key April income tax payments, was $227.7 billion -well below the $240.8 billion brought in during the second quarter of 2008, the Census found.
The federal agency does not count Washington, D.C., in its totals for states. The nation's capital brought in $789.5 million in the fourth quarter.
Collections in California, Texas and New York made up more than a quarter of total state revenue, with California's $25.6 billion alone constituting 13.9 percent. New York had the second highest revenue of $14.6 billion, and Texas the third highest of $10.5 billion.
IN SEARCH OF BREATHING ROOM
Meanwhile, local governments continue to hurt, because they largely rely on property taxes for revenue, which has been hobbled by the housing bust.
According to the Census, local governments collected $174.1 billion of the total $177.2 billion in property taxes in the fourth quarter. That represented a slim increase of 0.6 percent over the fourth quarter of 2010.
"We really want to see housing values improve ... to give local governments a little bit of breathing room," Mauro said. (Editing by James Dalgleish)
Calling all HuffPost superfans!
Sign up for membership to become a founding member and help shape HuffPost's next chapter
BEFORE YOU GO