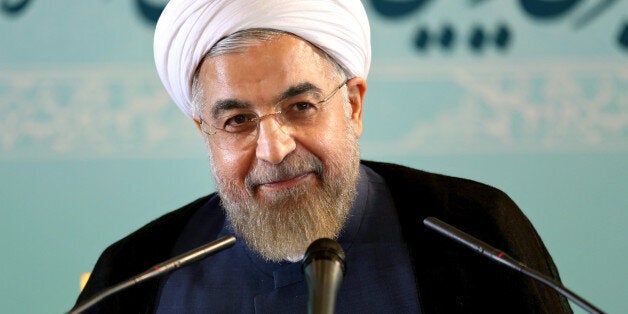 By Parisa Hafezi, Louis Charbonneau and Arshad Mohammed
UNITED NATIONS, Sept 23 (Reuters) - The United States informed Iran in advance of its intention to strike Islamic State militants in Syria and told Tehran that it would not target the forces of Syrian President Bashar al-Assad, a senior Iranian official told Reuters.
"Iran was concerned about Assad's position and his government being weakened in case of any action against IS (Islamic State) in Syria and brought this issue up in meetings with Americans," a senior Iranian official said on condition of anonymity.
"This issue was first discussed in Geneva and then was discussed thoroughly in New York where Iran was assured that Assad and his government will not be targeted in case of any military action against Daesh (Islamic State) in Syria."
He added that Iran was informed separately in advance of the airstrike.
Asked about the assurance that Syrian government forces would not be targeted, a senior U.S. State Department official told Reuters: "We communicated our intentions, but not specific timing or targets, to the Iranians. As we've said, we won't be coordinating military action with Iran. And of course we won't be sharing intelligence with Iran either."
Assad is the closest regional ally of Iran, which has provided military support to his government during its civil war, now in its fourth year.
Tehran has called on the world to fight the militants of Islamic State, which stands accused of a wave of sectarian violence, beheadings and massacres of civilians. Speaking to editors in New York, Iran's President Hassan Rouhani stopped short of endorsing or condemning the airstrikes by the United States and Arab allies, though he raised questions about its legality.
Iranian Supreme Leader Ayatollah Ali Khamenei has ruled out cooperating with Tehran's old adversary, the United States, to tackle the group.
Iranian officials have told Reuters that Tehran is ready to work with Western powers to stop the Islamic State militants, who have taken over swaths of territory in Syria and Iraq, but would like concessions in talks on Tehran's uranium enrichment program in return.
Hours before Washington and Arab allies launched airstrikes against Islamic State positions in Syria for the first time, the White House declared that it refused to connect the nuclear talks under way on the sidelines of the U.N. General Assembly in New York with the fight against the militant group. (Additional reporting by Arshad Mohammed and Lesley Wroughton; Editing by Howard Goller)
Popular in the Community