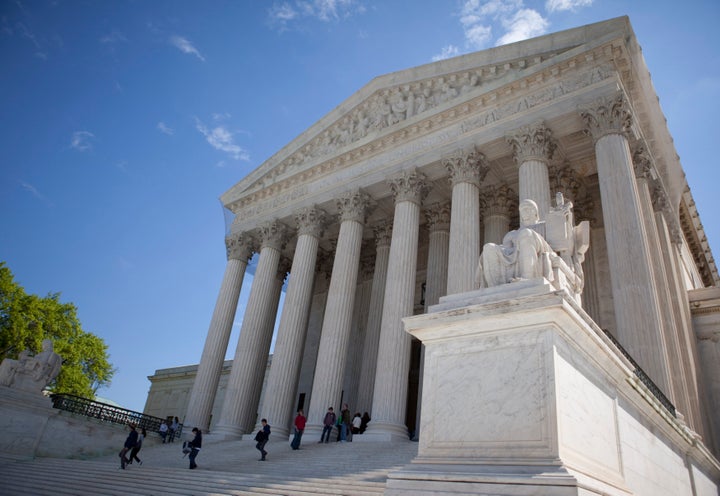 On Wednesday the U.S. Supreme Court sided with AT&T in AT&T Mobility v. Concepcion -- a decision with devastating consequences for consumer protection and civil rights. In essence, AT&T asked the court to allow it to use the fine print of contracts to eliminate class actions, a practice that flouts the laws of 20 states. In a 5-4 decision, the court granted AT&T's request.
The case's potential impact is breathtaking. Corporations can now prevent consumers and small business owners from exercising what is often their only real option for challenging companies that defraud them by millions or even billions of dollars: banding together to file class action lawsuits. The case could be equally devastating to millions of non-union employees, who need class actions to challenge systemic discrimination by their employers. The Supreme Court has given major corporations the green light to engage in nearly limitless wrongdoing against others, so long as they do it in relatively small dollar amounts, which ensures that no one can afford to challenge the misconduct without a class action.
A sudden demise of class actions will shock the markets and the legal system. It will dramatically increase the market power of major corporations over ordinary Americans and small business owners, who are already outmatched. Innumerable laws that protect the public will become irrelevant because few people can enforce them.
Yet for all these far-reaching implications, AT&T's achievement is remarkably ordinary. The company has secured a state of lawlessness similar to the one that allowed banks to foreclose on millions of homeowners without showing evidence that they had the right to do so. It has achieved a deregulatory regime similar to those that tanked the economy and destroyed millions of jobs, devastated the Gulf of Mexico with oil, allow thousands of preventable workplace deaths every year and threaten untold upheaval through climate change. Like the big banks, the oil and coal companies and the mine operators, AT&T simply wants to write its own rules. It's doing just that, through a practice that has become so ordinary we hardly notice the absurdity and injustice anymore: writing one-sided contracts and imposing them on others.
Why corporations are permitted to do anything important through standard-form contracts is somewhat of a mystery. Companies hire armies of lawyers to draft and redraft these contracts, claiming every new advantage they can wring out of legal developments. They secure "consent" by holding our credit cards or cell phones for ransom, saying we must submit to the new terms or immediately stop using them. Some companies even do this with people's jobs, telling employees they must sign new contracts or be fired (never mind that contract law is supposed to be based on mutual consent).
The average American is deluged with hundreds of thousands of fine-print words each year that no one reads and no one understands -- but that everyone is bound by. Avoiding these contracts is impossible unless one eschews most consumer products and services. Courts uphold adhesion contracts with a breeziness that is astonishing, especially since judges themselves don't read the fine print (John Roberts, chief justice of the U.S. Supreme Court, has said he doesn't read it). The effect is nothing short of privatization of the law, with major corporations writing the rules and imposing them on the rest of us.
If recent crises have taught us anything, it's that disaster follows quickly when companies have too little oversight. AT&T is pushing the outer limits of deregulation, seeking a world in which companies can use one-sided contracts to grant themselves immunity from accountability for a vast range of wrongdoing. Concepcion represents a giant leap toward a dystopian legal system that the Supreme Court should have rejected out of hand -- lawlessness for major corporations and corporate-made law for the rest of us.
But the Court rubber-stamped AT&T's scheme, so we need the Congress and administrative agencies to protect us. The Dodd-Frank Wall Street Reform and Consumer Protection Act gives the new Consumer Financial Protection Bureau (CFPB) and the Securities and Exchange Commission (SEC) the authority to eliminate abuses like AT&T's within their jurisdictions. The CFPB and SEC should get to work quickly. To solve the problem in every industry, not just financial services, Congress should pass the Arbitration Fairness Act, which Sens. Al Franken (D-Minn.) and Richard Blumenthal (D-Conn.) and Rep. Hank Johnson (D-Ga.) plan to introduce next week.