Here's one more indication that American teachers work really, really hard -- and don't make nearly enough.
American public school teachers are underpaid compared to workers in the U.S. with similar education levels, the OECD found. Elementary school teachers in the U.S. make 67 percent of what college-educated workers in other professions earn. High school teachers earn 71 percent of what other college-educated workers make.
Outside of the U.S., the picture is better -- but only slightly. On average, across OECD countries, elementary school teachers earn 80 percent of what college-educated non-teachers make.
Yet even though American teachers make comparatively less money, all evidence points to the fact that they work their butts off.
The OECD found that American teachers spend more time in the classroom than teachers in almost every other surveyed country, as illustrated by the graph below.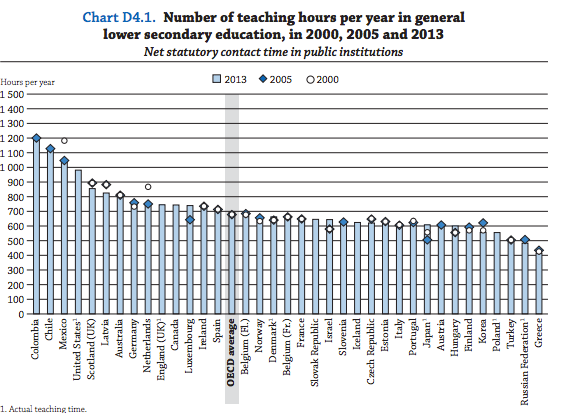 Rebecca Klein covers the challenges faced in school discipline, school segregation, and the achievement gap in K-12 education. In particular, she is drilling down into the programs and innovations that are trying to solve these problems. Tips? Email Rebecca.Klein@huffingtonpost.com.
Popular in the Community