"Something should happen" in response to the deadly chemical attack in Syria, President Donald Trump said Thursday, two days after warplanes dropped toxic gas over the Syrian town of Khan Sheikhoun.
In a separate statement, U.S. Secretary of State Rex Tillerson said there was "no doubt" forces loyal to Syrian President Bashar Assad were behind the attack, which killed at least 70 civilians, and added that he sees no role for Assad in Syria's future.
"There is no doubt in our minds, and the information we have supports that Syria, the Syria regime under the leadership of President Bashar al-Assad, are responsible for this attack," Tillerson told reporters.
Trump stopped short of calling for Assad's removal on Thursday, but told reporters traveling with him on Air Force One, "I think what Assad did is terrible."
"I think what happened in Syria is a disgrace to humanity and he's there, and I guess he's running things, so something should happen," he added.
The Trump administration's harsh condemnation of Assad and its ally Russia presented a marked shift in messaging. The White House's reaction to the gas attack has also renewed discussion of the possibility of U.S. military action against Assad, a policy option that had moved to the background since former President Barack Obama decided against strikes targeting the regime following its previous use of sarin gas in 2013.
The Pentagon and the White House are discussing a range of military options that could be pursued in response to the attack, according to Reuters, and Secretary of Defense Jim Mattis is expected to brief the president on those this weekend at Mar-a-Lago. A U.S. official told the news service those options could include deploying cruise missiles and grounding Syrian military aircraft.
Tillerson also urged Russia on Thursday to reconsider its support for the Syrian regime. "It is very important that the Russian government consider carefully their continued support for the Assad regime," he said.
Russia has supported Syria politically for years, and has been backing Assad militarily since September 2015. While Moscow indicated Thursday it would not support the Syrian president unconditionally, it has challenged the U.S.' assessment that Syrian regime forces were behind this week's chemical attack.
Asked whether the U.S. would lead international efforts to remove the Syrian president, Tillerson replied that "steps are underway," Peter Baker of The New York Times reported.
Russia's deputy U.N. envoy warned late on Thursday of "negative consequences" if the United States would decide to carry out a military strike in Syria.
"We have to think about negative consequences, negative consequences, and all the responsibility if military action occurred will be on shoulders of those who initiated such doubtful and tragic enterprise," Vladimir Safronkov told reporters.
The U.S. does not currently have the legal authority to attack the Assad regime, and it's not clear that Trump could get a war authorization from Congress. Even if he did, opening a military front against the Syrian government risks entangling Moscow.
And if the U.S. did succeed in toppling Assad, he has no obvious U.S.-friendly successor ― in part because of Assad's effort to decimate the moderate opposition so extremist groups are the only alternative to his rule.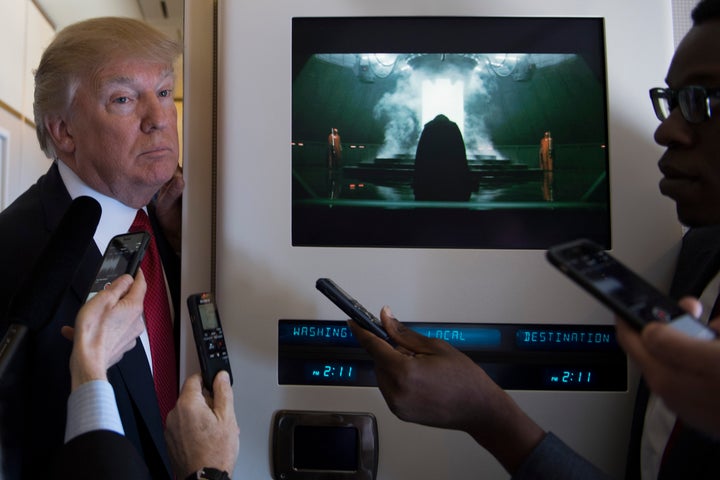 U.S. policy in Syria has, for years, primarily focused on attacking the self-described Islamic State and offering military support to Kurdish militias that are taking territory away from the extremist group. Hundreds of U.S. troops are currently in Syria to support an upcoming advance on the ISIS-held city of Raqqa.
Until the gas attack on Tuesday, the Trump administration had begun openly acknowledging that it could possibly live with a Syria ruled by Assad. As recently as last week, Tillerson said in Turkey that the "longer-term status of President Assad will be decided by the Syrian people," and U.S. Ambassador to the United Nations Nikki Haley said the United States' "priority is no longer to sit there and focus on getting Assad out."
Like Tillerson, Haley shifted her rhetoric following the gas attack. On Wednesday, she vaguely suggested that the U.S. could take unilateral action if the United Nations failed to act, and condemned Russia's support of Assad.This is a developing story and will be updated.
Jessica Schulberg contributed reporting to this article.
Related
Popular in the Community