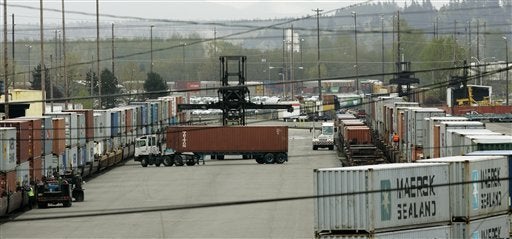 The U.S. trade deficit narrowed in October to its lowest in 10 months, but imports from China hit a record high, a government report showed on Friday.
The trade gap totaled $43.5 billion, in line with a consensus estimate from analysts before the report. However, the Commerce Department revised its estimate of the September trade deficit to $44.2 billion from $43.1 billion.
As a result, the October trade gap narrowed 1.6 percent from September, instead of widening, as most analysts expected.
Both U.S. imports and exports declined in October, in a possible sign of weakening demand in the United States and abroad.
However, a smaller trade deficit is positive for fourth-quarter economic growth, since it suggests more domestic demand is being met by U.S. production.
Also, both imports and exports of capital goods set records in October, suggesting businesses are gearing up operations.
U.S. stock index futures rose on Friday after European Union leaders agreed on measures that partially addresses the region's crippling sovereign debt crisis. The euro rose against the dollar, while U.S. government debt yields rose.
U.S. exports to the 27-nation EU rose 1.0 percent in October to $23.4 billion, while imports from the community increased 6.3 percent to $31.4 billion.
"Exports to Europe are bound to weaken substantially, while imports will pick up steam as U.S. companies rebuild inventory after the unexpected decline in the third quarter," said Ian Shepherdson, chief U.S. economist at High Frequency Economics, Valhalla, New York.
Overall U.S. imports fell 1.0 percent to $222.6 billion, led by a $3.6 billion drop in industrial supplies and materials. The average price for imported oil fell for a fifth consecutive month to $98.84 per barrel, from its May peak of $108.70.
The drop in the overall trade deficit "will prove temporary, because oil prices have risen significantly since October," Shepherdson said.
Despite the overall import decline, imports of capital goods and food, feeds and beverages increased to records in October.
Imports from China rose to a record $37.8 billion and imports from Japan increased to $12.3 billion, the highest since April 2008.
U.S. exports fell 0.8 percent to $179.2 billion, led by a $1.3 billion drop in industrial supplies and materials. The biggest monthly decline in that category was for non-monetary gold, which tumbled 25 percent to $3.5 billion.
However, for the first 10 months of 2011, non-monetary gold exports totaled $27.8 billion, compared to $14.8 billion in the same period last year.
U.S. exports to China increased to $9.7 billion, the highest since December.
The U.S. trade gap with China was unchanged in October at $28.1 billion, but remained on track to surpass the annual record of about $272 billion set in 2010.
(Editing by Neil Stempleman)