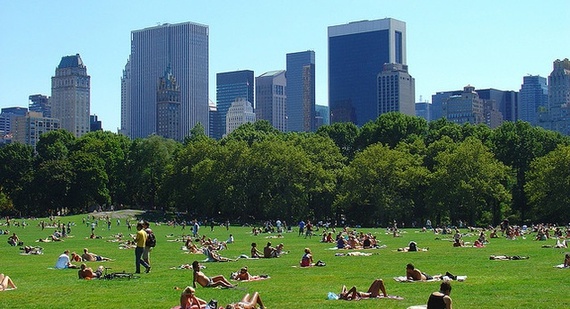 The U.S travel sector is growing at a steady rate. An astounding seven percent increase in 2014 from 2013. The travel industry being among the largest industries globally offers a pulse into the local economy or even the global economy. In the United States, where it is said, that "when America coughs, the rest of the world catches a cold," or "if the U.S. economy is rising, so does the world." As the U.S. economy escaped a lengthy recession, with home sales going up, and a robust stock market, the travel sector offered close to 8 million jobs in 2014, and the gross domestic product went up by close to three percent. To better grasp the economic importance of tourism one must look to inbound tourism dollars spent in the U.S. According to the National Travel and Tourism Office, visitors to the United States is on the rise. Even with a stronger dollar, visitors are pouring into the U.S. Projections in 2015 are for an annual increase of around five million more visitors than the previous year.
According to the National Travel and Tourism Office (NTTO), "We want and welcome international visitors to see and experience all America has to offer. As the world economy continues to shift, promoting travel and tourism is essential to our competitiveness, vital to our prosperity, and critical to the success of our businesses and our economy," said Secretary Pritzker. "President Obama has understood from the beginning how vital travel and tourism is to the economic health of the United States. Visitors to our country spent a record $221 billion on travel goods and services last year, supporting million total U.S. jobs."
Not too surprising, the most visitors to the U.S. come from Canada and Mexico. Although Canada travel to the U.S. was down 2 percent from the previous year, Mexico showed a 19 percent increase, second to only China's increase of 21% greater visitors. The nation that most favored the United States most among European nations remains the United Kingdom. Among nations of Asia, Japan continued to lead the way. However, as China's middle class continues to expand, the leisure China market provided more visitors than any previous years.
International visitors to the U.S. will almost double and growth rates will remain high through 2020, boosting the U.S. economy as trillions of dollars will flow into the United States spent by foreign travelers. Where are overseas travelers visiting in the U.S? New York continues to lead the way, and expects further increases. Los Angeles, San Francisco and Miami remain on the top of guests to America's travel list. The biggest jump in arrivals was to Atlanta, Georgia. As travelers seek out new destinations, 21% more travelers came for a visit to America's vibrant capital of the South. Surprisingly, less travelers favored Honolulu, and Hawaii as travel dropped to the "Aloha State" by 3 percent in 2014.
"Forecast highlights by region.

North America:

The top two markets generating visitors to the United States - Canada and Mexico - are forecast to increase in 2015 by one percent and eight percent, respectively. Canada is expected to see growth from 2014 to 2020 by 3.4 million (15 percent), while visitors from Mexico are expected to increase by 6.3 million (37 percent). Growth from Mexico would set another record volume level.

Europe:

By 2020, arrivals from Europe are projected to be 16.7 million, or 21 percent higher than in 2014. The largest growth from Europe will come from the U.K. (+724,000), France (372,000), Italy (271,000), and Germany (+205,000). These growth forecasts reflect low-growth rates based on large traveler volume bases. For perspective, Western Europe countries are expected to produce 2.4 million additional travelers in 2020 versus 2014, compared to 548,000 additional travelers from Eastern Europe countries.

Asia-Pacific:

This world region is expected to produce a 49 percent increase in visitors by 2020. Japan, the largest Asian market and second-largest overseas market, is forecast to increase by less than 1 percent each year of the forecast on average to produce total growth of 105,000 additional travelers by the end of 2020. High growth rates and large growth volumes are expected in 2015 for China (20 percent), India (8 percent), Taiwan (7 percent), and South Korea (5 percent). Similarly, these four countries are expected to have among the largest total visitor volume growth of any country from 2014 through 2020. China is expected to increase by a total of 3.6 million visitors, a 163 percent increase through 2020, and produce the second-largest number of additional visitors behind Mexico. South Korea should produce an additional 420,000 visitors (+29 percent), while India could add 402,000 additional visitors (+42 percent). Australia dominates the Oceania region and is projected to increase 308,000 visitors, or 24 percent between 2014 and 2020.

South America:

South America will remain a top producer of additional travelers for the next several years. By 2020, South America will generate nearly 1.9 million more visitors, a 34 percent increase compared to 2014. Brazil, the largest source market in the region, is expected to build on its 2014 record-breaking performance and increase 5 percent in 2015. By 2020 the United States could host 3.1 million Brazilian visitors, a 38 percent increase from 2014. Venezuela, Argentina, and Colombia, which in 2013 ranked 13th, 14th, and 15th, respectively, are countries on different forecast paths. Colombia should continue its recent growth performances and produce the greatest growth of 478,000 visitors (+54 percent). Argentina's recent strong growth will turn to declines for the first three years of the forecast period before returning to a growth mode to end the forecast with a higher volume by 70,000 travelers (10 percent). Venezuela's reversal in outlook has been quick and profound. The long-term high hopes for this star-performing country during the past decade has been replaced by a forecast calling for a sobering 185,000, or 30 percent, decline in volume at the end of the forecast period.

For more information on the NTTO Travel Forecast, including data tables for the world regions and the top 20 visitor origin countries."