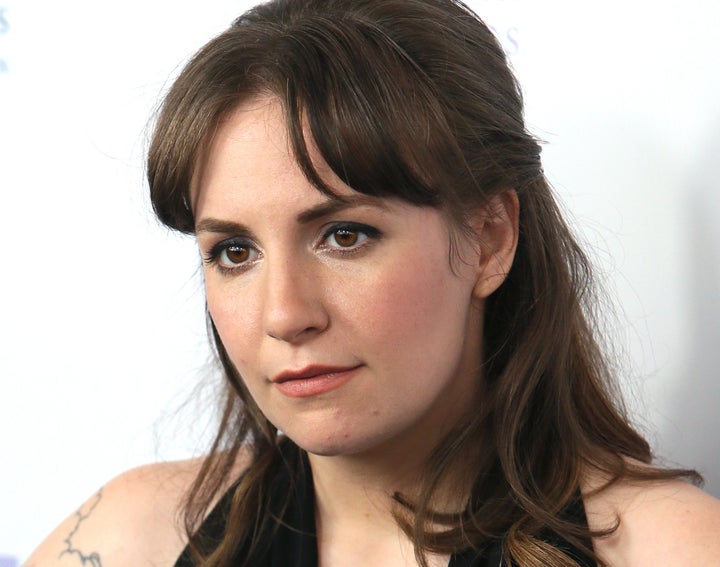 Tip No. 1: How about we all just don't.
She's said it once, and now she's saying it again: Lena Dunham has zero interest in becoming the poster child for weight loss or dieting.
In the latest round of media attempts to make Dunham into something she's not, Us Weekly put a photo of the "Girls" creator on the cover of a recent issue with a teasing caption, "how she gets motivated," next to a story promising "diet tips" in big, bold capital letters.
Dunham took the opportunity to offer up some of her own suggestions over Instagram on Sunday with a list of tips ranging from "a quiet rage that replaces need for food with need for revenge" to "an election that reveals the true depths of American misogyny," and "um, who the fuck cares?"
Our personal favorite? Dunham's final tip, which sums up her thoughts on the issue: "I have no tips. I give no tips. I don't want to be on this cover [because] it's diametrically opposed to everything I've fought my whole career for, and it's not a compliment to me because it's not an achievement, thanx."
Dunham has been the target of media fascination due to her apparent recent weight loss, which stemmed from her battle with endometriosis. The chronic disorder led her to seek out trainer Tracy Anderson, who helped counsel the actress in fitness to alleviate her pain and anxiety.
After her appearance at one of Anderson's fitness events triggered headlines around the internet about Dunham looking "happy and healthy" with before-and-after photos, she took to social media to reiterate how she doesn't give the "tiniest of shits what anyone else feels about my body."
"My weight loss isn't a triumph and it also isn't some sign I've finally given in to the voices of trolls. Because my body belongs to ME ― at every phase, in every iteration, and whatever I'm doing with it," she wrote on Instagram in March. "I refuse to celebrate these bullshit before-and-after pictures. Don't we have infinitely more pressing news to attend to?"
Popular in the Community